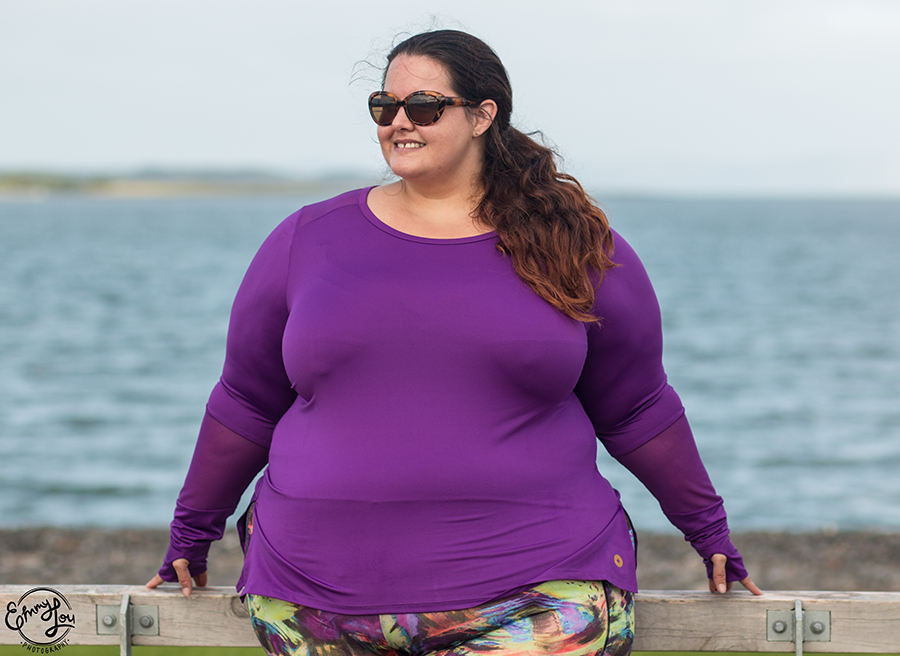 When I look at the models in activewear ads, I never see bodies like mine. The fat, lumpy bodies with rolls and big thighs and tummies. My body is the kind of body that's shown as a "before picture", not as one that is active. Sometimes people with bodies like mine are photographed and made fun of, as I shared on my Facebook page recently, and quite a few people told me that things like this make them feel uncomfortable going to the gym or exercising in public. I don't give a shit if you're fat or thin, have wobbly bits or washboard abs, I think that everyone should have the right to exercise if they want to. So here is my body, wearing activewear. No photoshop, no shapewear, just my fat body doing it's thing.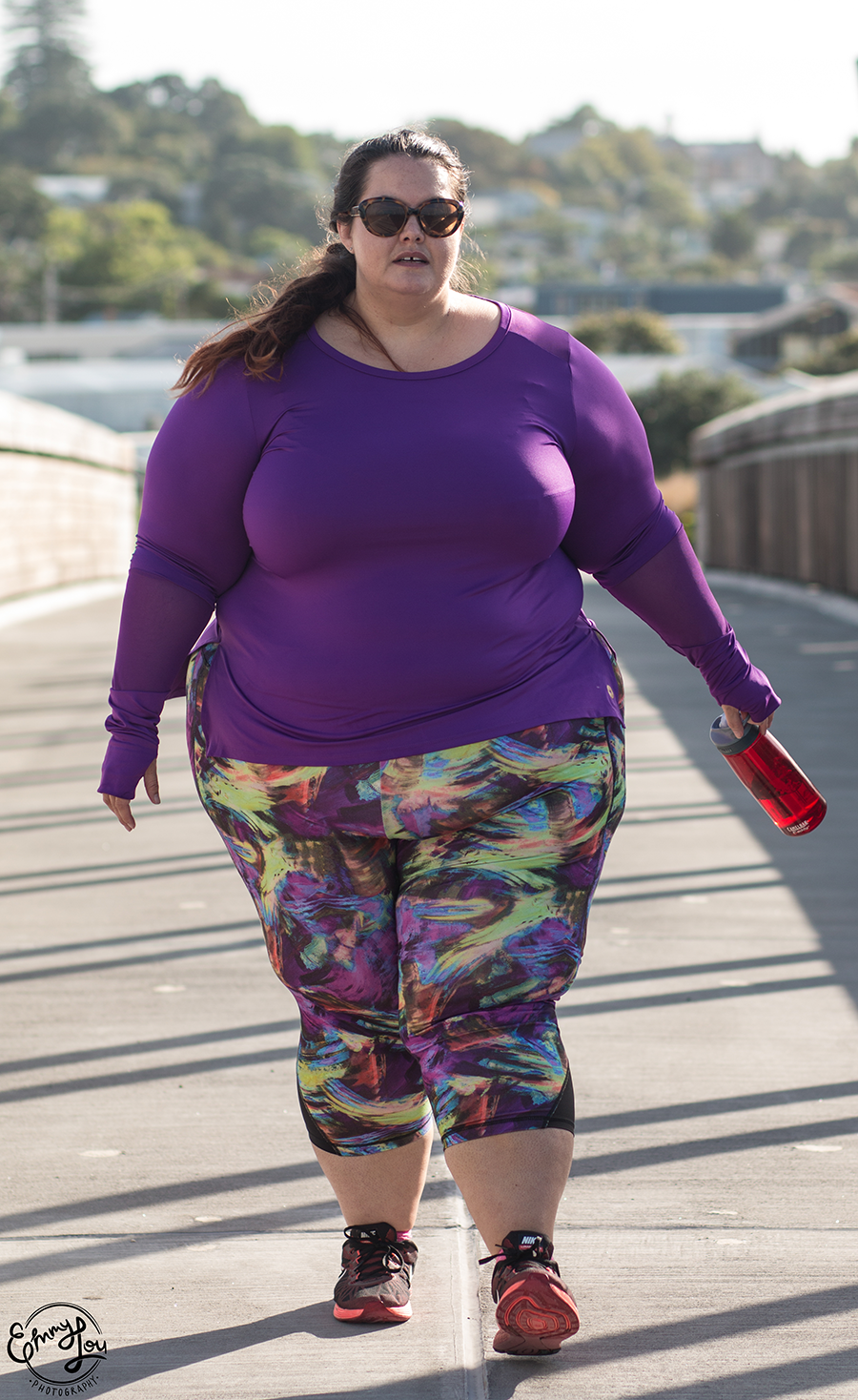 There are many reasons you might be exercising, for me it's about my mental health, taking time for myself, rehabilitating an injury, and now I'm starting to work on building strength as well. I exercise in different ways, my favourite being going outside for a walk. Not only does give me interesting things to look at as well as giving me a chance to get fresh air; it also means that I am away from my computer and my very busy email inbox. I can clear my head, solve problems and come up with some really good ideas when I'm walking. And the best part – it's free (I have to admit, that's one of the main drawcards for me!).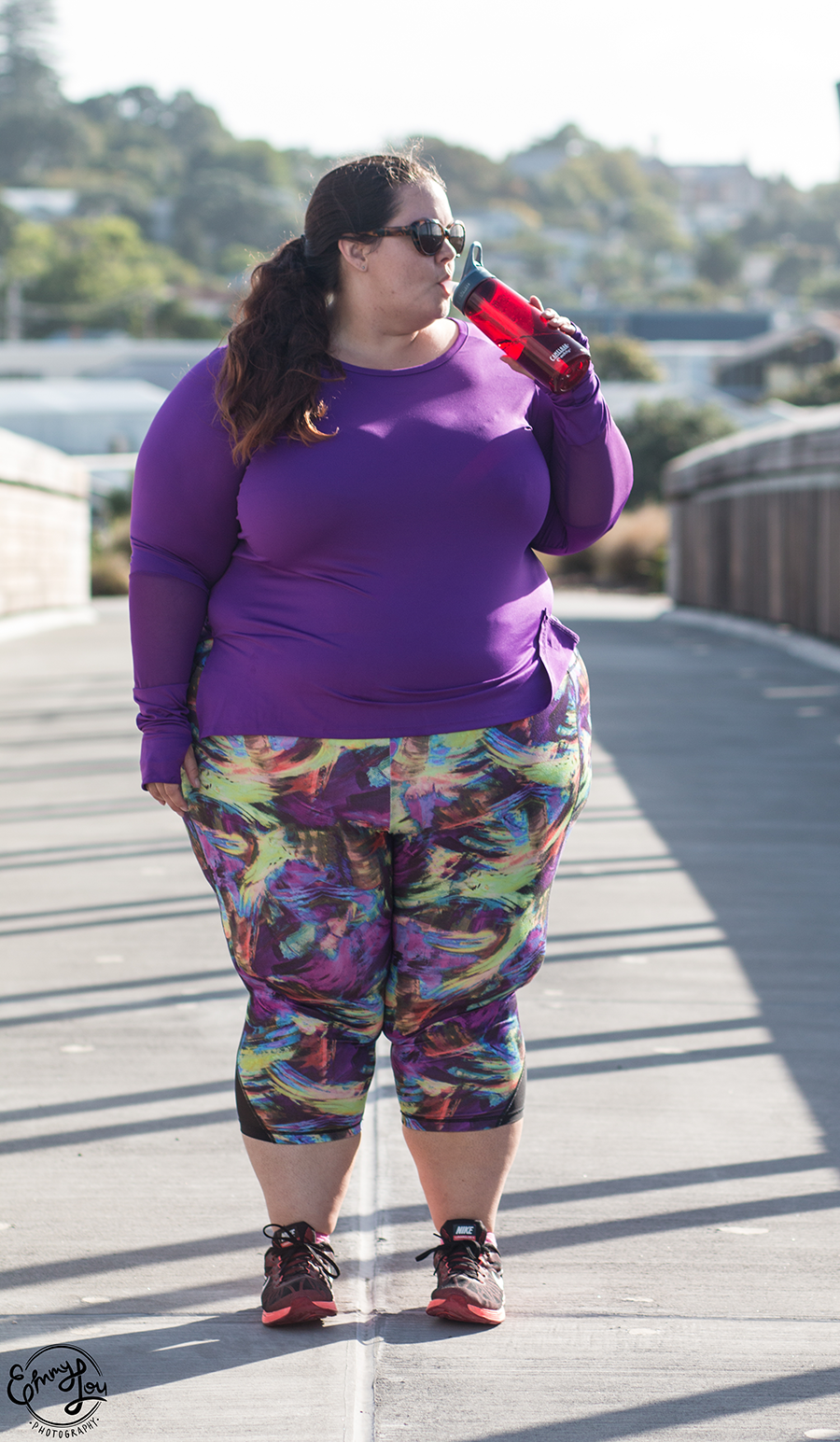 When it comes to activewear, I have two requirements – it has to be comfortable and fit well. There's nothing more annoying than having to hike up your pants every few metres because your pants are slipping down; or having to adjust my top because it's flipped up into my face when I'm in an inverted yoga pose.
It's interesting though – plus size activewear isn't all that readily available in New Zealand despite the fact that more than half of women are over a size 16. You'd think there would be plenty of options given that bigger sizes seem to be the majority, but sizing and options are limited, and often restricted to online only. It's not often well advertised and that's why I'm here – to help you find those options (online and in store).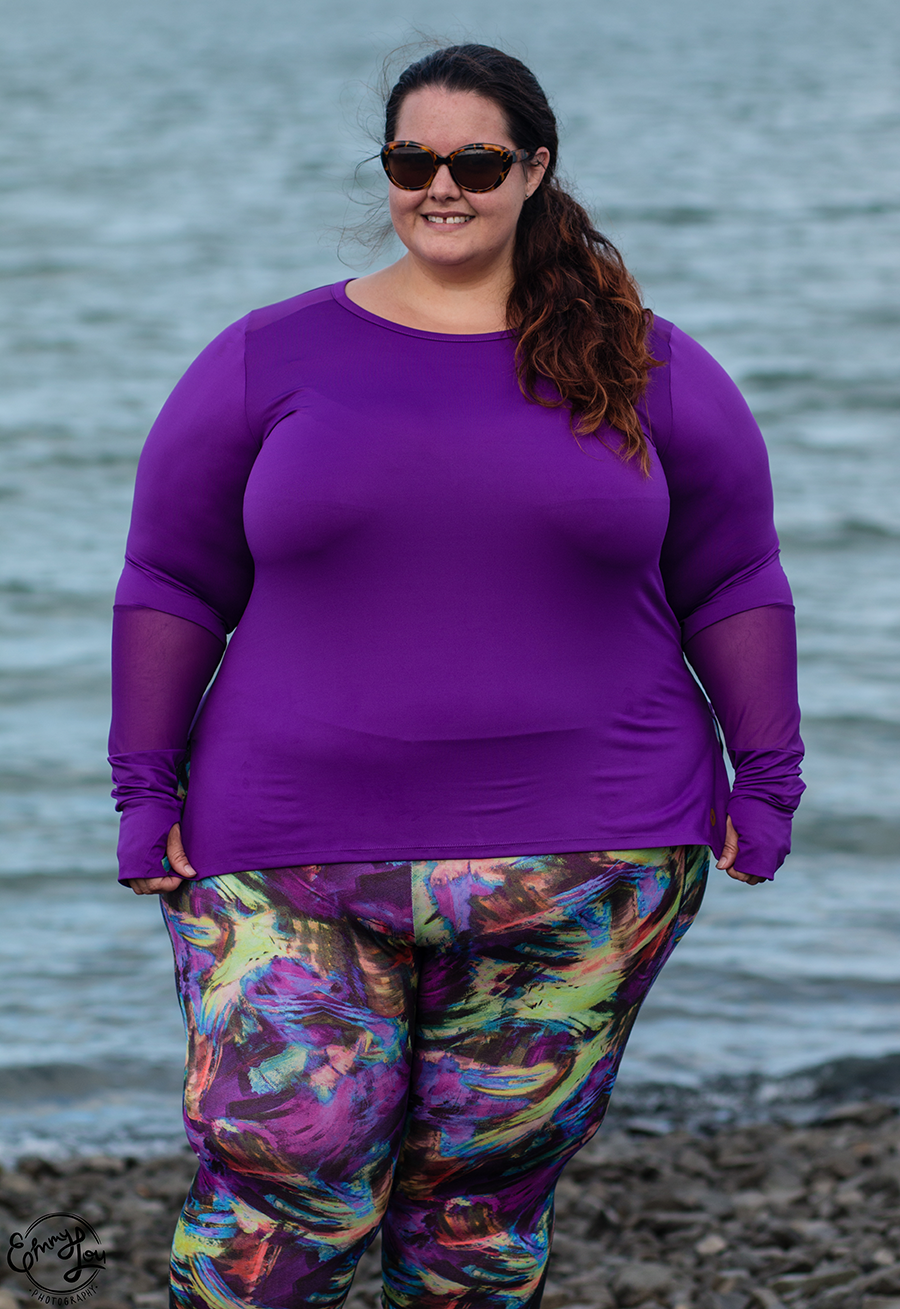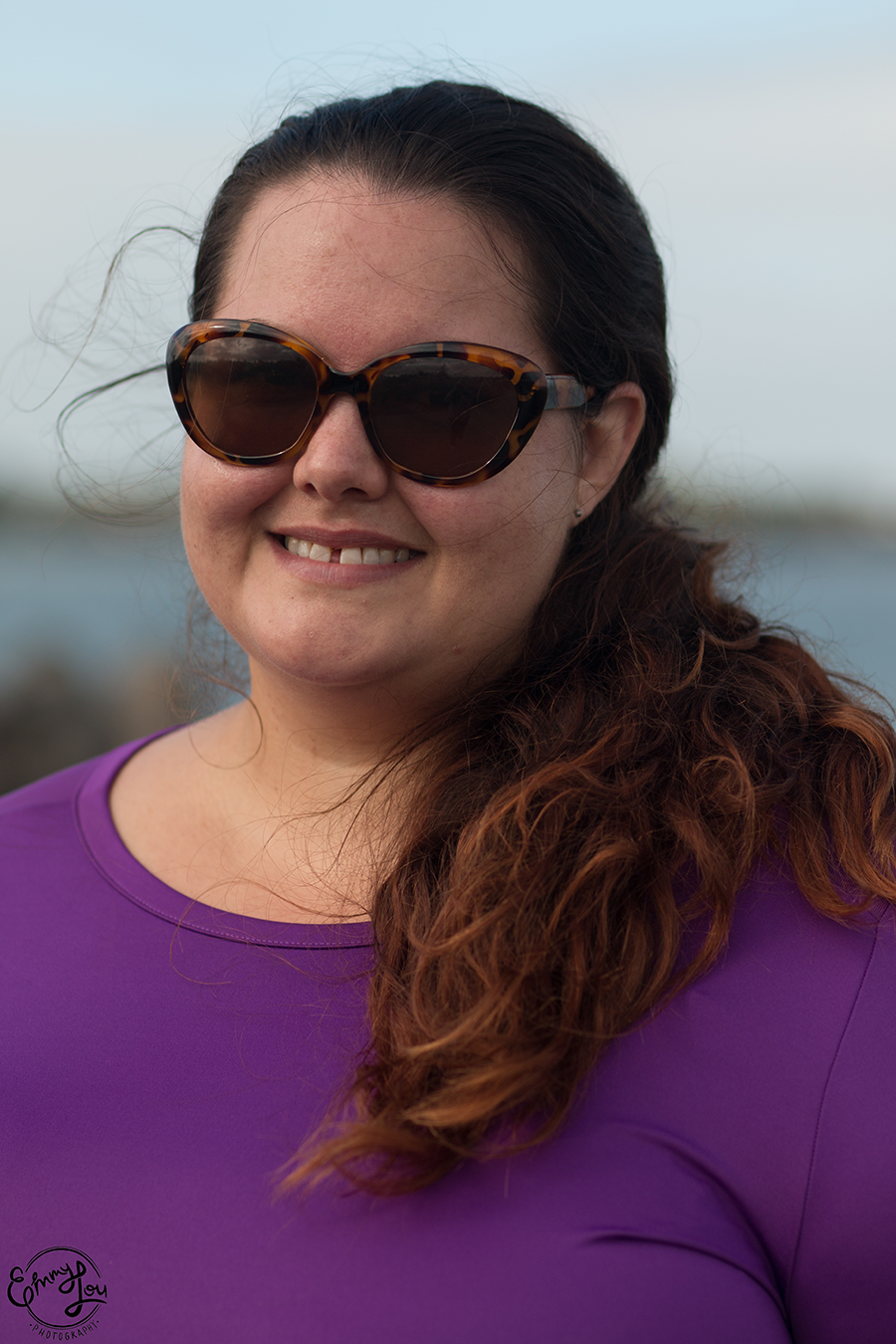 The top I'm wearing is from Sonsee – they're an Australian brand that makes really great stockings, and they launched their activewear range last year at Melbourne Fashion Week Plus. The top is comfortable, if a bit tighter fitting around my stomach than I'd like (it looks very different on me than it does on the model), and it has cool mesh panel detailing on the sleeves and back. It keeps me warm on chilly or windy days, while wicking away sweat and helping me to keep cool while I'm exercising. I think what I like most about this top is the thumb holes in the sleeves, I've always liked that detail in long sleeve tops!
The leggings I'm wearing are from Rainbeau Curves. If you follow me on Instagram, you will have seen me wearing Rainbeau Curves activewear a bit over the last few months – I've been loving their fit and designs. They're a really fashion forward company, and have lots of really cool bright pieces to choose from (and some more chilled out ones as well, for those of us who like to keep the outfits toned down). I've worn their gear for both walking and yoga, and find them super comfortable and well made. These leggings can be pulled right up over my belly button (great for feeling supported), and they've got little mesh cutouts in the leg as well. Mesh seems to be a popular thing at the moment.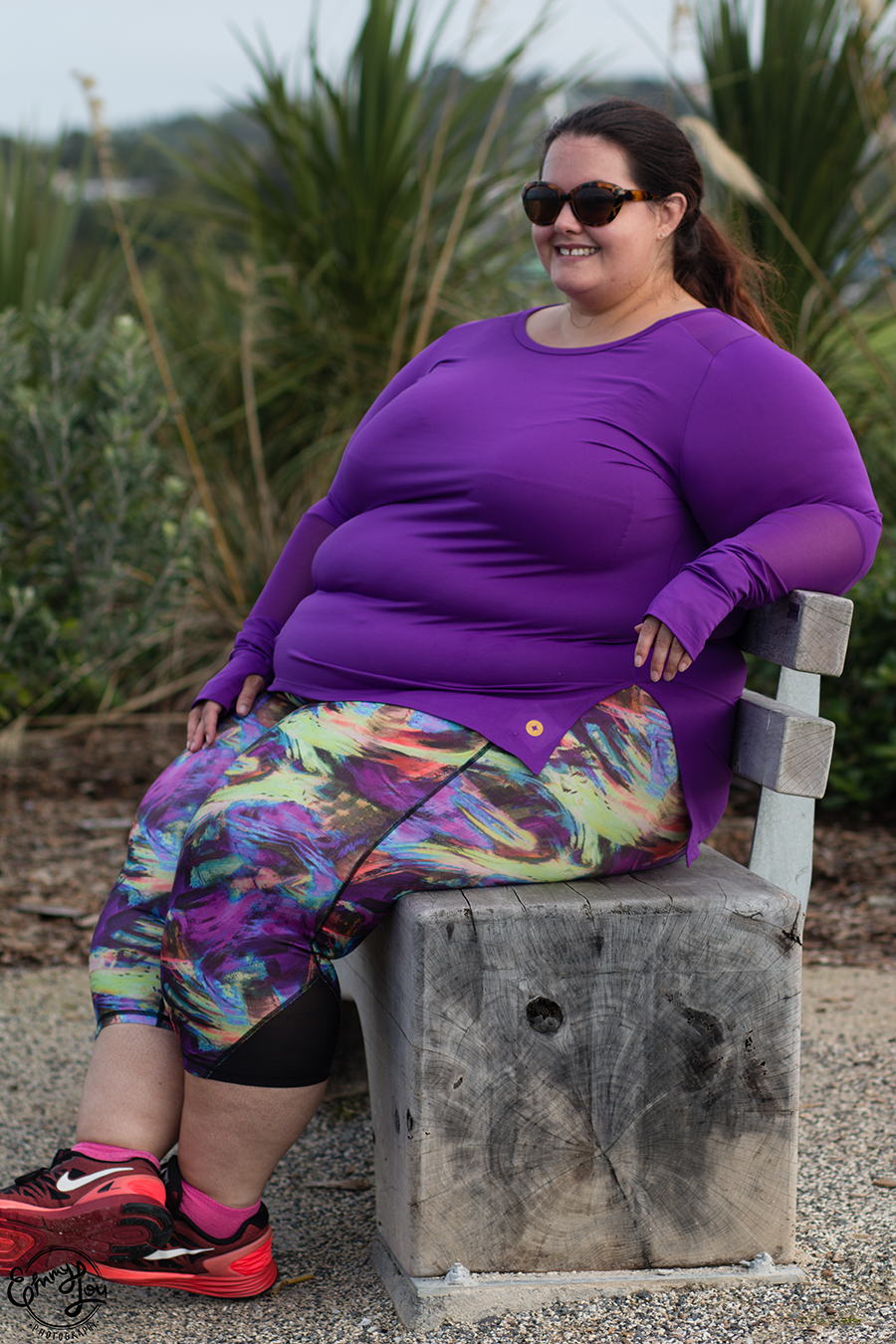 So here I am in all my sweaty-faced, frizzy haired glory. With my rolls, my lumps and bumps, and my cellulite. Not from flattering angles or with shapewear that's going to suck me in, just me. I know there are some people who will think "oh god, why would you willingly share a picture of yourself in tight clothes with all your rolls and your double chin and your arms that look like hams? Why not just share the more flattering photos?". I'll tell you why – because that's real life. This is what my body actually looks like sometimes.

Meagan wears:
Sonsee Active Power Long Sleeve Tee from Sonsee (26-28, gifted)
Veronica Print Capri Leggings from Rainbeau Curves (26-28, gifted)
Nike Lunarglide 6 in black and coral from Nike (9)
Photos: Emmy Lou Photography