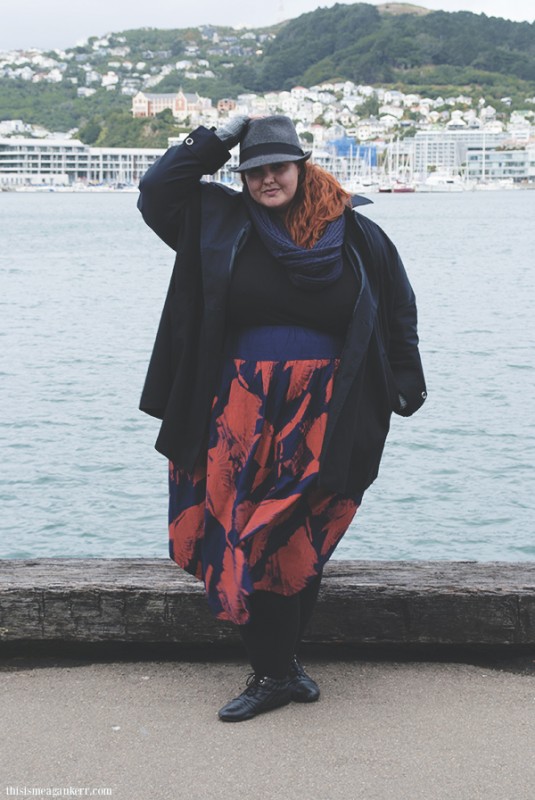 I just spent an amazing weekend in Wellington (which is the capital city of New Zealand, for all of my overseas readers who don't know much about the country I live in), where I got to celebrate plus size fashion, meet some great new people, catch up with old friends, eat delicious food, attend Wellington Fashion Week and photograph some gorgeous women for my Fat Girls Shouldn't Wear Stripes project. More about that later though – first I wanted to share this outfit with you because I am so in love with this skirt!
So, we all know I'm not really friends with patterns, right. But then this skirt happened. It's the Sweet Ride Print Skirt from their latest collection, and it's divine! I love the colours, the print, the cut, the fabric … and the fact that it has pockets. That's right, pockets.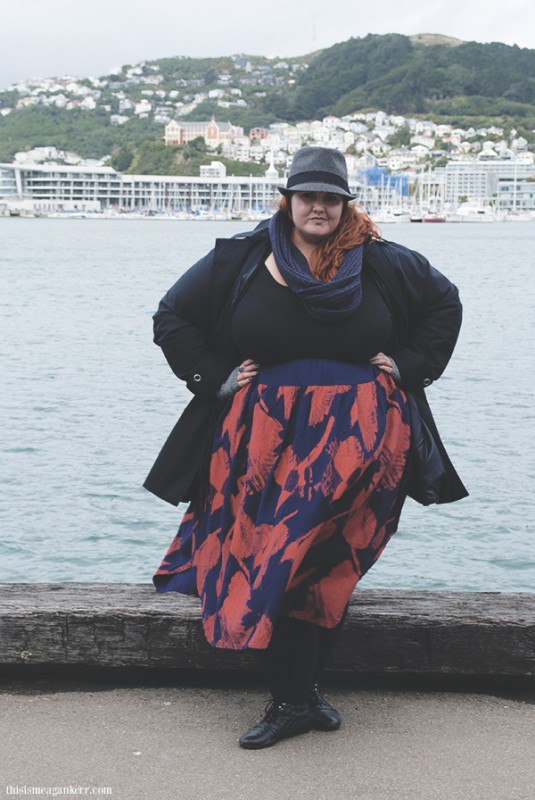 It was pretty windy in Wellington (as per its reputation), so multiple layers were required. I left my hotel for breakfast wearing three layers and actually had to go back and put more on… Even though you can't see most of them, here I'm wearing: a tank top, a tee, a cardigan, a coat, gloves, a scarf, a hat, super thick tights (I will have a post about tights/stockings coming up for you shortly), a skirt, socks and boots. Yep, all about the layers…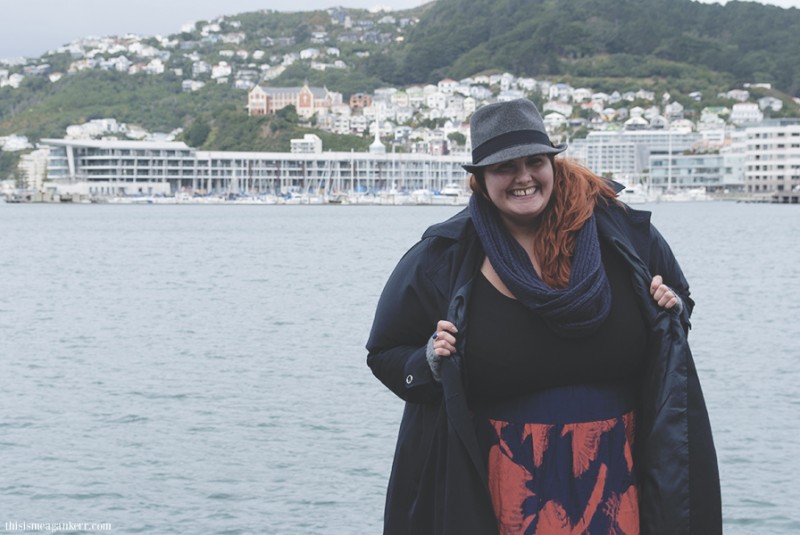 How do you layer up for cold weather?
xo Meagan
Meagan wears:
ASOS Curve Singlet in Soft Touch Jersey from ASOS (worn underneath)
Garage short sleeved tee from The Warehouse
New Look Inspire Edge To Edge Cardigan from ASOS
ASOS Curve Hooded Double Breasted Batwing Mac from ASOS
All Woman Thick Cotton Tights c/- The Big Bloomers Company
Sweet Ride Print Skirt c/- 17 Sundays
Therapy Texture Boots from Number One Shoes
Grey gloves from Rubi Shoes
Loop Scarf from Popsie
Mens Classic Grey Fedora by Kooringal
Thanks to Jocelyn from Mama's Style for the photos! I photographed her while I was in Wellington, and you'll see those pics on here soon.