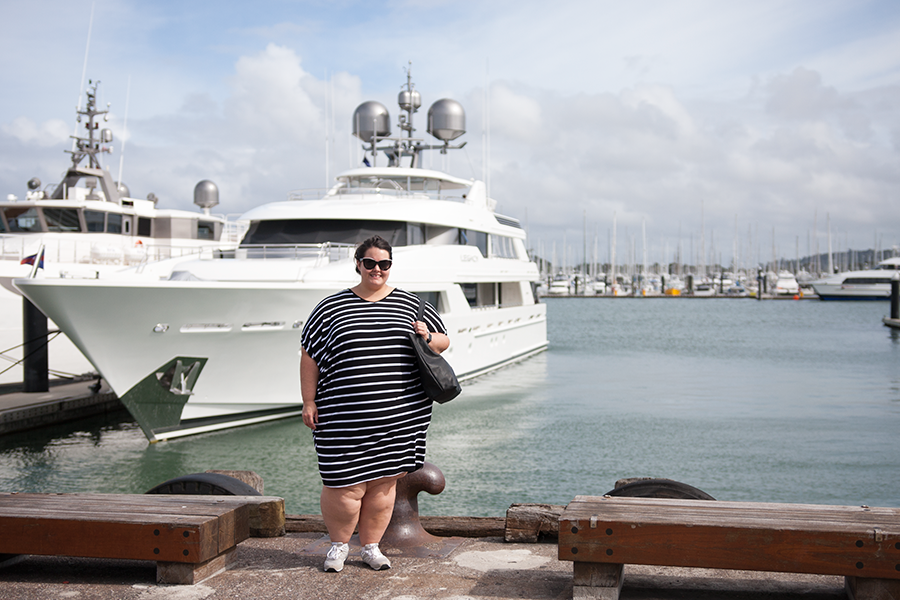 It's important to me that my clothes are versatile. While I am a serial outfit repeater and will gladly wear the same clothes over and over (because going with what you love is important, right?), I want to be able to change them up for different occasions, different seasons, different moods. Take the Isla-Maree Miracle Dress for example: it has a reversible neckline (so you can wear it either way depending on your mood) and can be styled for almost any weather in a number of ways. Make sure you're paying attention, because (spoiler alert!) you could win one of your own…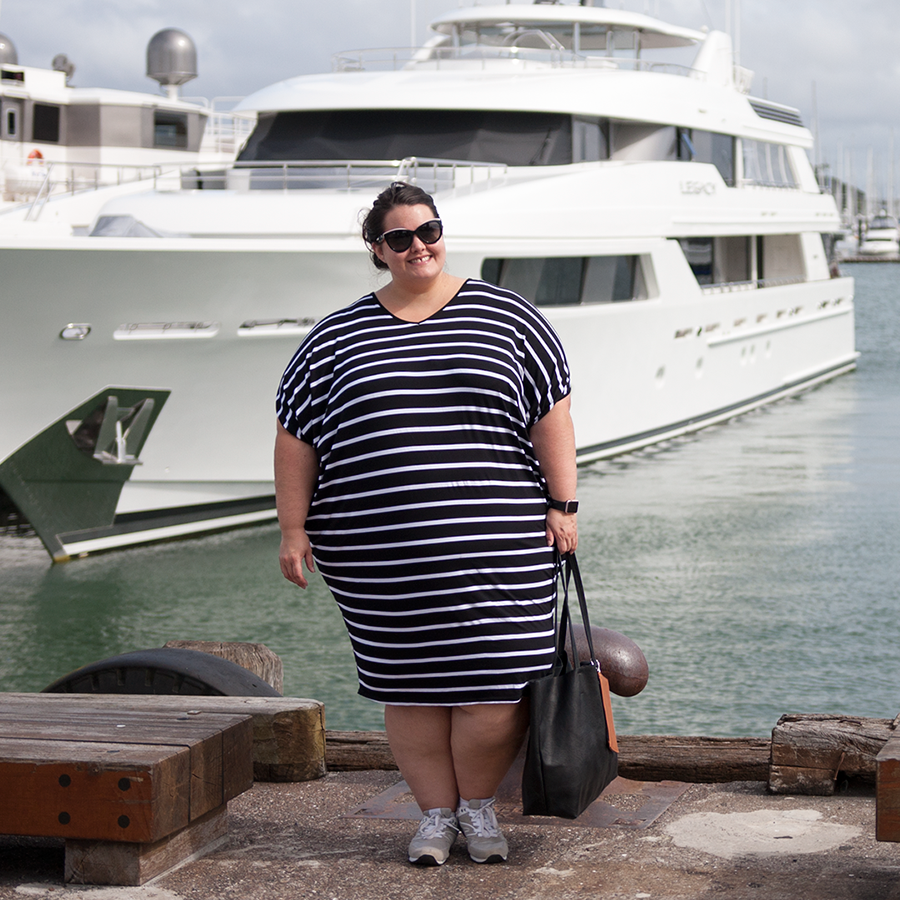 I'm a brunch kind of gal, it's just who I am. Whether it's hitting up one of our favourite local spots with my family or exploring new places with my blogger friends, brunch is by far my favourite meal. This dress is perfect for a brunch date, paired with sneakers, luxe sunnies, a classic tote and hair in a messy bun. It's easy, it's comfy and you don't have to think – just change your shoes up depending on the place you're going. To be honest, this could also double as a chic mum outfit as well!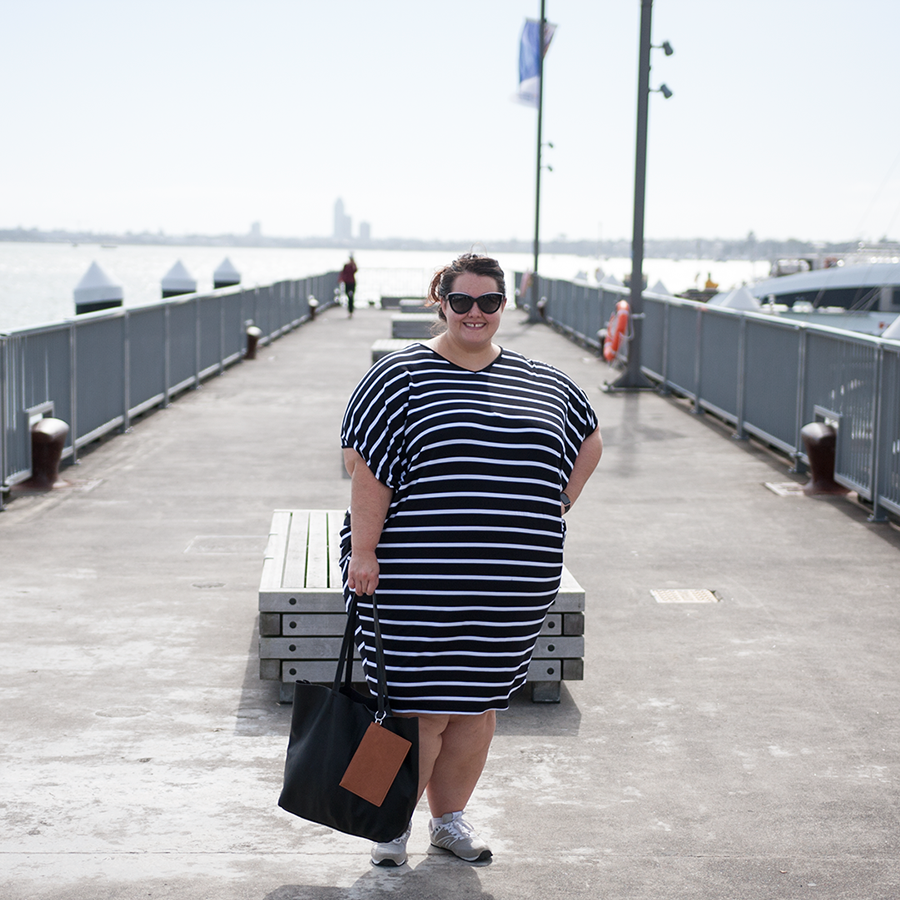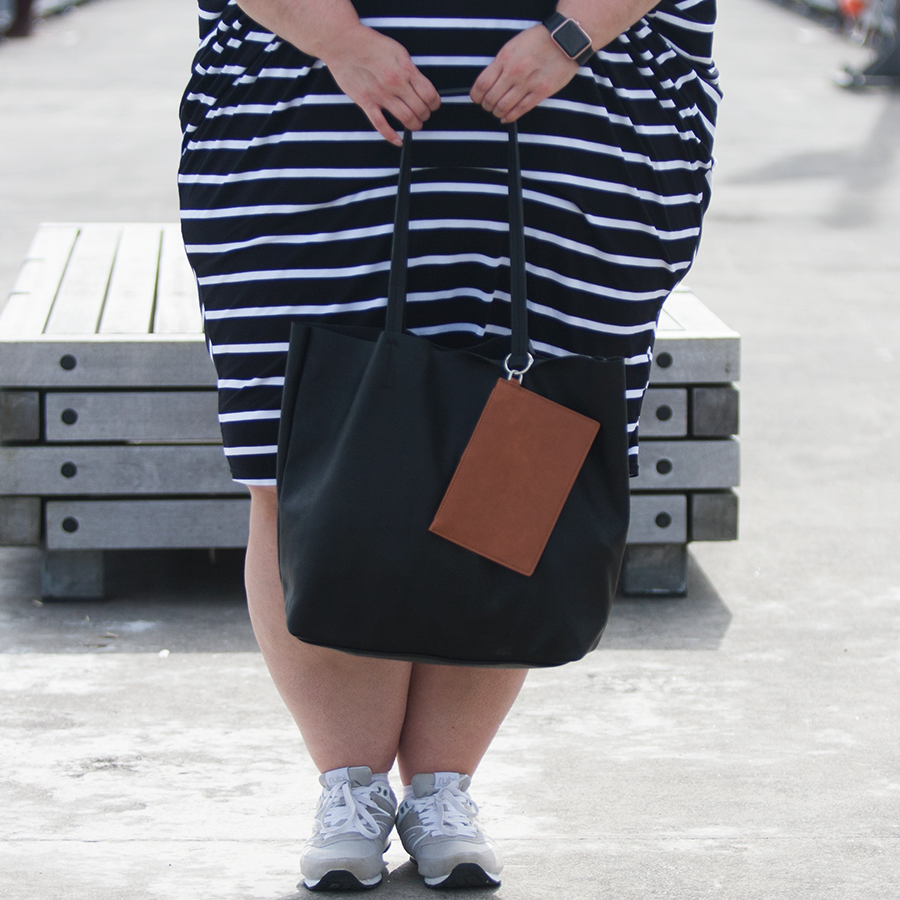 I know we're talking about the dress right now, but I just want to take a second to mention this tote. If you follow me on Instagram, you might have seen my Insta Stories last week about going to the Cotton On press day (here's a sneak peek in case you missed it) – this was one of the pieces they had there and oh my gosh. It feels like it's made from the softest, butteriest leather but it's not real leather! It's so lovely to hold and it's got the added bonus of having plenty of room for my fat arms to fit through the strap so I can carry it over my shoulder – champion!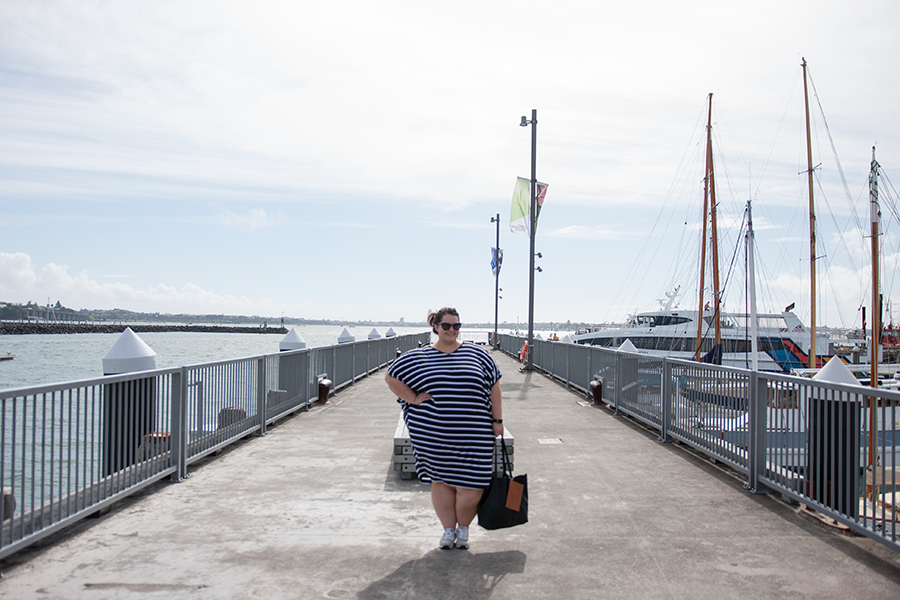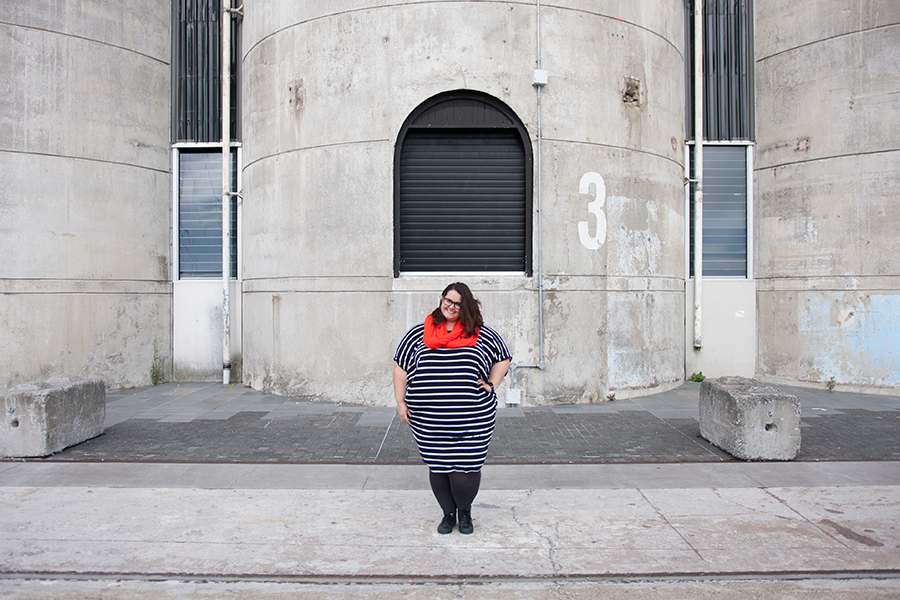 A quick change of accessories and I'm ready for cooler weather: add some stockings, ankle boots and a scarf, trade out my sunglasses for my specs and I am sorted. This dress is really nice to wear with stockings and I don't find that it starts shimmying up my legs as some dresses do when I'm wearing tights. Seriously though, does anyone else have that problem?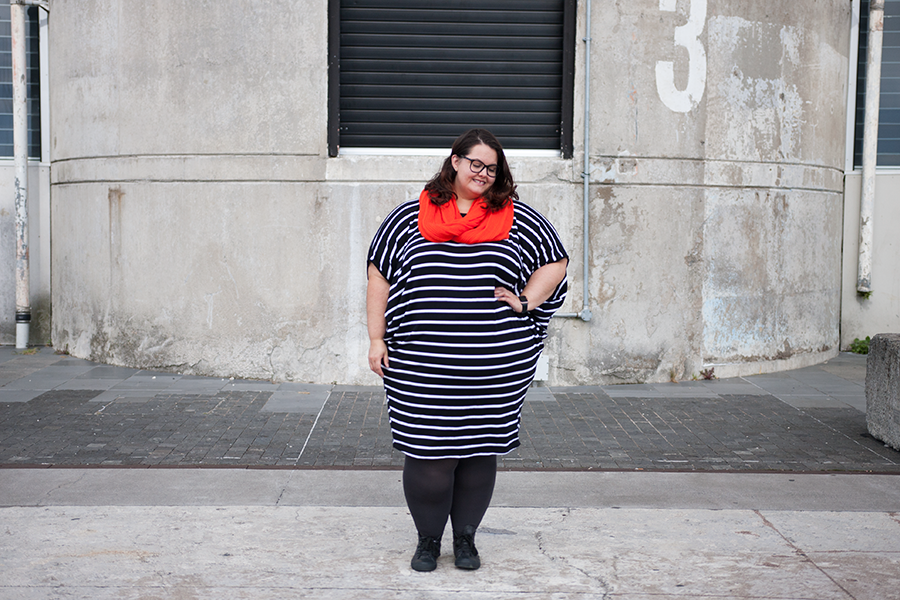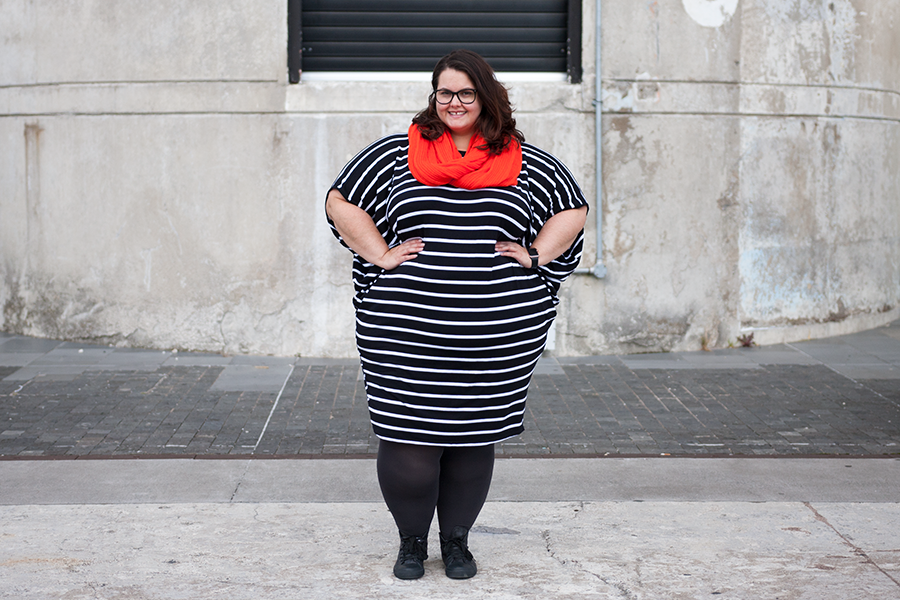 When I picked out this dress, I was wary of two things. First of all, it's free sized – "one size fits most" 22-26. I am very much on the bigger end of that and I've almost never had any luck with free sizing because I've got big boobs, big tummy and big hips/bum. You know what though? I think this is a bloody great fit! The other thing I was wary of was that apparently this dress is on the long side and I was warned I might need to hem it (fat chance, I am way too bloody lazy for that). Luckily for me, it actually turned out not to be too long at all – that extra length provided ample room for my boobs/tummy/hips/bum and it's just the right length for me! I think that extra length would be great for my tall babes as well, but if you're on the short side or you're on the smaller end of the fit then you might need to tailor it, depending on your preference.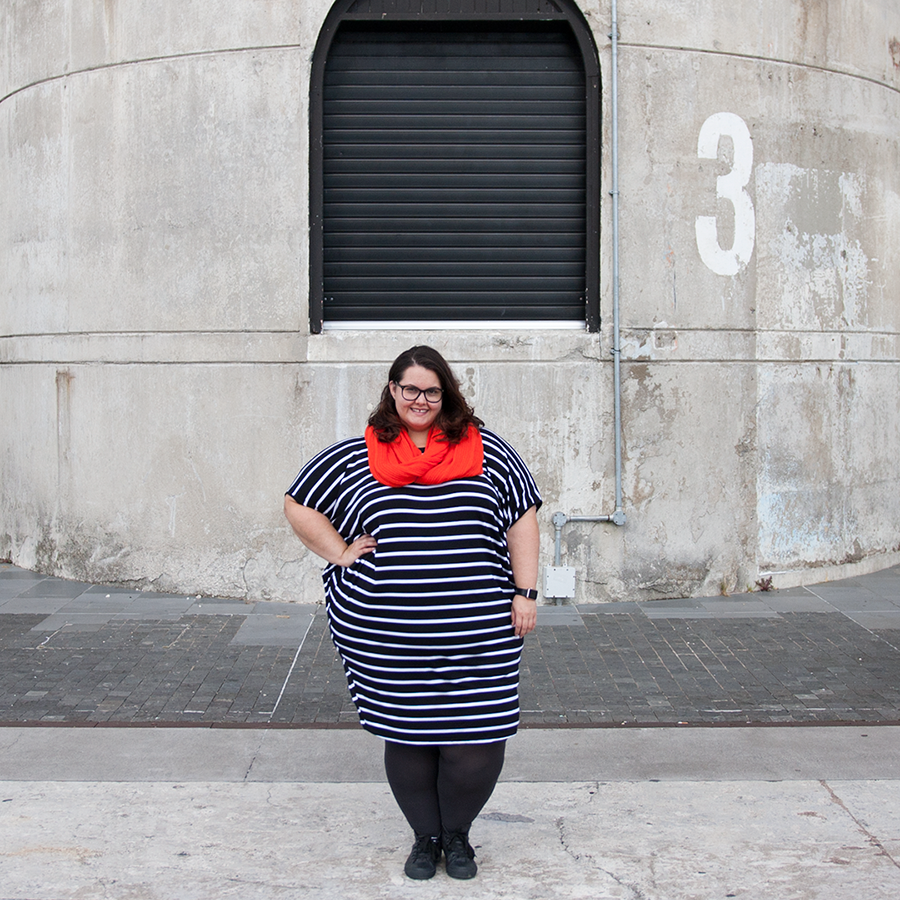 The babes at Isla-Maree have very generously hooked us up with an exclusive discount code – you can use the code ThanksMK to get 10% off your order until 17th April – so if you want to use it then you'd better be quick!
WIN IT: I've got a Miracle Dress in Navy and White Stripes (worth $99.00) to give away. The winner will be able to choose their dress size (12-20 or 22-26). To get in the draw, leave a comment below letting me know how you'd style it, then click here to subscribe to our free fortnightly updates. You can unsubscribe at any time if you change your mind – it just makes it easy for us to contact you if you win (plus it means that you get style, self love and other awesomeness directly to your inbox!). If you're already a subscriber then great – all you need to do is comment below. The winner will be drawn on 25th April 2017.
THIS GIVEAWAY IS NOW CLOSED.
CONGRATULATIONS TO OUR WINNER, JANNE JENNINGS.
Please note that you must have a New Zealand postal address to enter this giveaway. If you're not in New Zealand, never fear – good things will come your way soon enough.
How would you style this dress?

Meagan wears:
Curve+ Miracle Dress in black stripe from Isla-Maree (gifted, 22-26)
Dolce & Gabbana DG4207 Multicolor Polarized 2764/T3 Sunglasses from SmartBuyGlasses
City Slicker Tote Bag from Cotton On (gifted)
Pearson Trainers from Rubi Shoes (8)
Alexa Glasses from Specsavers
Boston & Bailey Loop Scarf from Farmers
Opaque 100 Denier Tights in shadow from Sonsee Woman (gifted, 26-28)
Life & Sole Snakeskin Hi-top Sneakers from Number One Shoes (8)
Photos: Ambient Light Photography