Brought to you by Sonsee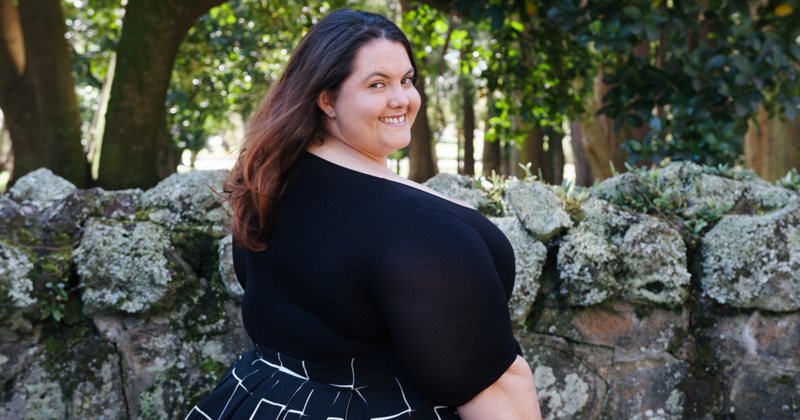 Bodysuits are great for spring and autumn, when we're going through that changeable weather that's not quite warm and not quite cold. These are the times when you want to be able to layer up, making it easy to add and remove items depending on what the temperature is doing – especially if you live somewhere that has four seasons in one day, like I do. They are also ideal for wearing in place of a top, because they give you that seamless fit underneath your outfit and solve the problem of tops coming untucked. I'd never worn a bodysuit before, so when Sonsee asked me to style one of theirs I gladly took up the challenge. Here's a few looks I came up with to easily work the elbow length bodysuit into my current wardrobe.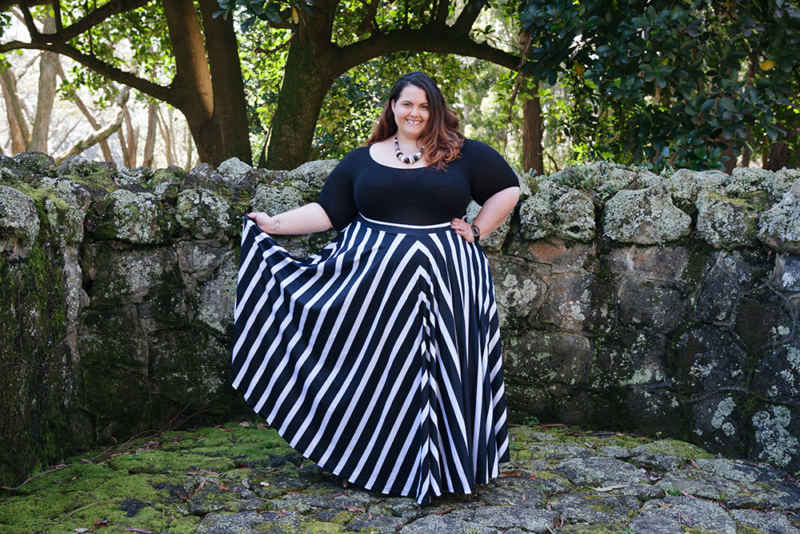 BODYSUIT + CIRCLE SKIRT
There's something about the body + circle skirt combo that reminds me of dance class, and I'm loving it. You can go for any length circle skirt and this outfit will still look great, and your shoes can change depending on whether you want to dress this up or down (as we're heading in to summer, I'm wearing sandals). I've added a statement necklace to add a little bit of interest and to balance out the bold design on my skirt.
MEAGAN WEARS: Elbow Length Bodysuit from Sonsee (26-28) | Striped Maxi Circle Skirt from Joolz Fashion (28) | Bold Polly Necklace from Polly Collective. Want to see more of this outfit? Find it here.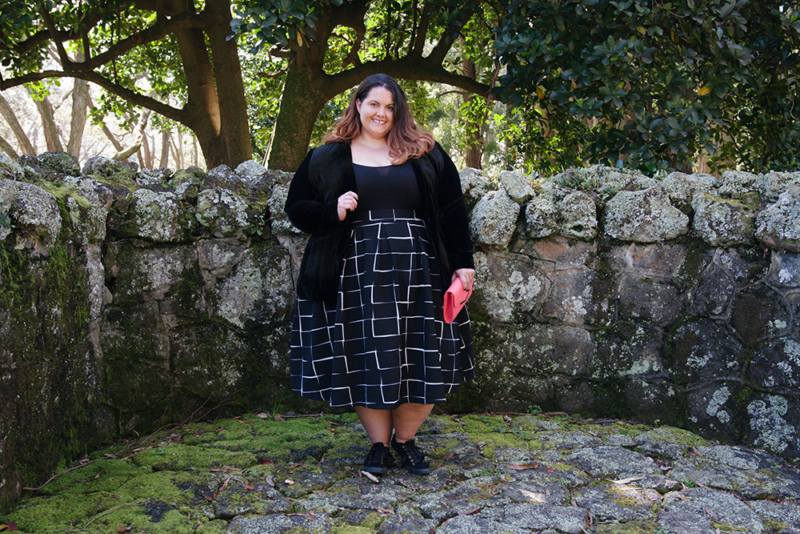 BODYSUIT + MIDI SKIRT + BLAZER
For a look that can easily take you from day to night, pair your bodysuit with a skirt and a jacket (or cardigan, or both if it's cold). I've gone for an easily adaptable look with a graphic print on my skirt and a black velvet blazer; and I've chosen lace sneakers and a colourful clutch for an after work look. For daytime I'd ditch the sneakers in favour of brogues or ballet flats (or heels if that's your thing) and a handbag.
MEAGAN WEARS: Elbow Length Bodysuit from Sonsee (26-28) | Kate Midington Midi Skirt from Society+ (26-28) | Sara Velvet Blazer from EziBuy (26) | Salucci Collection Lace Sneakers from Farmers (8) | Ruby & Kit Clutch from eQuip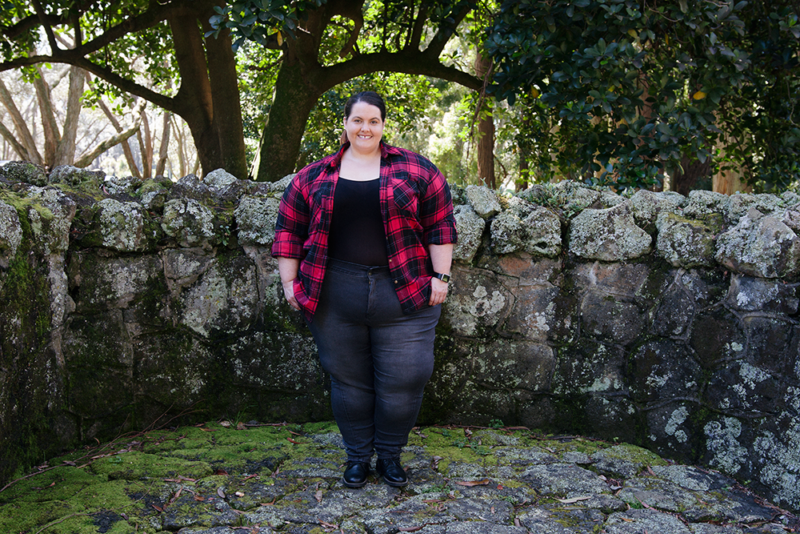 BODYSUIT + BUTTON UP + JEANS
Do you tuck your tees in? As someone with a long torso, one thing that often frustrates me is my tee coming untucked or riding up, and a bodysuit stops this from happening – my saviour! I'd usually wear a tank top underneath a button up and pair it with jeans and boots (especially on a chilly day), but switching the tank out for the body was an easy change. If the day gets warm you can always take that button up top off and tie it around your waist.
MEAGAN WEARS: Elbow Length Bodysuit from Sonsee (26-28) | Kate Madison Roll Sleeve Check Shirt (28) | Kate Madison Zip Panel Jeans from The Warehouse (26) | Limited Edition Lecester Boots from Number One Shoes (US6 M)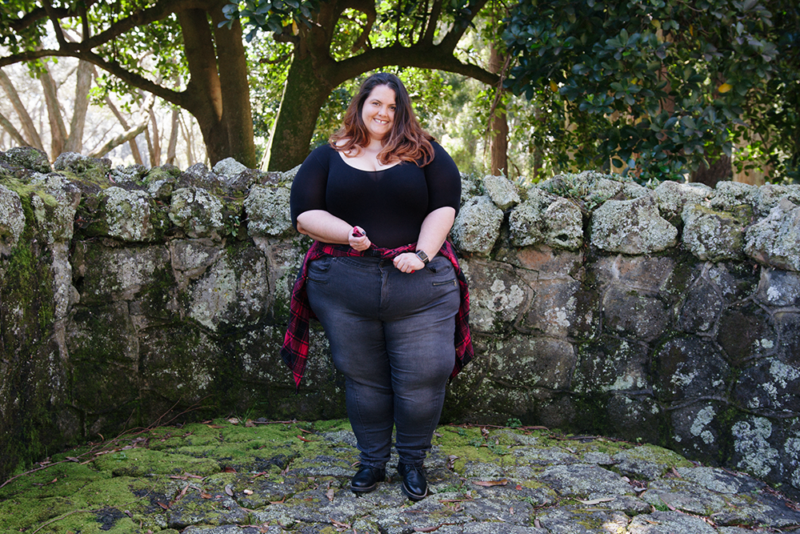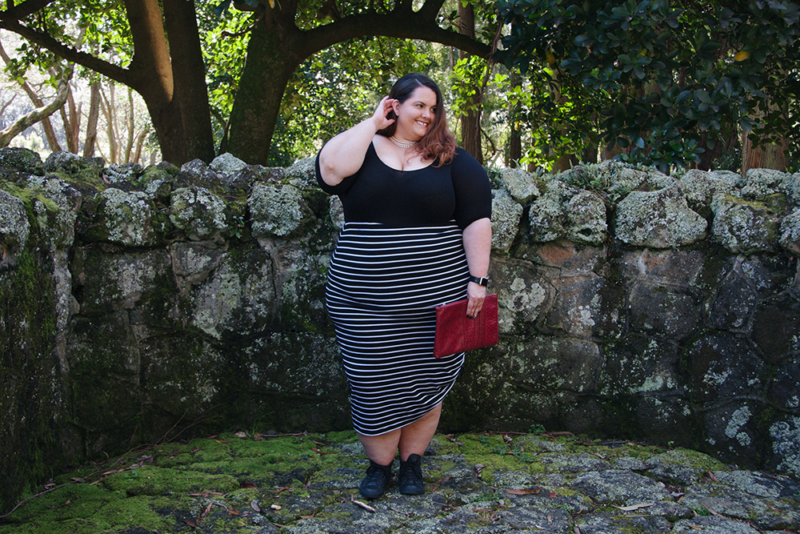 BODYSUIT + PENCIL SKIRT
I've realised that the humble bodysuit is a great solution to quite a few of my fashion dilemmas. If you're wearing a skirt in a fitted style, then a tee or a tank tucked in causes a line where it finishes under the fabric – something that has annoyed me for ages! A bodysuit eliminates that and gives you a seamless finish, which I love. I've accessorised this look with hi top sneakers, pearls and a bright clutch for my own classic mix of dressy and casual, but of course pencil skirts can be styled in many ways.
MEAGAN WEARS: Elbow Length Bodysuit from Sonsee (26-28) |  Sweetest Taboo Skirt from Harlow (XL) | Life & Sole Snakeskin Hi-top Sneakers from Number One Shoes (8) | Ostrich Clutch from Redcurrent
How would you style a bodysuit?
Let me know below!

This post was brought to you by Sonsee, please support the brands that support this blog.
Posts may contain affiliate links. If you purchase a product through an affiliate link, your cost will be the same but This is Meagan Kerr will automatically receive a small commission. Your support is greatly appreciated and helps us spread our message!