Brought to you by The Warehouse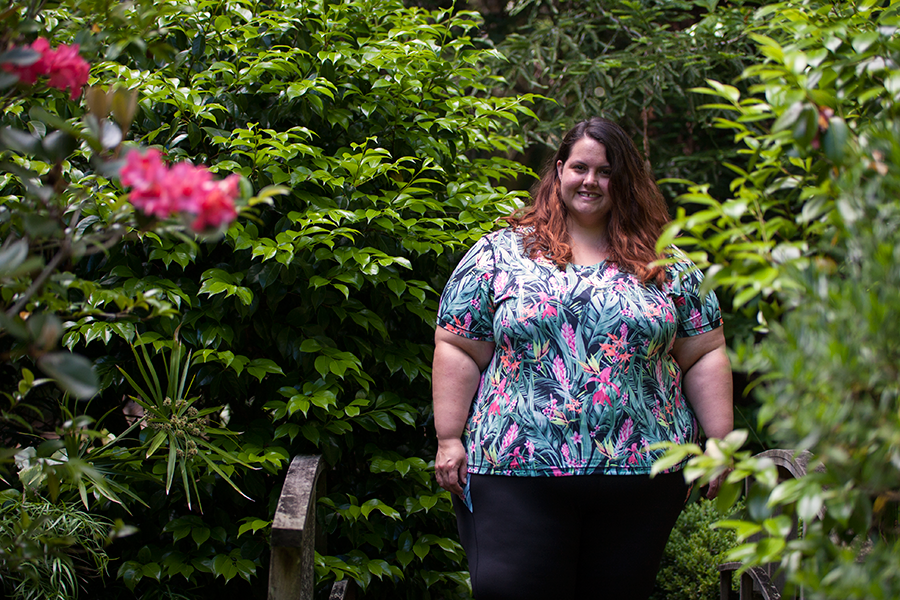 If you've been following my blog for a while, you'll probably already know that I talk about plus size activewear reasonably often – it's my most asked about topic, and affordable good quality activewear is really hard to find in plus sizes. Well, it was until now. I've been talking to the team at The Warehouse of the importance of making activewear available to a wider range of sizes for years, and I'm super excited to report that they've just extended their Active Intent range from a 2XL (size 20) up to a 6XL (size 30) and it is so nice!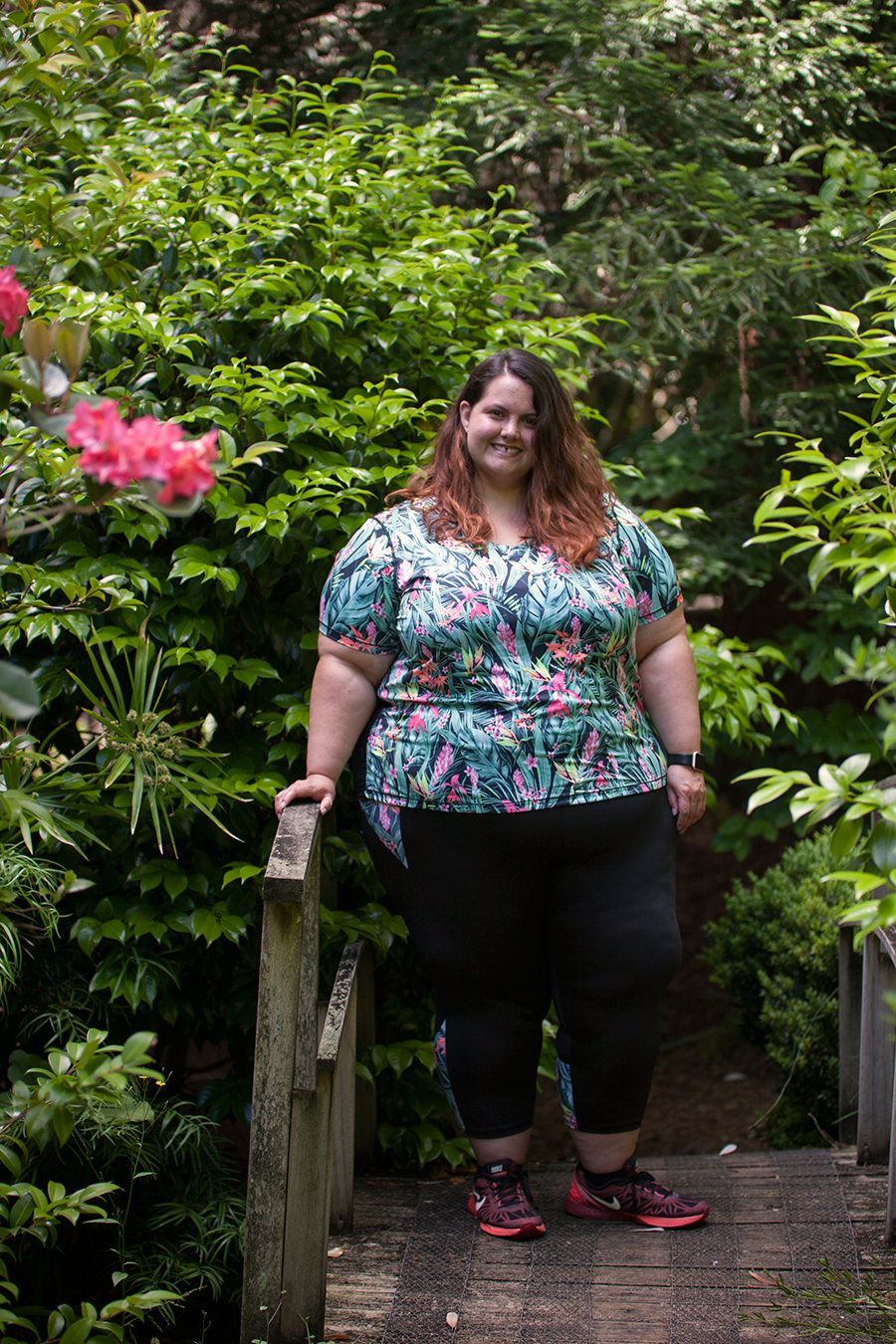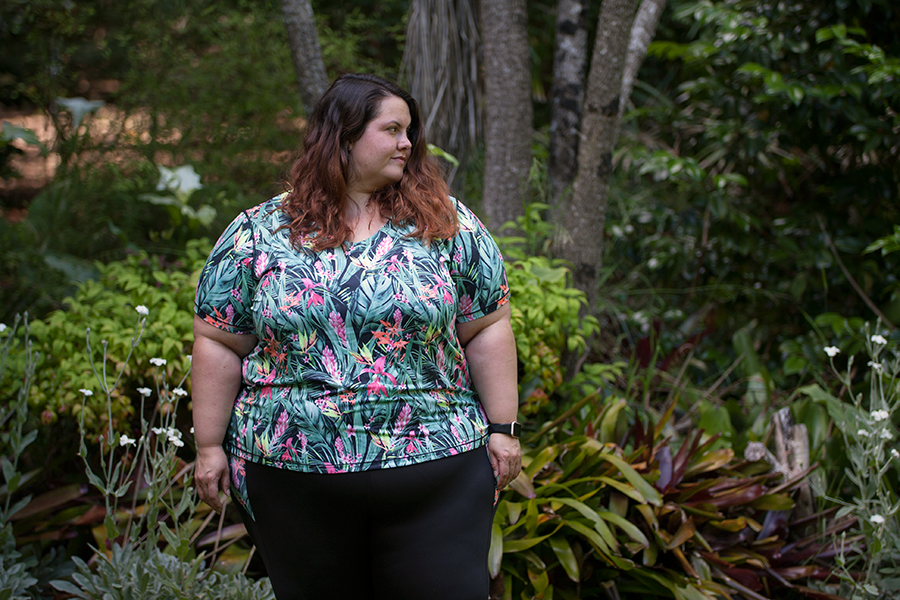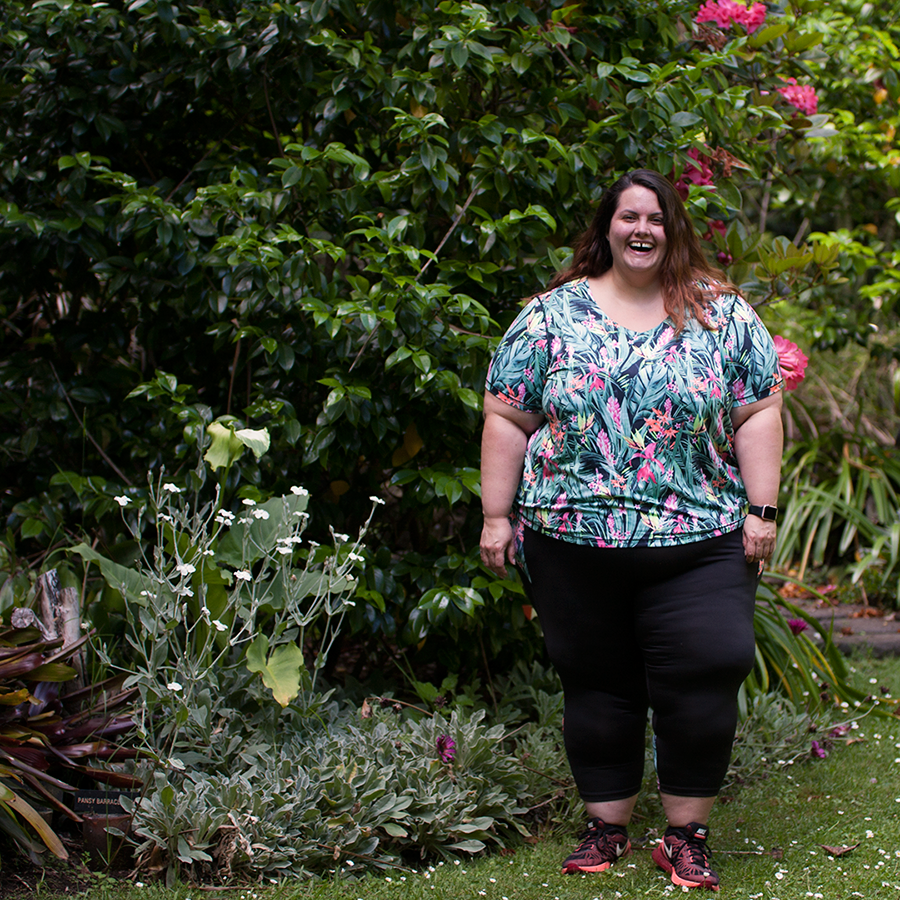 I often get people asking me what kind of exercise I do, and to share my workout routine, because they're not sure what kind of exercise to do or where to start, so I thought a post about activewear and being active would be a good place to talk about this (makes sense, right?). Now, I'm not a health expert or a personal trainer or anything like that – this is just what I do and what I enjoy – and what I do might not be what you like or what you need. Everyone is different, and that's okay!
WALKING – It's free, I can do it whenever I want and where ever I want. I prefer to walk during fine weather (because honestly, stuff walking in the wind and rain and cold), and in pretty places – gardens, local parks and hiking trails. I love it because it's a great chance to get out in nature which is also great for my mental health.
YOGA – I go to Fat Yoga once a week and it's great! We are all at different stages of our practice, some just beginning, some only practising occasionally and some regular yogis, and I love that. I find yoga really important for keeping my mind focused (otherwise I lie awake at night with my brain on overdrive!), as well as maintaining flexibility and allowing me to move my body in ways that other forms of exercise don't do.
GYM WORKOUTS – Going to the gym isn't for everyone, but I love it. I do mostly weights based training with a bit of cardio, and I go twice a week (that might end up being more if I'm feeling stressed). I have a programme designed specifically for me, to help with my goals of strengthening my body, and I'd encourage anyone who is interested in going to the gym to book an appointment with a trainer so they can show you how to use equipment and perform exercises correctly, and they can come up with a personalised programme to help you meet your goals, whatever they may be.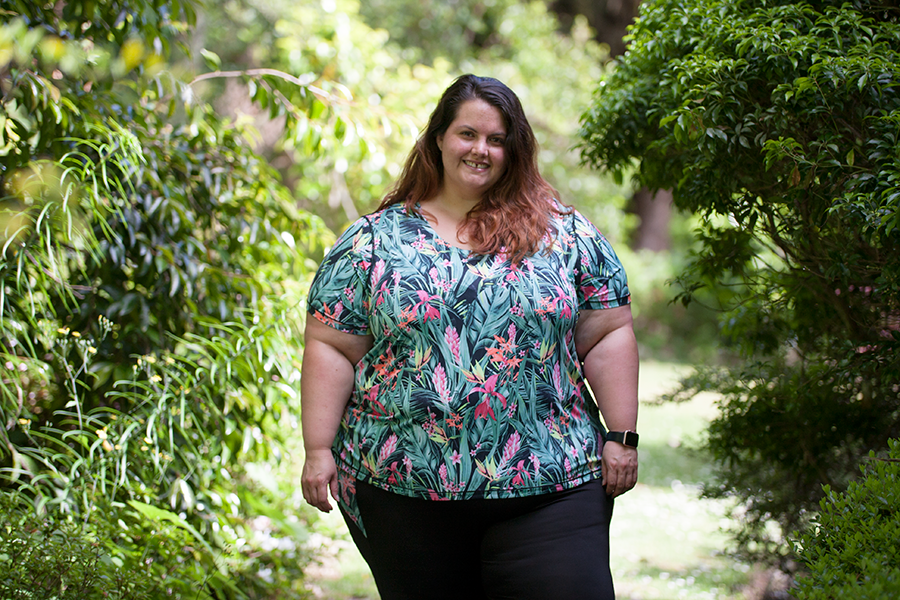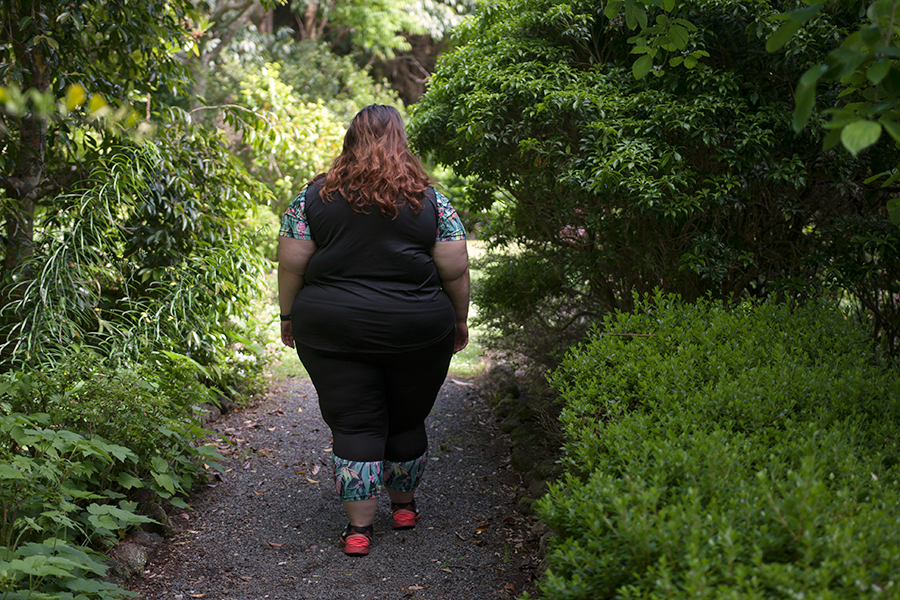 There are a few things to think about with activewear – fabric, fit and price are the three things that are really important to me, and I'm sure to many of you as well, so let's have a quick run down on the Active Intent range.
FABRIC
The fabric has plenty of stretch and is lightweight without being too thin (and it doesn't go see-through when you bend over – very important!). I have found it really cool to wear (both on a hot day and during exercise), and I love the bright bold print. The Active Intent range is known for their awesome prints and bright colours, and while there is not a lot of choice in terms of prints in the extended sizing at the moment, I've seen a few of the pieces coming in the next few months and it's only going to get better!
FIT
I love the fit of both of the pieces I've worn. The top is a comfortable fit in the arms and I have a full range of movement, and I don't find that it clings on my stomach. The pants are a capri style, and because I have short legs they are a longer fit on me (which is typical of capri styles). The waistband is super comfortable and my favourite feature is that there is a drawstring on the inside. As someone whose waist is considerably smaller than her hips, having that drawstring so I can customise my fit is really important because it means my pants are less likely to slip down! I've got both the 4X and 5X in both the top and the capri pants, because I'm in between sizes. I find them both a comfortable fit, but prefer the 5X (which I'm wearing in these photos) because it gives me a slighter higher rise in the pants and a bit more length in the top.
PRICE
The Active Intent range is by far one of the most affordable plus size activewear ranges available. The top I'm wearing retails for $15 and the pants for $20, and that's pretty standard for the Active Intent range. The Warehouse has also recently started offering PartPay in their online store, meaning that if you buy online you can spread the cost of your order over six weeks at no additional cost (unless you miss a payment), but you'll still get your items straight away. Blimmin' genius. If you're wanting to know more about PartPay, you can find the details here.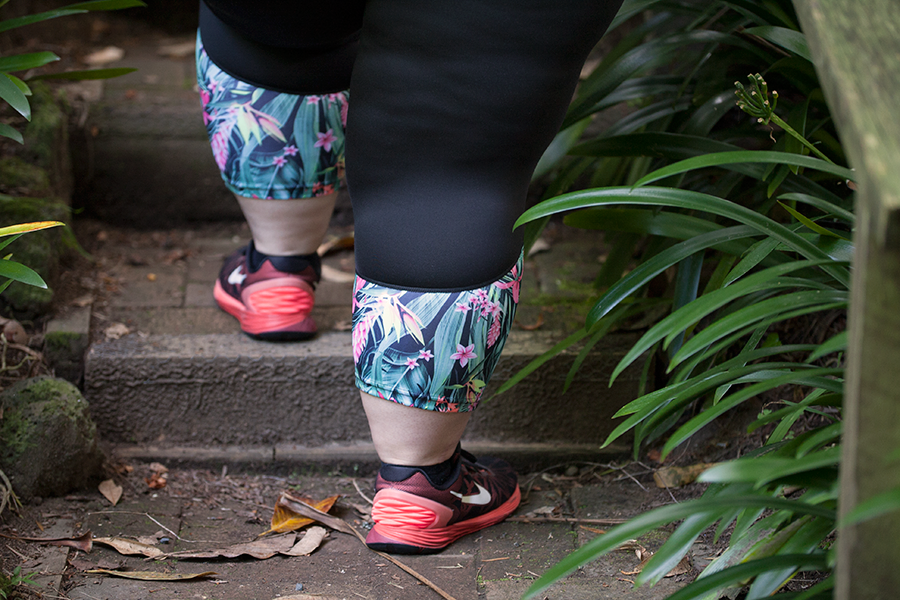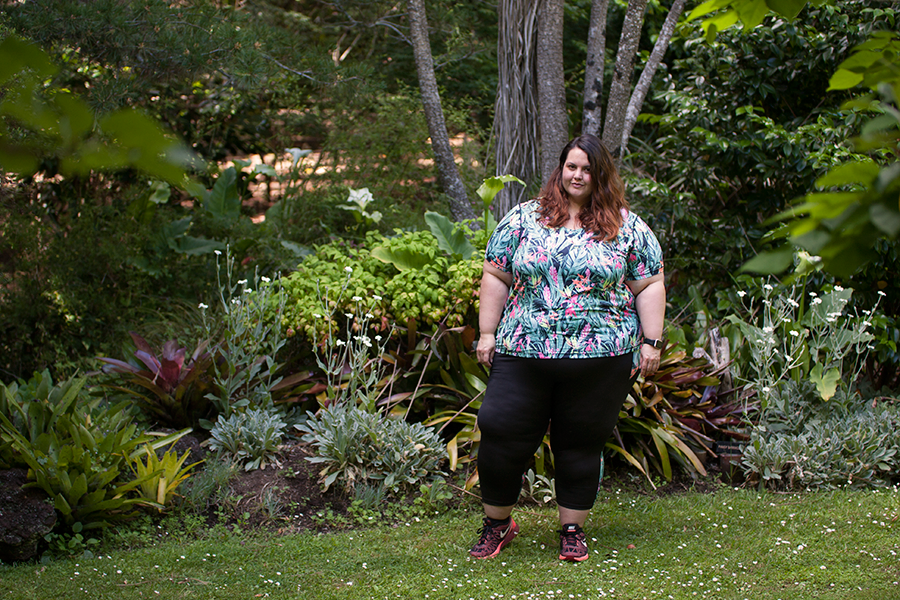 The range available in the extended sizing is pretty small at the moment, but it's a start. As I've already mentioned more colours and prints are coming, and more styles as well – like crop tops and full length leggings! I love the Active Intent crop tops but they're just slightly too small in the 2X at the moment so as soon as they're available in the 3X I'm going to be getting some of those.
WIN IT: So that you can try the range for yourself, the team at The Warehouse have given me a $150 gift card to give away! To enter, let me know in the comments below what kind of exercise you like to do, then click here to subscribe to our free fortnightly updates. You can unsubscribe at any time if you change your mind – it just makes it easy for us to contact you if you win (plus it means that you get style, self love and other awesomeness directly to your inbox!). The winner will be drawn on 30th November 2017.
THIS GIVEAWAY IS NOW CLOSED.
CONGRATULATIONS TO OUR WINNER @johubris
The Active Intent range is available in sizes XS-6XL (6-30), see the full range here.
What do you think of the Active Intent range?
Let me know in the comments below

Meagan wears:
Active Intent Tropical Print Tee from The Warehouse (5XL)
Active Intent Spliced Tropical Capri from The Warehouse (5XL)
Nike Lunarglide 6 in black and coral from Nike (9)
This post was sponsored by The Warehouse. Please support the brands that support this blog