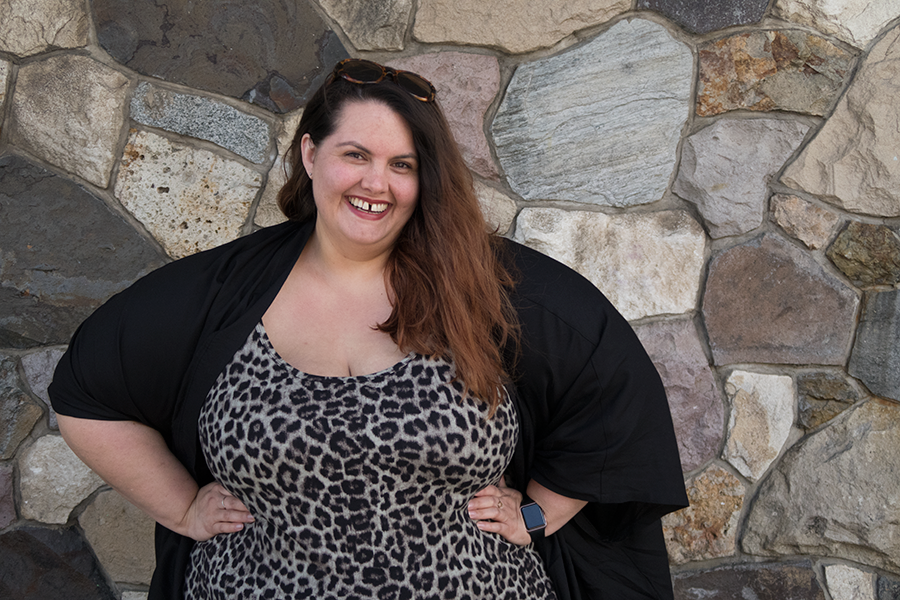 The older I get, the less patience I have for people who tell me "you can't". As if there were some kind of rule that says fat women can't go bare legged, wear bold prints or rock bodycon dresses. I'm here for all of that and more, because it's my body and I will adorn it in any way I please.
If you follow me on Facebook (and if you don't, please come join us!), you might have seen me posting recently about a couple of pieces I spotted at Harlow last week. A leopard print dress and a leopard print skirt. Now I've been told a lot of times that I shouldn't wear leopard print as a fat woman because it's bold and I shouldn't draw attention to my body. I've been told that as a woman over 30, I shouldn't wear it because it's too young for me, too sexy, too trashy. I've been told that as a fat woman, bodycon dresses and form fitting skirts are off limits to me. Well my friend, guess what. Some time in my late 20's I reached a point where I realised that I don't give a shit what other people say I can and can't wear – their opinions do not matter. As a fat woman, as a short woman, as a woman over 30, I can wear whatever I damn well please.
And so I bought the dress. I bought the dress and I feel like an absolute queen in it.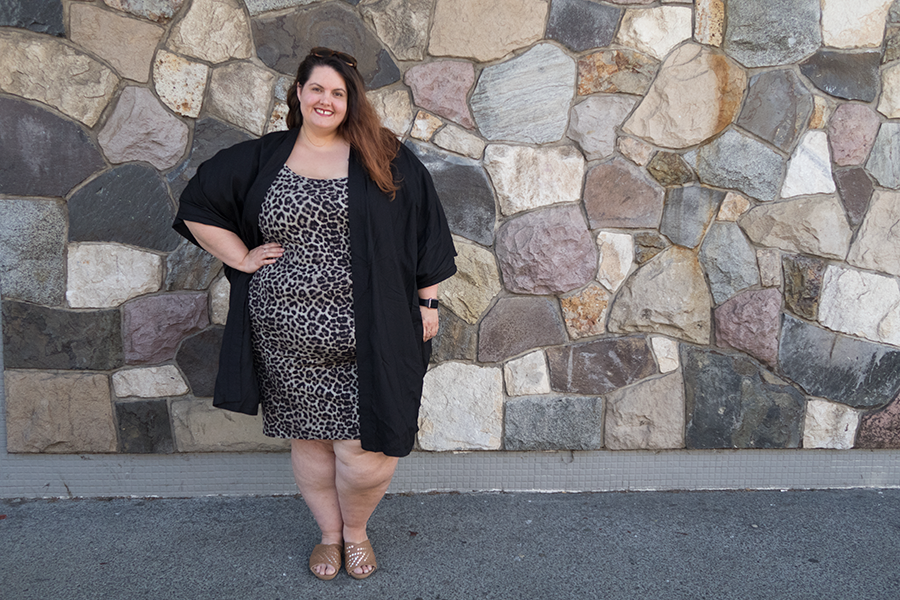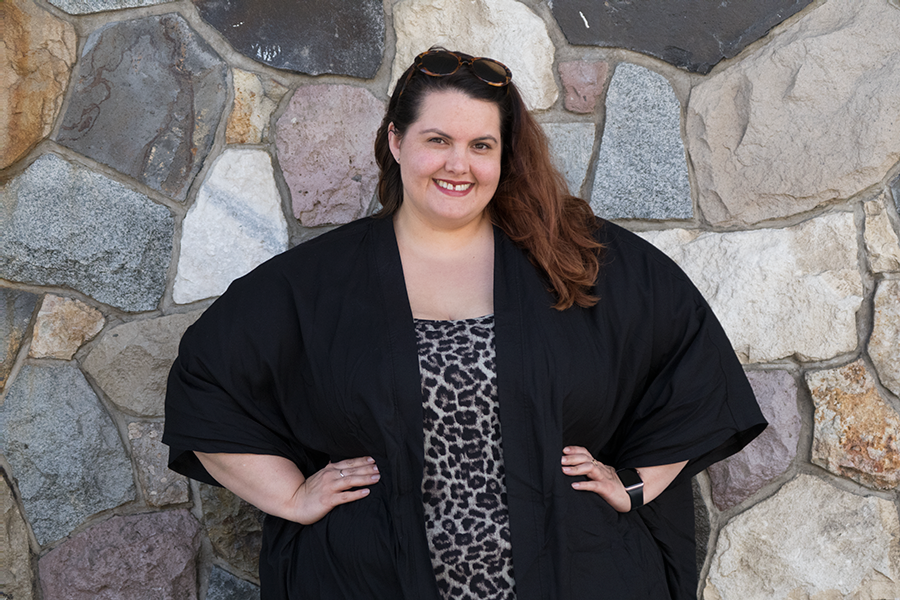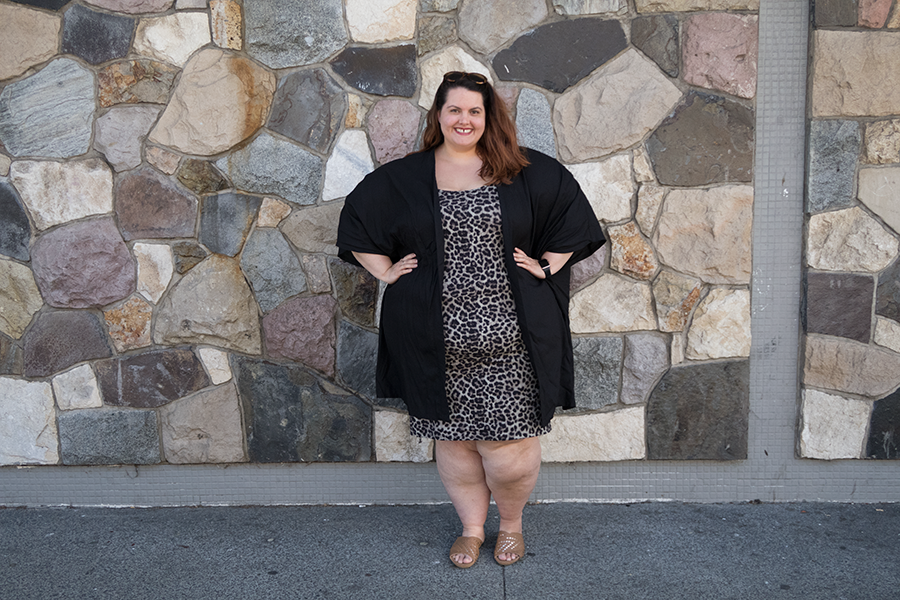 Is it form fitting? Do I have VBO? Is it a bold print? Am I *gasp* showing my legs? Yes to all of the above. And you know what? That's fine by me. This dress fits me like a hug and I feel comfortable in it. I hate the word sexy but damn it, I am feeling myself in this dress (and my boyfriend likes it too).
I realised while writing this post that I didn't take any photos without the kimono so that you can see what the rest of the dress looked like, but it's a sleeveless tank dress – perfect for summer. Don't you worry, I'll have plenty of time to take more pictures next time I wear it (you'll have to keep an eye out on my Instagram!).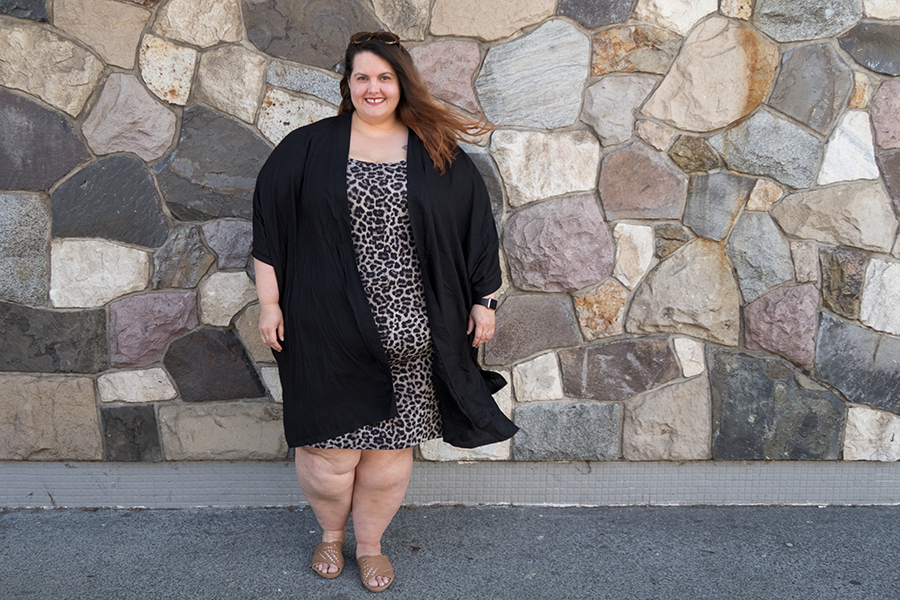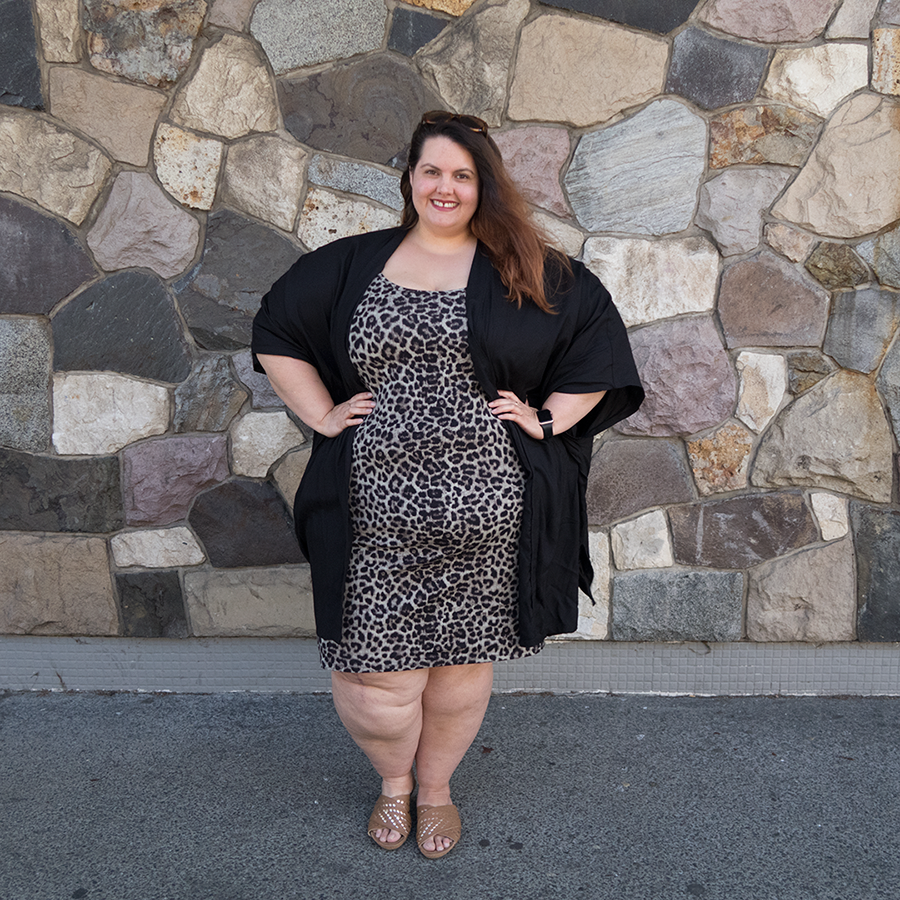 When people say I can't do something because of my age or my size, I've learned that they are best ignored. If I want to wear something and I feel great in it, I'm going to wear it. If I want to try something new, travel somewhere, learn something, follow a dream, I'm going to do it. I spent a lot of my time in my late teens and early twenties hating my body and listening to the people saying "you can't wear that" and "you can't do that", and it makes me sad that I wasted those years when I could have been having fun with fashion and going on great adventures.But not listening to them is where I've found my greatest joy. In fact, my whole blog is built around the idea that people constantly tell fat people the world is not for them, that fashion is not for them, and I think they're dead wrong so wanted to be a voice that says, "Fuck yeah! Do the thing! Wear the dress! Celebrate your own awesomeness!" which might sound cheesy but that's me. I'm a cheerleader, I'm here to encourage and empower.
Whether it's from the media, from family, from some opinionated twit on social media, even that little voice in the back of my mind where all of my insecurities like to hang out; I've vowed not to let myself listen to those "you can't" voices again. Because those voices do not define me, and they shouldn't dictate how I choose to live my life (or dress myself).
Is there something you've been told you can't wear but you rock it anyway?
Let me know about it in the comments below!

Meagan wears:
Hot Stuff Tank Dress from Harlow (XL)
Black Slouch Kimono from 17 Sundays (XL)
ASOS FERGO Woven Cross Strap Leather Sandals from ASOS (EU39)
Posts may contain affiliate links. If you purchase a product through an affiliate link, your cost will be the same but This is Meagan Kerr will automatically receive a small commission. Your support is greatly appreciated and helps us spread our message!