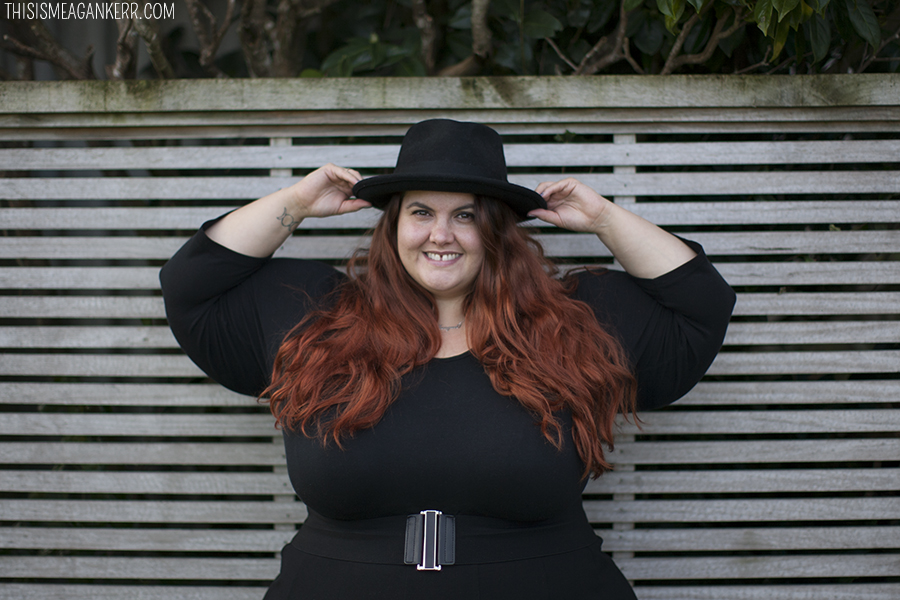 Black is one of the most common colours to crop up in my wardrobe, yet I realised recently that I hardly ever wear head to toe black anymore. It used to be an everyday thing, but I think I stopped rocking it all the time because of my Fat Girls Shouldn't Wear Stripes project. That kind of left me feeling like I was somehow obliged to wear a lot of colour, in an attempt to "disprove" all of the things that people say about what fat women should or should not wear. Now I feel like I've lost my fashion voice a little.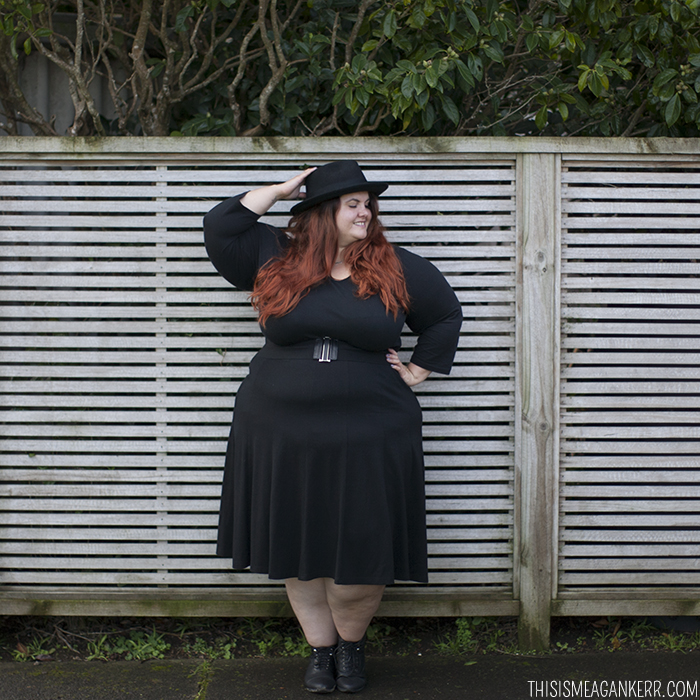 You see, growing up I was told that I should wear black because it was "slimming". Magazines said so, fashion said so (shout out to all the retailers of plus size clothing who pretty much only sold clothes in black or heinous prints from the 80's until the 00's – I'm talking to you here) and the women I knew said so, even when I was a little girl, like it was one of the secrets of womanhood.
Slimming. Because that's all women (regardless of how fat they are) are meant to want right, to be thinner? Fuck off. seriously – I'm pretty fat, and I doubt that any amount of clothing, no matter how dark, could make me look thin. If I wanted to "look smaller" I would stand far away in the distance – although that would made conversation difficult.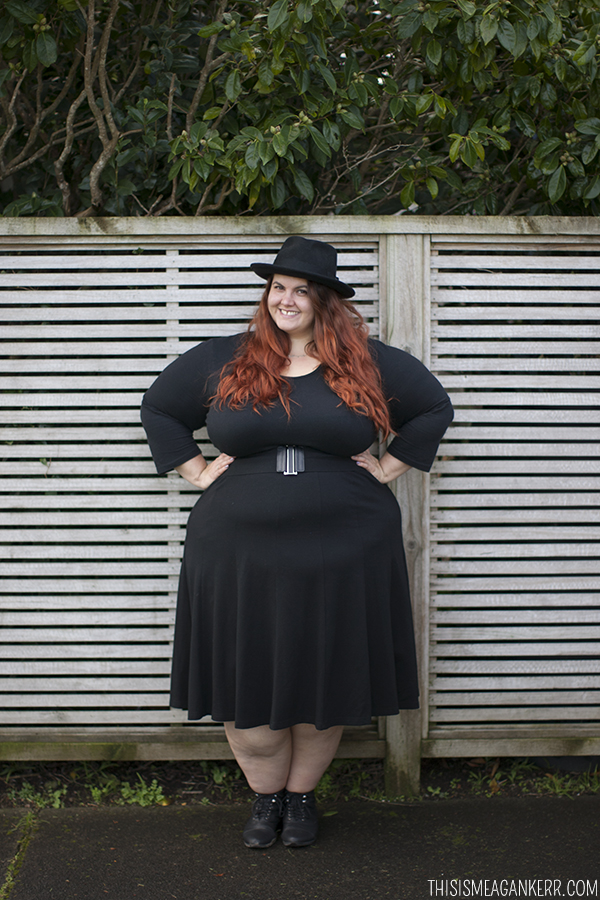 I actually resent the idea that is the only reason I would wear black. I wear black because it's awesome. It is a great neutral base that allows me to experiment with textures, fabrics, different accessories … and it really makes my hair stand out. Black is stylish, sophisticated and simple, and in New Zealand it has a long history of being a significant colour to our fashion. I wrote a number of essays on this very subject while I was at uni, but if you want to read more about this I highly recommend The History of Black in Fashion, Society and Culture in New Zealand by Doris De Pont – it's a fascinating book that will give you a great insight to the importance of black in New Zealand's fashion culture.
It's okay to wear black, I don't have to wear all of the colours and patterns now available to me if I don't want to. I'll just be here, witching it up in my darker than night clothes, because I think they express my personality and moods well. Sounds like it's time for a wardrobe clearout to help refine my fashion voice…
How do you wear black  – head to toe or with other colours?

Meagan wears:
Kate Madison 3/4 Sleeve Scoop Neck Top from The Warehouse (24)
Yourself Luxe Ponti Panelled Skirt from Farmers (4XL)
Head Over Heels Bronte Ankle Boots from Number One Shoes (9)
Xcesri Belt from Farmers
Scala Fedora from Hatworx
Images by Doug Peters / Ambient Light Photography