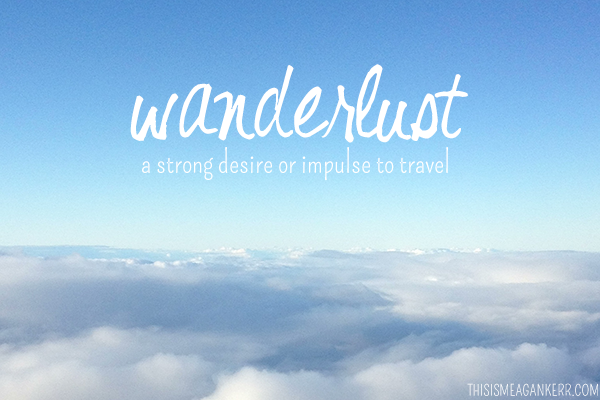 Genie from Bunny Eats Design asked if I want to indulge in a bit of wanderlust and answer a few travel questions. I've been getting itchy feet lately and am really looking forward to travelling again, so now is the perfect time to start thinking about travel. It's been about eight years since I last travelled overseas, and I feel like I'm missing out. I did quite a lot of travelling when I was young, but not as an adult, so I have lots of great memories but very few photographs. Perhaps this is a sign that it's time to travel again?
Where was your first plane to?I've been flying ever since I was very young, so it was probably either to or from Gisborne. When my family moved to Whangarei, my brother and I used to fly down to stay with my Grandma in the school holidays. We were unaccompanied minors, and I remember being allowed to hand out candy near the end of the flight.
Where have you travelled to that you would love to visit again? When I was a child, our first overseas holiday as a family was to New Caledonia. I remember having an amazing time, and it was where I first spent a lot of time snorkelling, and learned how to windsurf (and became a bit of an archery master!). I would love to go back as an adult, I think it would be even more amazing.
You're leaving tomorrow, money is no object, where are you going? Melbourne, Australia. I know it's not the tropical paradise that everyone else would probably pick, or far away and exotic, or even a little mysterious… but I love Melbourne. I have a lot of friends and family there, and there are so many people in Melbourne that I've spoken to for years online but never had a chance to meet. I last went to Melbourne about eight years ago, and I can't wait to go back. I'm saving my pennies! I promise I'll give you a wee tour when I make it back there.
Preferred method of travel: planes, trains or car?That's a tough one. I love planes for going overseas (obviously), and for getting around New Zealand quickly, but I also really enjoy being able to take my time and take pleasure in the journey. My family travelled by train in the South Island, and all I remember is that it was extremely beautiful. Clearly I wasn't old enough to appreciate it! I'd love to travel around the South Island again – perhaps I need a housetruck? And car … well, I do love a good roadtrip. I'm heading on a wee roadie down to Taupo next week – can't wait!
Favourite travel website? I don't know if I've ever perused a travel website before, perhaps this is my cue to start? I book my flights through Air New Zealand and my accommodation through Wotif, they've never put me wrong! Do they count as travel websites?
Where would you travel to just eat the food? Ignoring all the divine pastries and delicious bread-related treats that are totally unsuitable for the gluten-free gal, I'd love to go to France. There are so many amazing French foods that I've had recreated for me, and I'm sure they'd be even better if I was eating them in France! Perhaps I could even learn a spot of French cooking while I was there, in between all the wine and cheese…
Is there a place you would never go again? Everywhere I've travelled has had it's highs and lows, and I'm yet to find a place that I wouldn't go back to!
Can you recite your passport number from memory if asked? No. My passport expired quite some time ago, and I never bothered to renew it because I couldn't afford to travel abroad when I was studying. I'll definitely be getting a new one in 2015 though.
Do you prefer the Window, Aisle, or Middle seat? I prefer the aisle seat, with the aisle to my right, so that I can easily stretch my right leg without annoying my seatmates. I have talked about seating choices in more detail here.
How do you pass the time on the aeroplane? I used to travel quite a lot for business, and I really relished that time to myself because my (very demanding) boss couldn't contact me. It was my time to read the books I'd been stockpiling! Now, I am a little different. Headphones in, music on, and I'm usually working, either on my laptop or scribbling in the notebook I carry everywhere with me. It's a great chance to work uninterrupted! If I'm travelling for longer than a couple of hours I usually try to sneak in a nap as well.
Where would you like to travel to? Make sure you check out my flying tips!

Some of my fellow #brunchclub bloggers are indulging their wanderlust as well, make sure you pop over and check out their blog posts – consider it your mini world tour!
A Food Awakening // Amber in Wonderland // Becca Jane Lee // Bunny Eats Design // Child of Ponderings // Dani Pohlod // Laura Laura // Lovefromjessxo // Move Love Eat // My Foxy Corner // Sarah Sees The World // The Life and Times // xoxbubbles