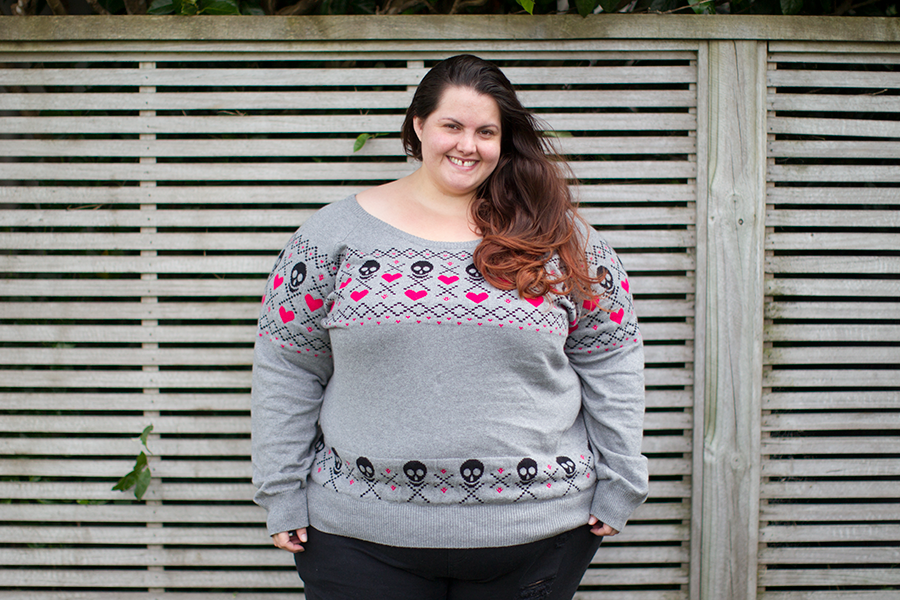 On Black Friday I decided to do a spot of shopping, including my first order from Torrid. I get a lot of people asking me about Torrid (especially New Zealand shoppers), so I wanted to share what I picked out and a review of my experience.
This was the first order I've made from Torrid, but I have gone in on an order with Rachel before. First time around, I got two bralettes that didn't fit. I put one of them on and had one of those "oh shit, I'm stuck, I'm going to have to live in this bralette for the rest of my life" experience until Doug managed to wrestle it off me. I've since given that one to my friend Chloe, and it fits her much better than it did me!
Anyway, I bought five things (which I'll link below for you) and I really like all of them. The highlight for me is definitely the Christmas sweater! Luckily it's been chilly here in Auckland so I've been able to wear it and make the most of it before Christmas.
Figuring out my size was pretty easy – I went by the size charts on the website and sized up as necessary. I sized up for the bralette because I have a big bust and wanted a bit of extra coverage. I also sized up in the sweaters because I wanted them to be roomy to allow me to layer extra clothes underneath in winter.
Shipping was pricey at USD $70 (which is about NZD $90-100 depending on the exchange rate). I'm not sure why it's so expensive, as none of the other US companies I've shopped with have been that expensive. This cost is definitely prohibitive for me, because of the low duty and GST limit we have on purchases in New Zealand – the shipping pushes my total well over the limit. A USD $150 purchase + $70 shipping ends up with about NZD $120 in fees to pay when your parcel arrives in NZ  (you can work out your duty and GST charges here) so in the future I'm going to be holding out for free international shipping specials and keeping my fingers crossed that Torrid brings their charges down to a more reasonable amount.
Skull Fair Isle Sweater in size 5
Striped V-Neck Sweater in size 5
White V-Neck Tee in size 4
Crop Lace Bralette in size 5
Leopard Print Full Length Leggings in size 5
I'd also advise you to keep an eye out for special discounts – sale time is the best time to shop if you want to negate those shipping costs. If you want to know more about the pieces I picked out or my experience shopping at Torrid, let me know. I'm more than happy to answer any questions you might have!
Have you shopped with Torrid before?
Let me know which of the pieces I picked is your favourite.
Posts may contain affiliate links. If you purchase a product through an affiliate link, your cost will be the same but This is Meagan Kerr will automatically receive a small commission. Your support is greatly appreciated and helps us spread our message!