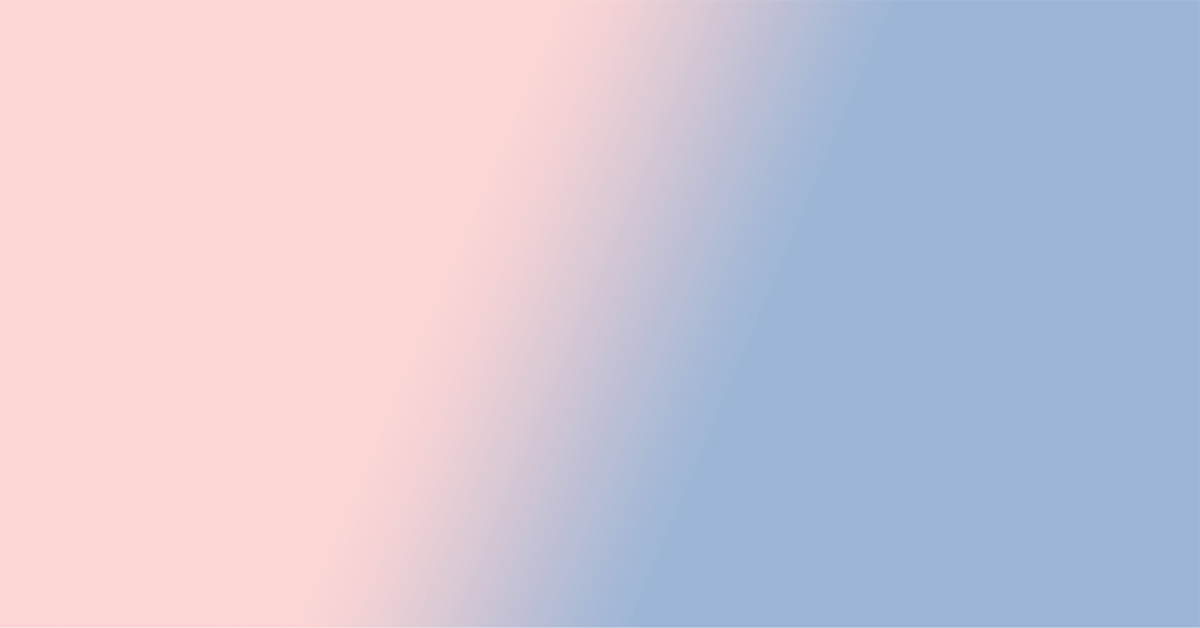 The Pantone Colours of the Year are Rose Quartz and Serenity – a warm rose tone and a cool tranquil blue. This means that we are now seeing a lot of pastel/candy colours cropping up everywhere from homeware to fashion and I for one am loving it. I thought that with Easter just around the corner I'd share a few sweet treats that have been catching my eye…

The furniture in our house is dark wood, so I like to lighten things up where ever I can. I also like to make sure things are cosy, so cushions and throws (this one is my current favourite) are tucked around the place. Our almost teenager has discovered the joys of the snuggly blankets as well so I try to make sure there are enough to go around.
Clockwise from top left: Sorrento 12-Piece Dinner Set, $89 from Freedom Furniture | Marble Splice Cushion $10 from Kmart | Living & Co Wall Shelf 2 Piece Hexagon Set, $25 from The Warehouse | Sloane Sea Green Tumbler, $8.95 from Freedom Furniture | Living & Co Shaggy Blush Cushion, $10 from The Warehouse | Living & Co Marley Throw, $16 from The Warehouse | Living & Co Mint Paint Dipped Table, $35 from The Warehouse | Life! Tear Drop Bean Bag, $60 from The Warehouse | Cannisters, $6 each from Kmart | Dipped Bamboo Salad Bowl, $12 from Kmart | Living & Co Mason Jar Vase, $6 from The Warehouse | Honeycomb Pots, $5 each from Kmart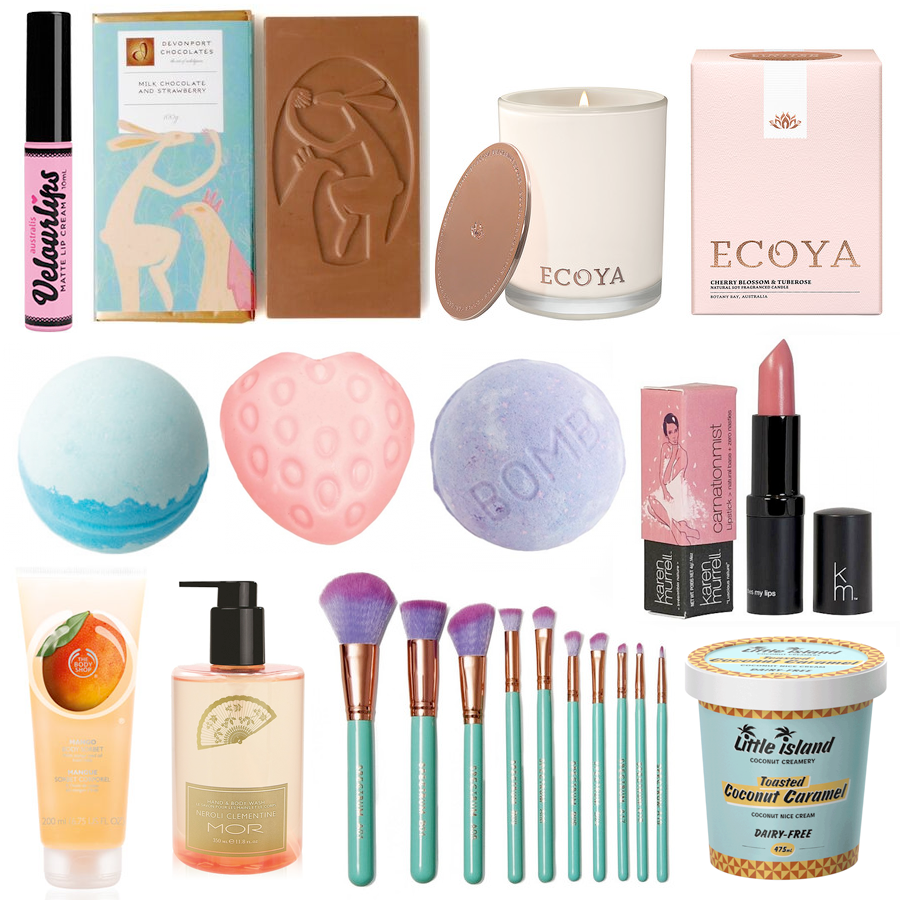 Of course there is candy for your body as well – whether it goes in your mouth or on your skin, there are lots of super sweet treats out there. My favourite kind of sweet treats are bath bombs – as you know I'm a big fan of sweet candy and fruity fragrances so all kinds of delicious smelling body things are right up my alley.
L-R from top left: Australis Velourlips LOS-ANGEL-ES, $15 from She Lives Cruelty Free | Milk Chocolate Strawberry Easter Tablet, $12.90 from Devonport Chocolates | ECOYA Cherry Blossom & Tuberose Madison Jar, $49.95 from Farmers | Frozen Bath Bomb, $10.50 from Lush | Strawberry Feels Forever Massage Bar, $18.50 from Lush | Blackberry Bath Bomb, $6.90 from Lush | Karen Murrell Carnation Mist Lipstick, $23.90 from HealthPost | Satsuma Body Sorbet, $26 from The Body Shop | MOR Neroli Clementine Hand & Body Wash, $45 from Sephora | Spectrum Collections The Glam Clam Brush Set, $159 from She Lives Cruelty Free | Little Island Toasted Coconut Caramel Nice Cream by Little Island Creamery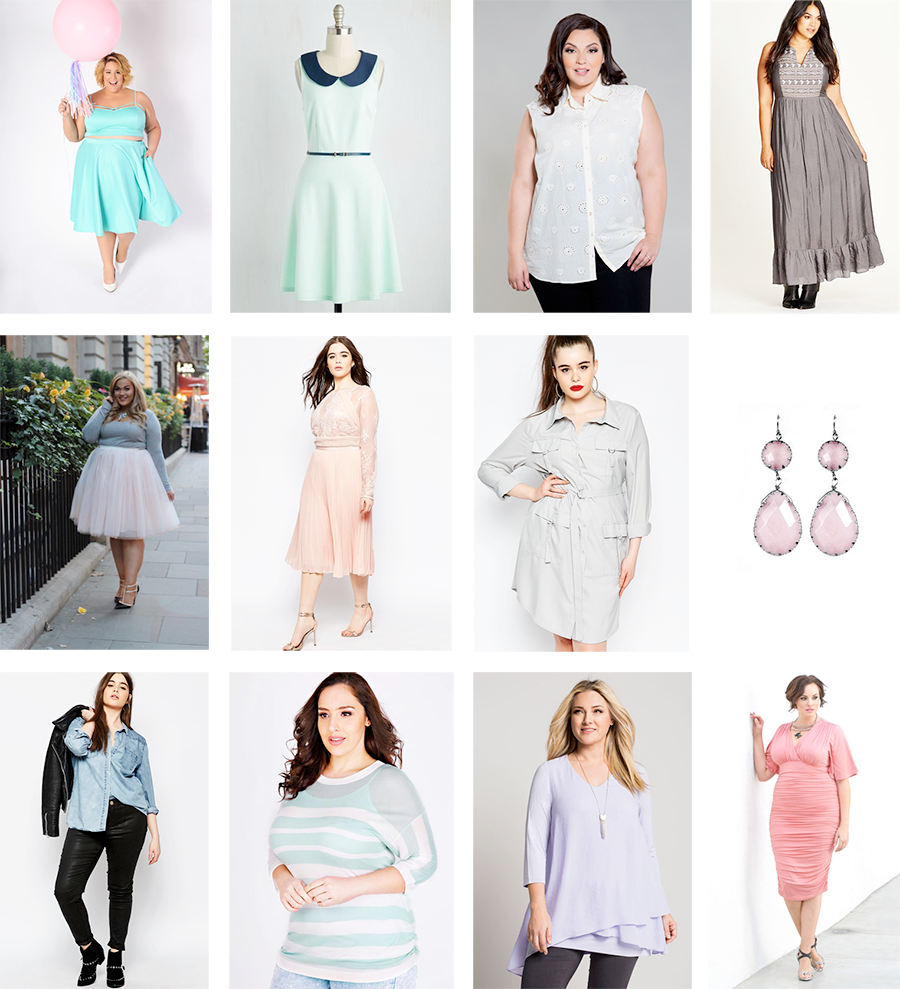 So we all know that my wardrobe is a lot of black on black, right? Well I am a bit partial to creams and pastel greys to help break that up, and there are a lot of other candy colours out there at the moment (especially with it being spring in the Northern Hemisphere!). I'm really liking the rose quartz as an accessory because it's so easy to wear. I have a really great rose quartz pendant that I need to get a new chain for that will be a perfect fit for this pastel palette.
L-R from top left: Jessica Kane Mint Fresh Crop Top, USD $34.99 and Skirt With Pockets USD $49.99 from Society+ | Work to Play Dress in Seaglass, USD $59.99 from ModCloth | Tatiana Eyelet Top, USD $49.90 from Sealed With A Kiss | Embroidered Love Maxi Dress, $149.95 from City Chic | Loey Lane Tutu, USD $78 from Society+ | ASOS CURVE Pleated Midi Dress With Pretty Eyelash Lace, $185.54 from ASOS | Missguided Plus Pocket Long Sleeve Shirt Dress, $86.58 from ASOS | Faceted Stone Drop Earrings, $29.99 from City Chic | Missguided Plus Denim Shirt, $74.21 from ASOS | Pastel Mint Green & White Striped Jumper With Ruched Sides, AUD $42 from Yours Clothing | Sara Layer Tunic, $89.99 from EziBuy | Rumor Ruched Dress, USD $118 from Kiyonna
Are you a fan of candy colours? What's your fave?