My favourite time of the year is almost here! I know it's only the beginning of September, but I've just ordered the dress I want to wear for Halloween so I thought why not, let's start talking about Halloween costumes. That gives you plenty of time to decide what you want to dress up as, order any aspects you need for your outfit and put together your look, right? Remember – you don't have to go full on and dress up as a "character" if that's not your jam. You can add spooky elements to your outfit or just take inspiration from something as well.
Create Your Halloween Costume
It's time to get inspired: my usual approach is to create a costume combining things I already have with new pieces, because I'm a babe on a budget. My easy go to costumes are witch (all in black, accessorise as much or as little as you want), homicidal maniac (they look like everybody else) and cat (wear black, add ears).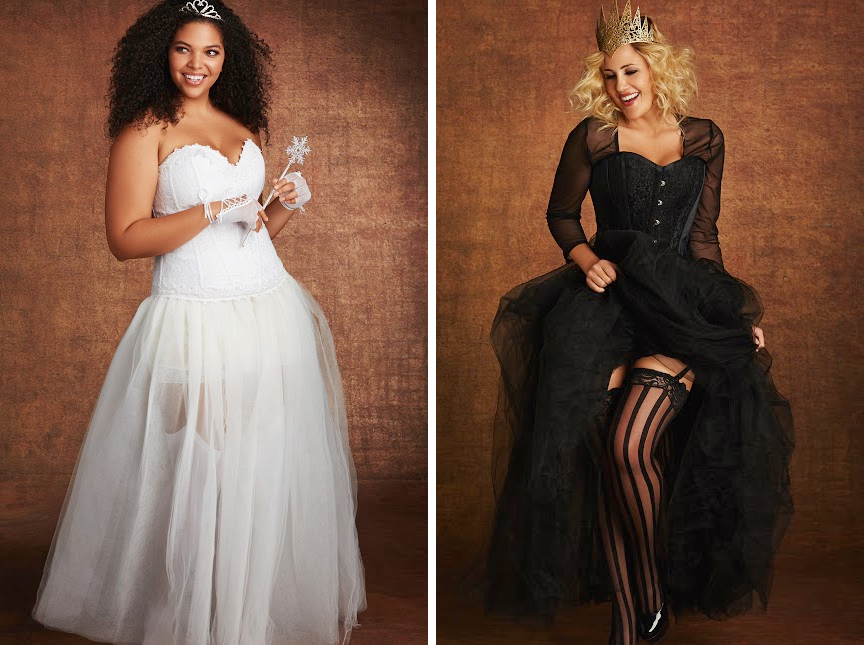 I really love the costumes that Hips & Curves puts together, and their Halloween lookbook is always a favourite of mine. Each element can be bought separately and everything can be mixed and matched to create different looks (plus they can work in with your existing wardrobe – for example one of the Society+ Tutus (like the one I'm wearing here) would work perfectly with either of these costumes.
SHOP THE LOOK: Cinderella // Ultimate Lace Corset | 5 Layer Tulle Petticoat | Fishnet Lace Up Fingerless Gloves | Snowflake Wand | Bejeweled Rhinestone Heart Tiara | Queen // Justine Steel Boned Corset with Halter Straps | Lace Top Stripe Thigh High Stay Ups | 5 Layer Tulle Petticoat | Royal Crown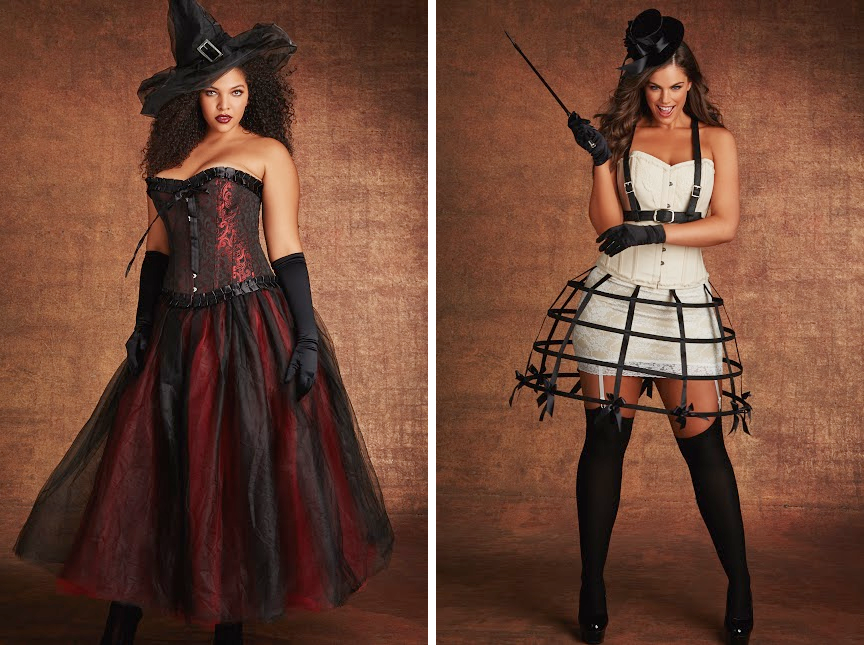 Halloween is the one time when you can really go all out and dress up as whatever you like. Your costume can be sexy, scary, funny, or simply an ode to a look or character you love! Whatever you choose, have fun with it.
SHOP THE LOOK: Witch // Jacquard Steel Boned Corset with Satin Pleats | 4-Layer Tulle Skirt | Opera Length Stretch Gloves | Witch Hat With Buckle and Veil | Ringmaster // Lilith Vintage Lace and Cotton Steel Boned Corset | All Over Lace Short Shaper Skirt with Garters | Hoop Skirt | Over The Knee Opaque Stockings | Refined Metal Tip Riding Crop | Satin Top Hat with Flower and Bow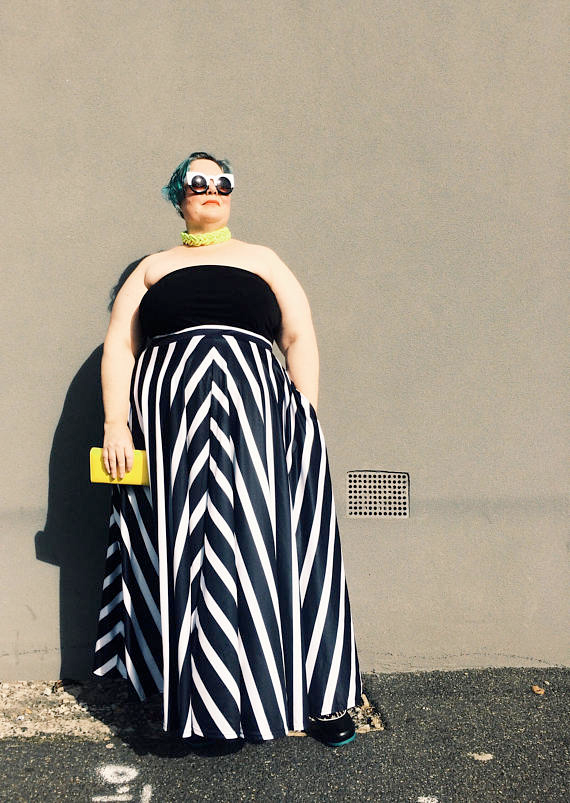 This skirt is giving me hard core Beetlejuice vibes! If there is a character you want to dress as then you don't have to go with a premade costume, you can create your own from other pieces. I recently got sent this gorgeous skirt and I think I'm going to try a wee Beetlejuice tribute. Yes I know I already have another costume planned. Maybe there will have to be a week of Halloween outfits…
SHOP THE LOOK: Joolz Fashion Black & White Striped Maxi Circle Skirt – use MKSS0917 at checkout for 15% off all dress & custom circle skirt purchases from Joolz Fashion until 02 October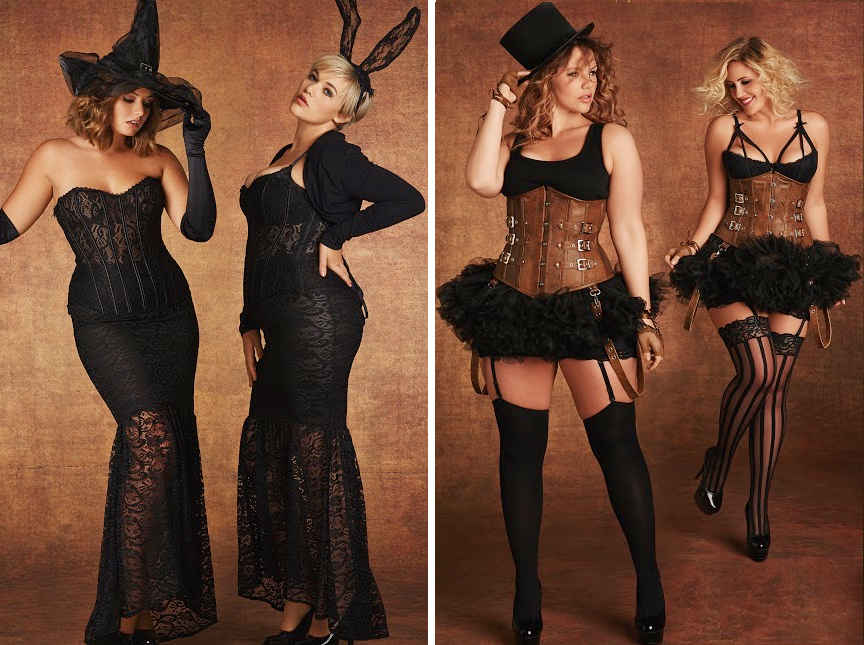 As you can see from these outfits, a change in accessories can be a great way to change up your look. This is great if you have more than one party to go to but don't want to come up with a whole new outfit from scratch.
SHOP THE LOOK: Witch // Quinn Lace Corset | Lace Mermaid Shaping Skirt | Opera Length Stretch Gloves | Witch Hat With Buckle and Veil | Bunny // Elise Lace Bra | Quinn Lace Corset | Lace Mermaid Shaping Skirt | Basic Knit Bolero | Lace Bunny Ear Headband | Steampunk // Mila Strappy Shelf Bra | Long Rib-Knit Tank Top | Ophelia Underbust Leather Corset | Leather Straps | Ruffled Two Layer Petticoat | Over The Knee Opaque Stockings | Lace Top Stripe Thigh High Stay Ups | Satin Pop-up Hat
Halloween Costumes
Getting a costume that's premade is easy and fun, and great if you're wanting to dress as a particular character. Sometimes you can hire an outfit from a local costume shop if you're lucky, but this isn't always an option depending on your size and what character you're wanting to dress up as.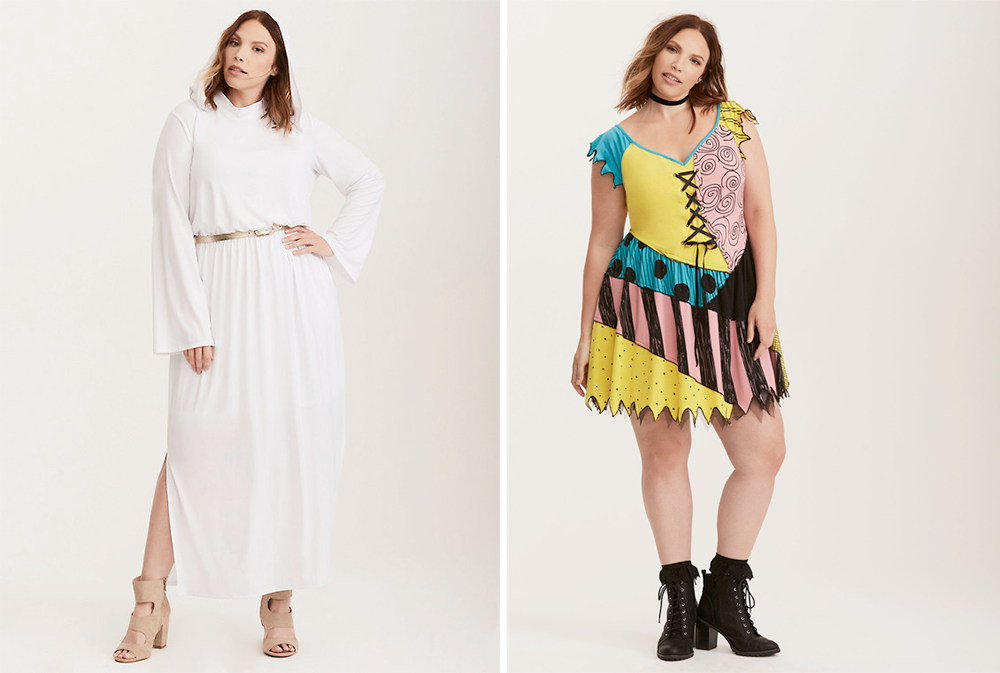 Princess Leia is an easy character to dress up as, just add a belt and some side buns and you're good to go – perfect if you're a Star Wars fan! Sally from Nightmare Before Christmas is another great costume idea, and one that you can put in lots or a little effort. If you want to keep it simple, just add a choker necklace. Want to go the whole hog? Break out the body paint and turn yourself blue, babe!
SHOP THE LOOK: Star Wars Princess Leia Dress | Nightmare Before Christmas Sally Skater Dress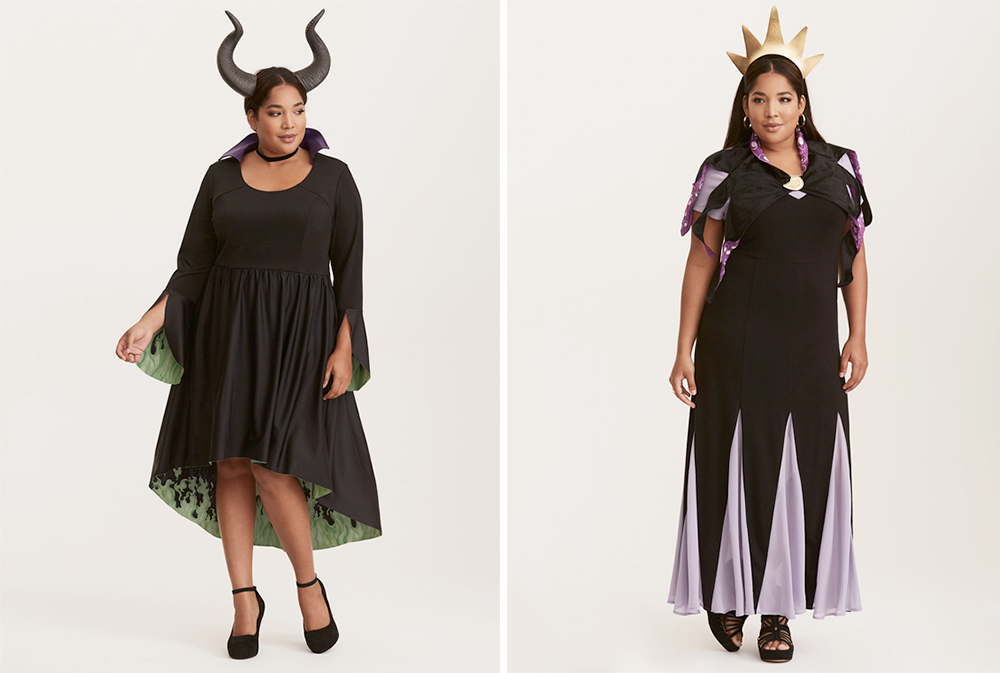 Everyone loves a villain when it comes to dressing up! Two of my favourite Disney villains are Maleficent and Ursula, and I think both of those characters can be interpreted in so many different ways! Find your inner Evil Queen and let her loose!
SHOP THE LOOK: Maleficent // Maleficent Skater Dress | Maleficent Deluxe Horns | Ursula // Ursula Maxi Dress | Ursula Crown and Cape
Low Key Costumes
Start with leggings or jeans and add a couple of details to make your character. This is perfect for if you want a low key look that still is a bit dressed up but not super obvious (like Ursula. Ursula is not a low key costume!)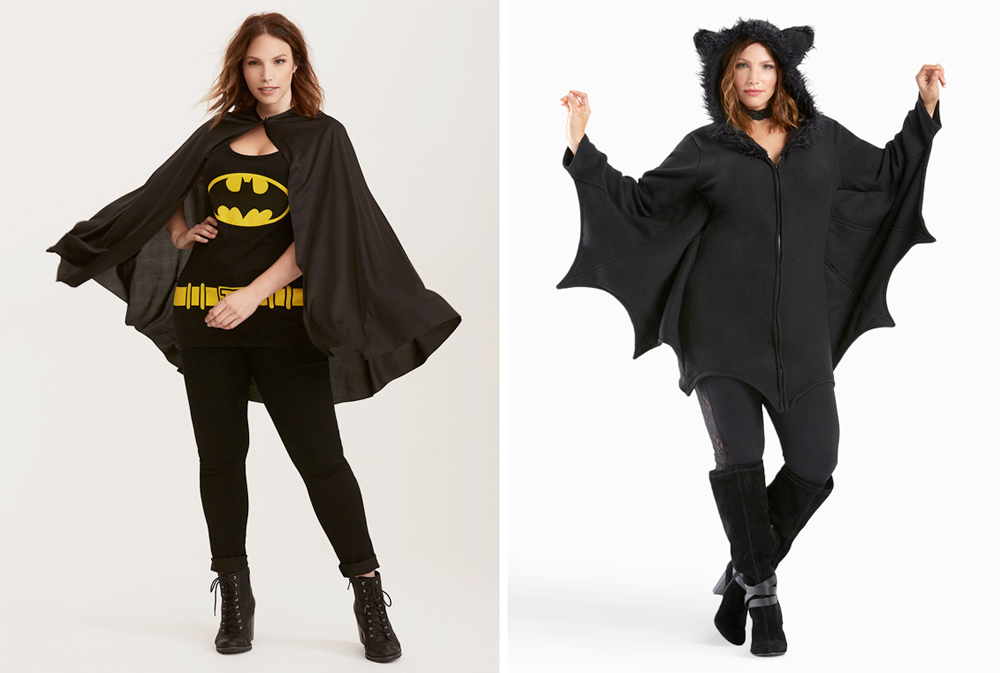 Batman is easy – just add a Batman tee (with utility belt, of course) and a cape, and bam! Mask optional. If I didn't already have my costume organised then I'd probably get this hooded bat sweater – it's cute and looks super cosy. I'd totally wear it not at Halloween as well, because that's how I roll.
SHOP THE LOOK: Batman Costume Tee | Halloween Cape | Leg Avenue Halloween Bat Hooded Sweatshirt Costume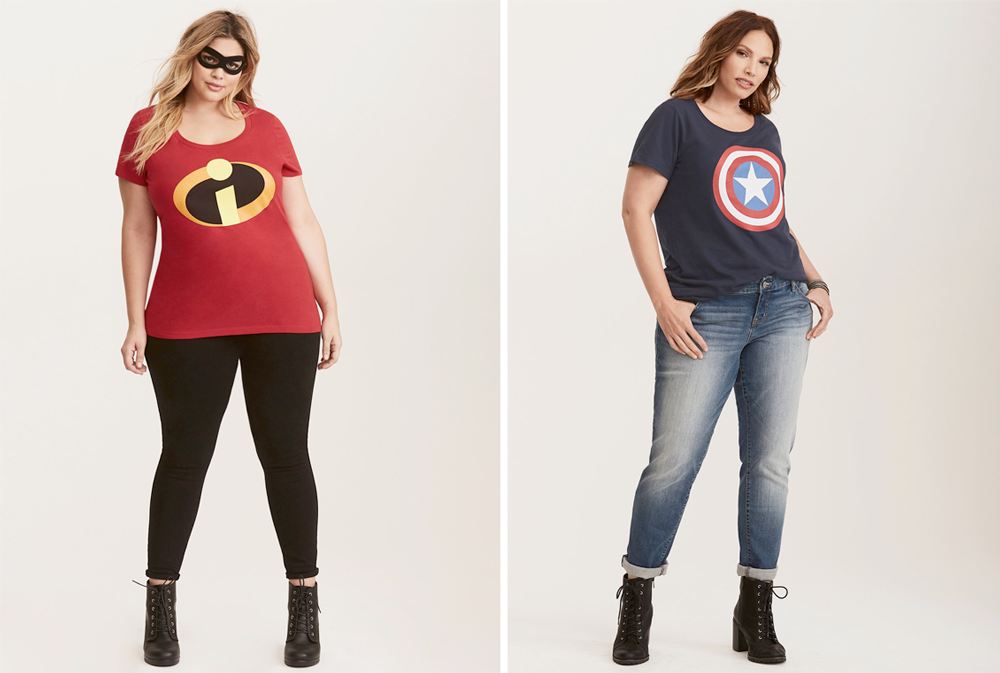 If you want super low key then jeans and a tee is your easy go to. I love the Incredibles tee with jeans, this would a be a super cute idea for a family costume if you're into matchy matchy (I totally am but no one ever wants to get on board with me!). You can also wear these at other times of the year if you like – bonus!
SHOP THE LOOK: Incredibles Costume Tee | Halloween Hero Mask | Captain America Costume Tee
Spooky Dresses
If you don't want to go for a specific character but still want to get amongst the spooky fun, there are plenty of general Halloween themed options out there. Keep an eye out for black cats, pumpkins, ghosts, bats … anything that is vaguely Halloween related. Here's a few of my fave options for dresses, which can be accessorised however you like.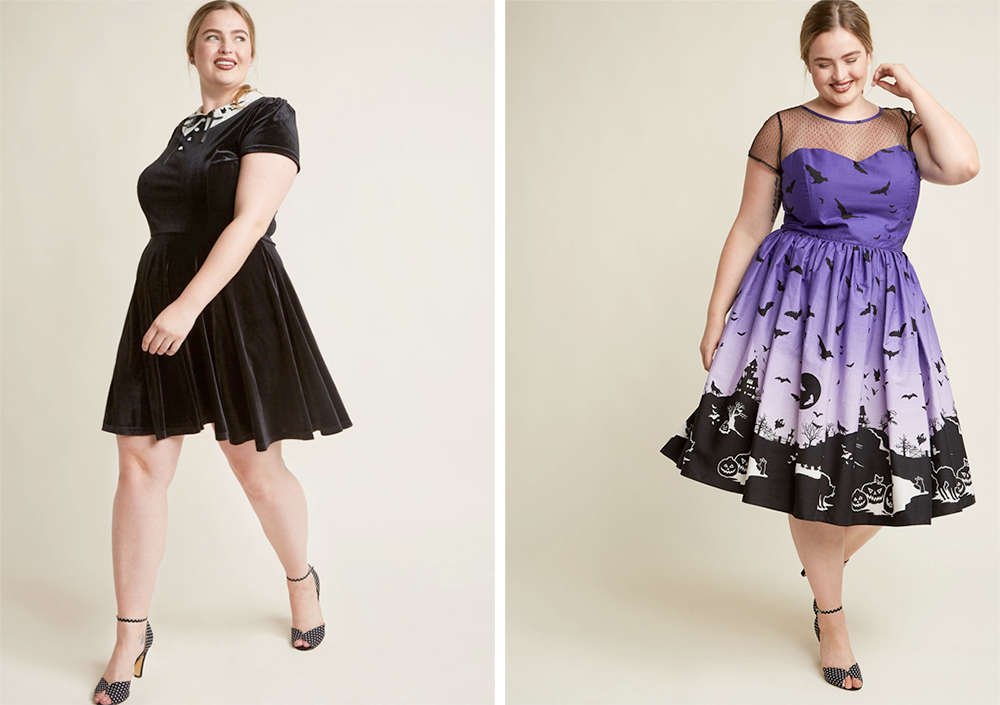 A little spooky or a lot? You can go subtle (which is great if you want to be low key spooky all year round like me) or go bold with a dress that shouts out THIS IS HALLOWEEN!
SHOP THE LOOK: Hell Bunny Fortune Favors the Cave Velvet Shirt Dress | Hell Bunny Haunted Hem Cotton Fit and Flare Dress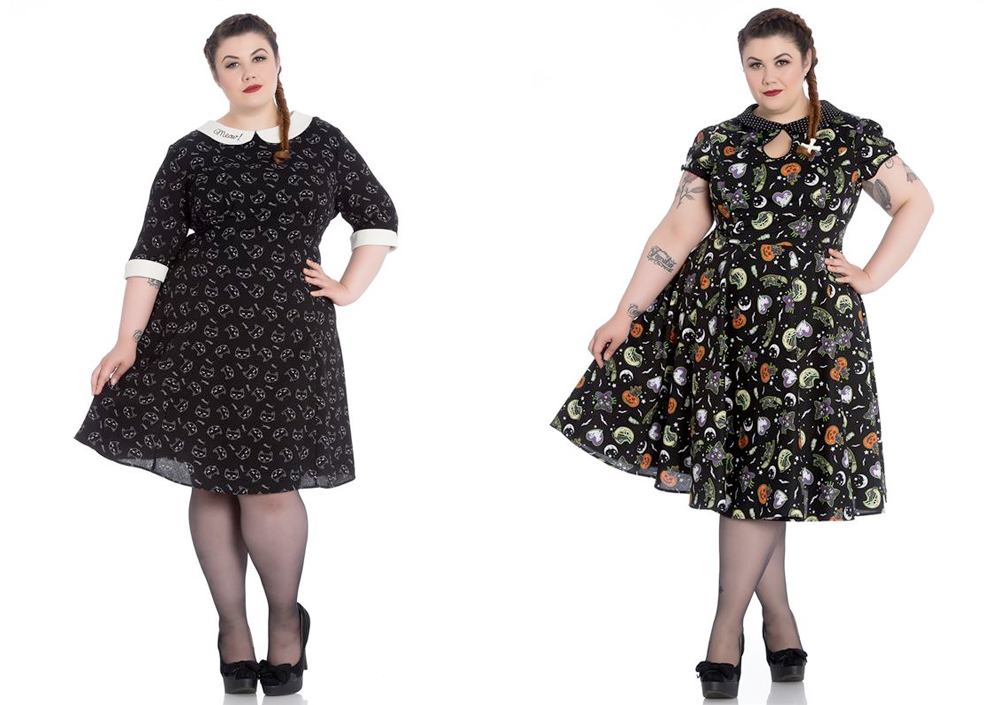 A spooky print on a black background can be super effective. I'm obsessed with the Matou  dress (on the left), it has a cat and "meow" print on the dress with "meow" embroidered across the collar. Totally appropriate for year round wear too, right?
SHOP THE LOOK: Hell Bunny Matou Dress | Hell Bunny Salem Dress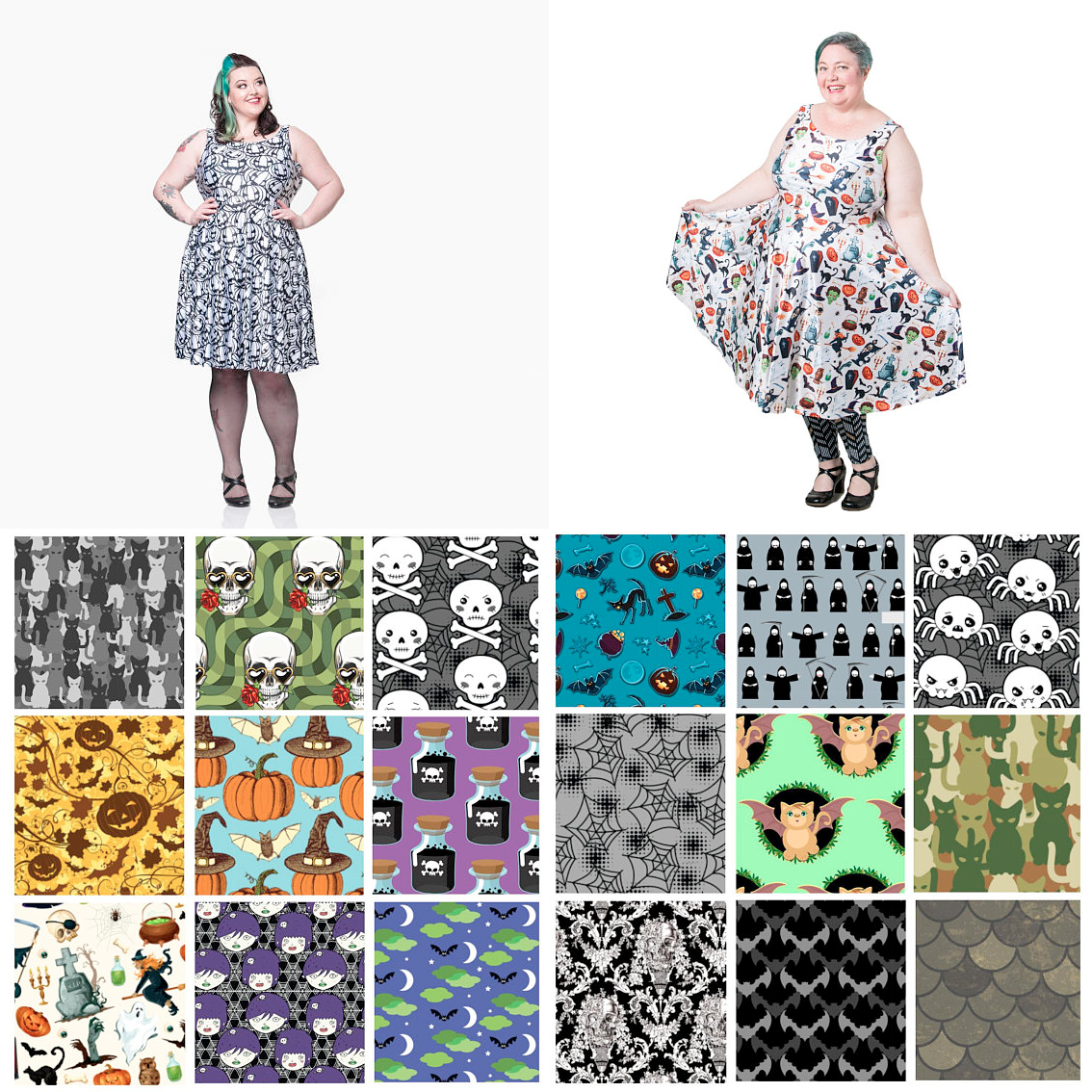 Remember the Fat Unicorn dress I have? Well, now you can get that same circle dress in Halloween prints – cute! I've put in my order in for one of these dresses, so this is what I'm going to be wearing for Halloween. I won't tell you which one yet though, gotta leave some surprises right?
SHOP THE LOOK: Joolz Fashion Halloween Circle Dress – use MKSS0917 at checkout for 15% off all dress & custom circle skirt purchases from Joolz Fashion until 02 October
Spooky Separates
You don't have to go full on spooky – a themed top or skirt can be super cute! I'm quite partial to anything cat or witch themed myself.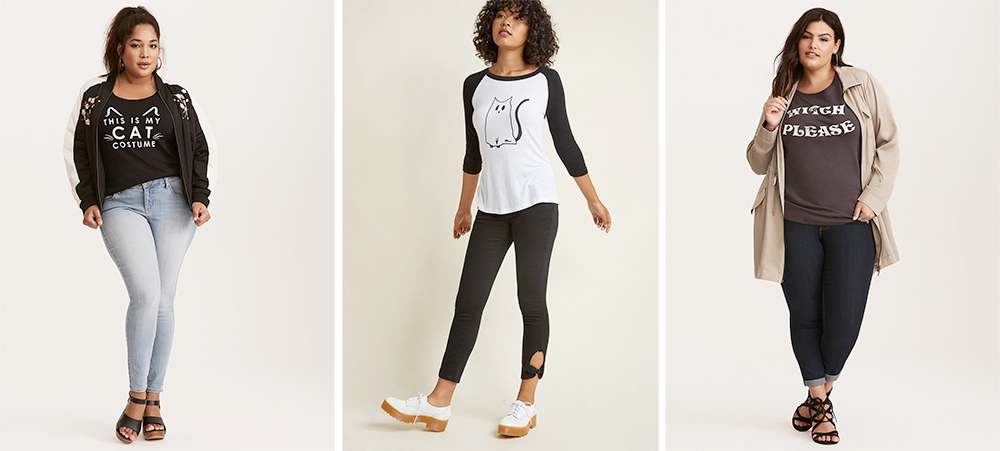 Can we just take a moment to appreciate that gorgeous ghost kitty tee? Too cute!
SHOP THE LOOK: Cat Costume Scoop Tee | Incognito Kitty Knit Raglan Top | Witch Please Crew Neck Tee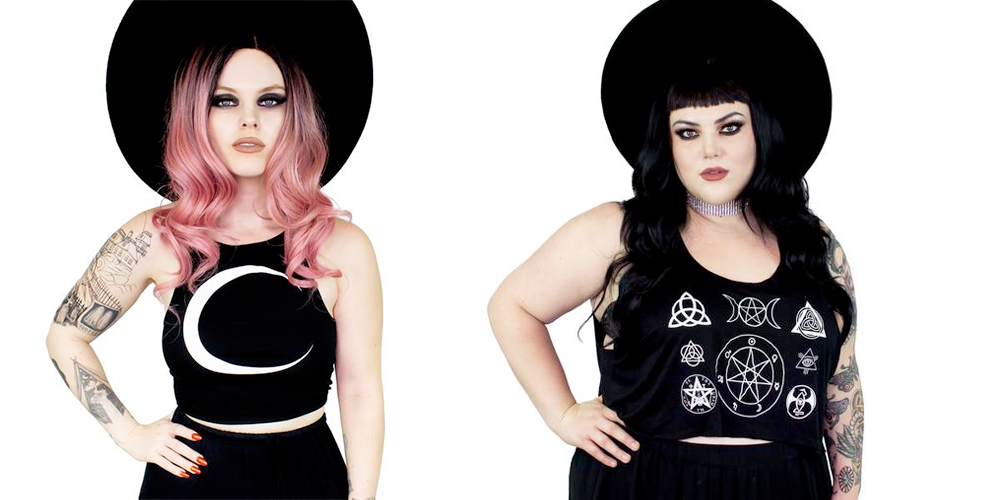 I'm always down for a crop top, and as with so many of these other pieces I'd totally wear these any day of the year (especially the waning moon!).
SHOP THE LOOK: Waning Moon Halter Top | Witch Symbols Crop Tank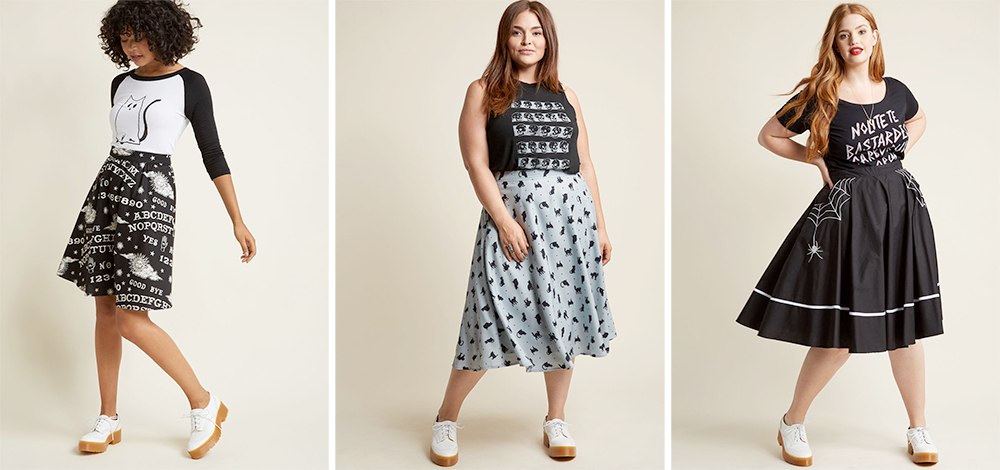 Honestly, I would wear any of these skirts year round. Especially the ouija board one, which is glow in the dark, cos that is super cool. Or the cat one, because that has pockets.
SHOP THE LOOK: Messages by Moonlight Glow-in-the-Dark Skirt | ModCloth Cat Skirt with Pockets | Hell Bunny Web and Flow Skirt
Halloween Accessories
Shoes, hats, jewellery … you can wear these as finishing touches, as the main aspect of your costume or just to carry on the month of spooky goodness.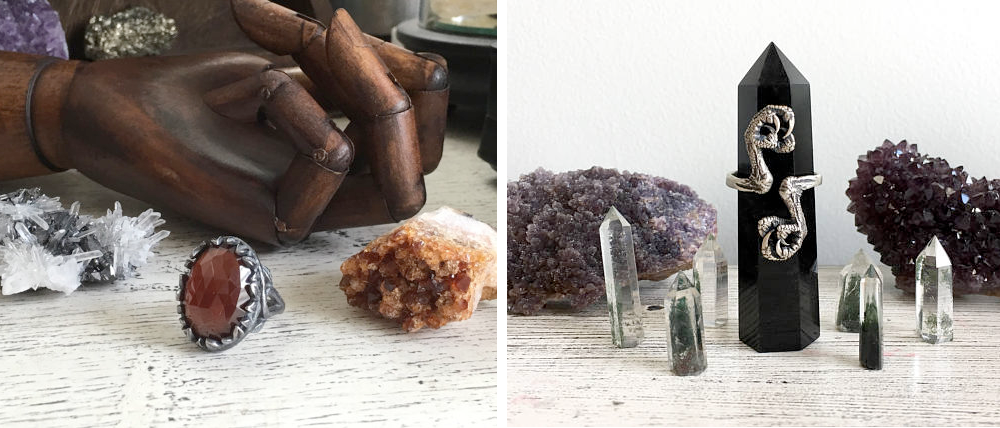 SHOP THE LOOK: Hessonite Garnet Croatoan Ring | Double Parrot Claw Ring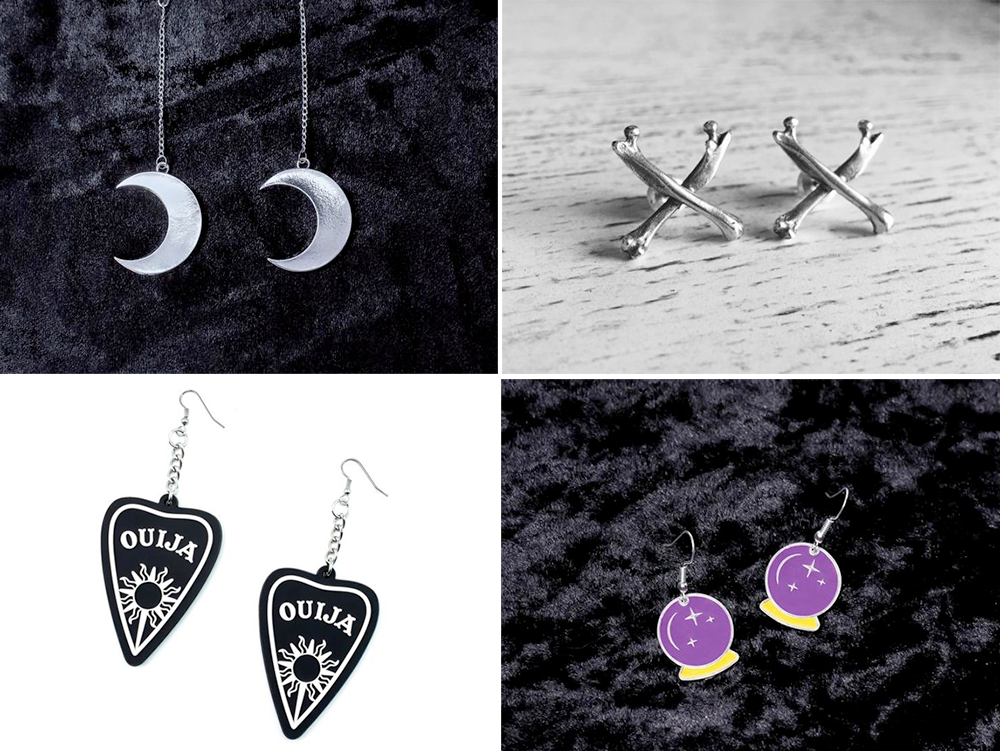 SHOP THE LOOK: Luna Earrings | Crossbone Earrings | Ouija Earrings | Crystal Ball Charm Earrings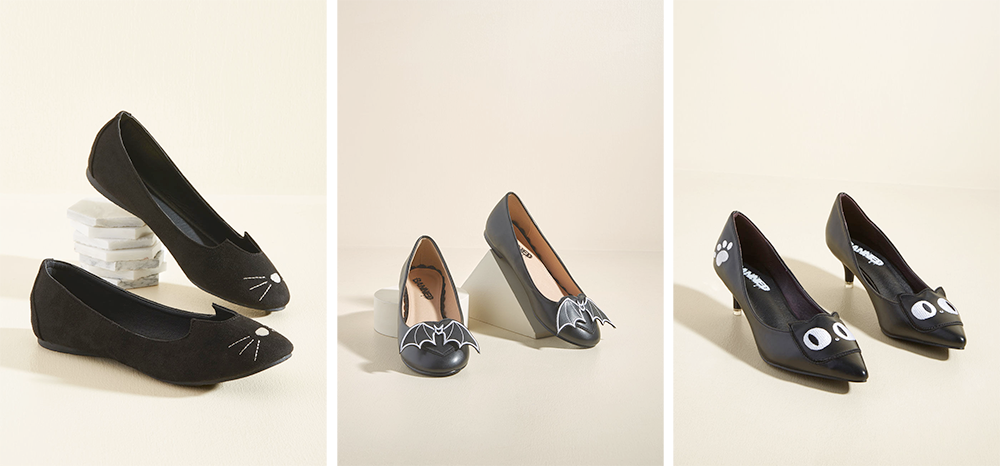 You could pair these shoes with with any outfit for a super cute Halloween twist, I have lots of plain black dresses that would be perfect with any of these, or jeggings and tee for a more casual look.
SHOP THE LOOK: T.U.K. Mew and Me Forever Flats | Banned The Bats Hoorah Flat | Banned A Literal Kitten Heel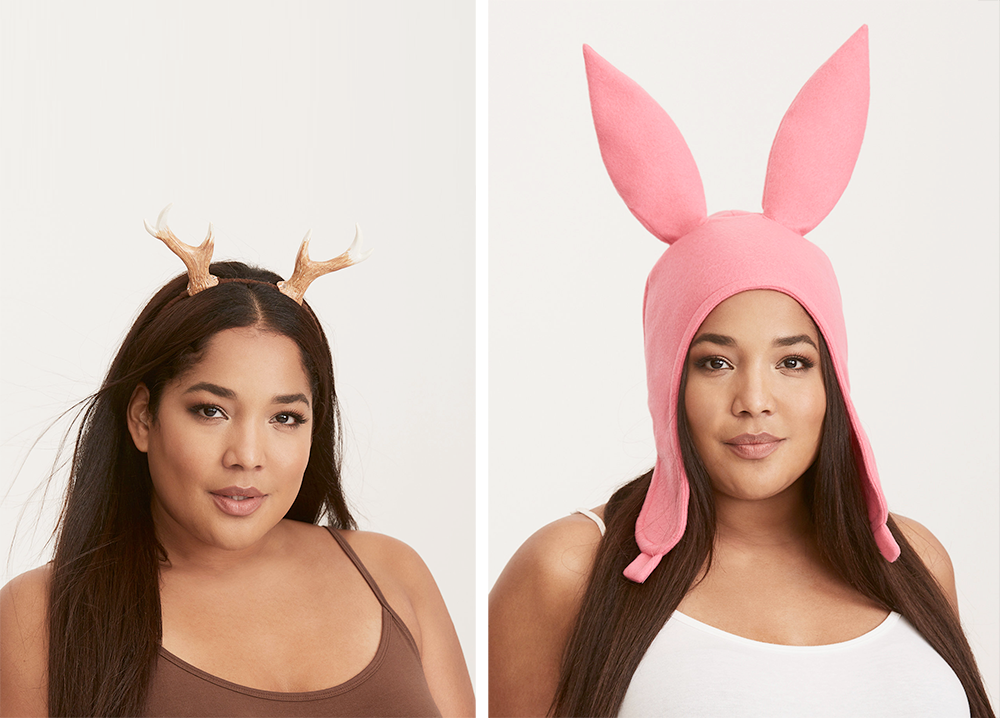 Hats, headbands with ears, flower crowns… all perfect for Halloween. The best part is, they're super easy to pop on as a last minute emergency costume – I've built up a wee stash over the years and they're great if I'm feeling stuck for ideas.
SHOP THE LOOK: Leg Avenue Halloween Fawn Ears | Bob's Burgers Louise Belcher Hat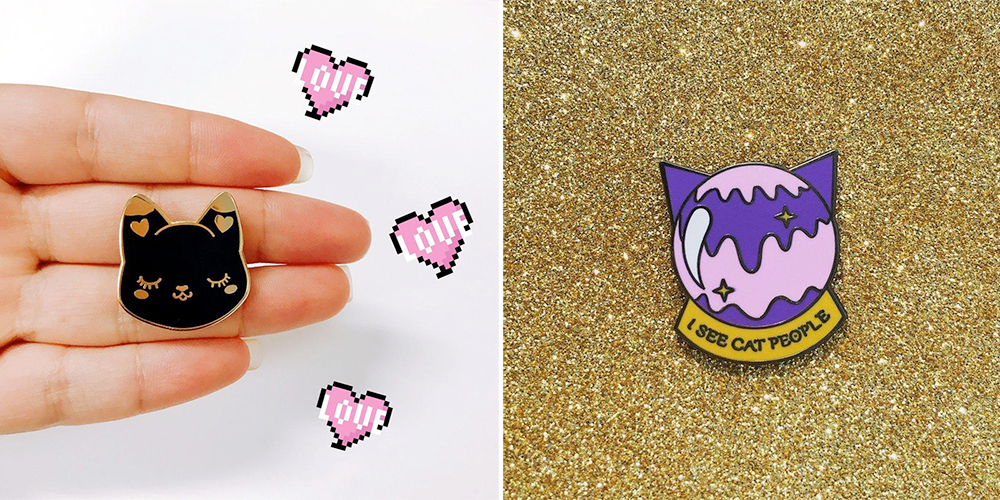 I've recently really gotten in to enamel pins, I like wearing them on the lapels of my jackets. I've got a couple from Oh You Fox, and she has some great ones that would be perfect for Halloween.
SHOP THE LOOK: Cutie Pie Black Cat Pin | I See Cat People Pin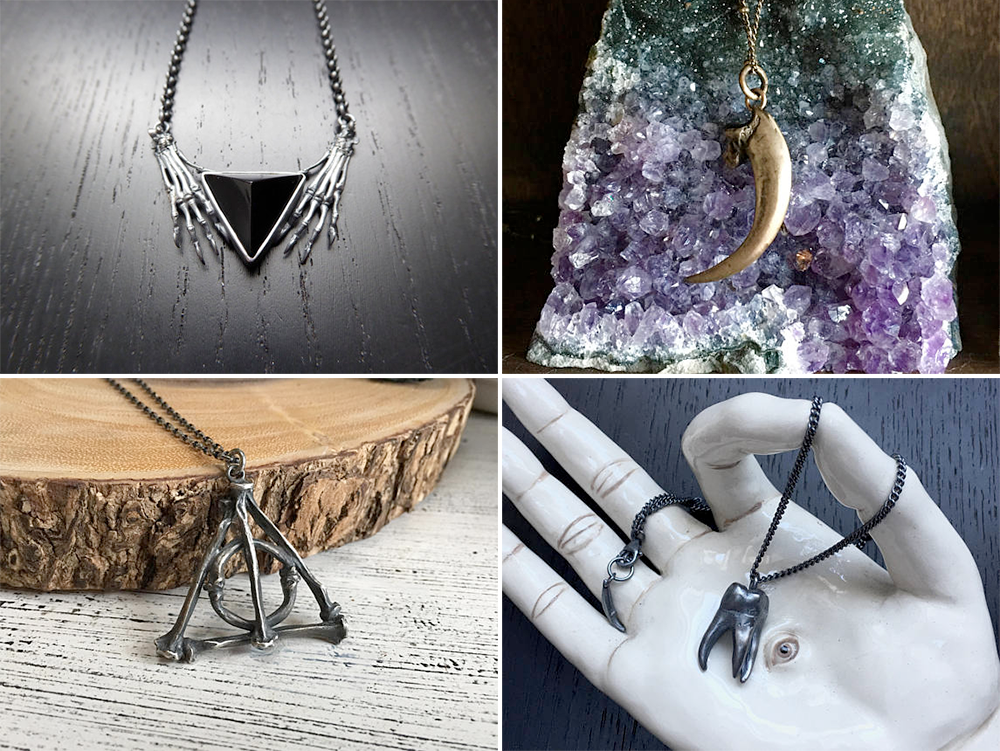 SHOP THE LOOK: Nostradamus Necklace | Raven Claw Pendant | Deathly Hallows Bone Pendant | Tooth Ache Pendant
Do you keep it subtle or go all out for Halloween?
What will you be dressing up as this year?

Posts may contain affiliate links. If you purchase a product through an affiliate link, your cost will be the same but This is Meagan Kerr will automatically receive a small commission. Your support is greatly appreciated and helps us spread our message!