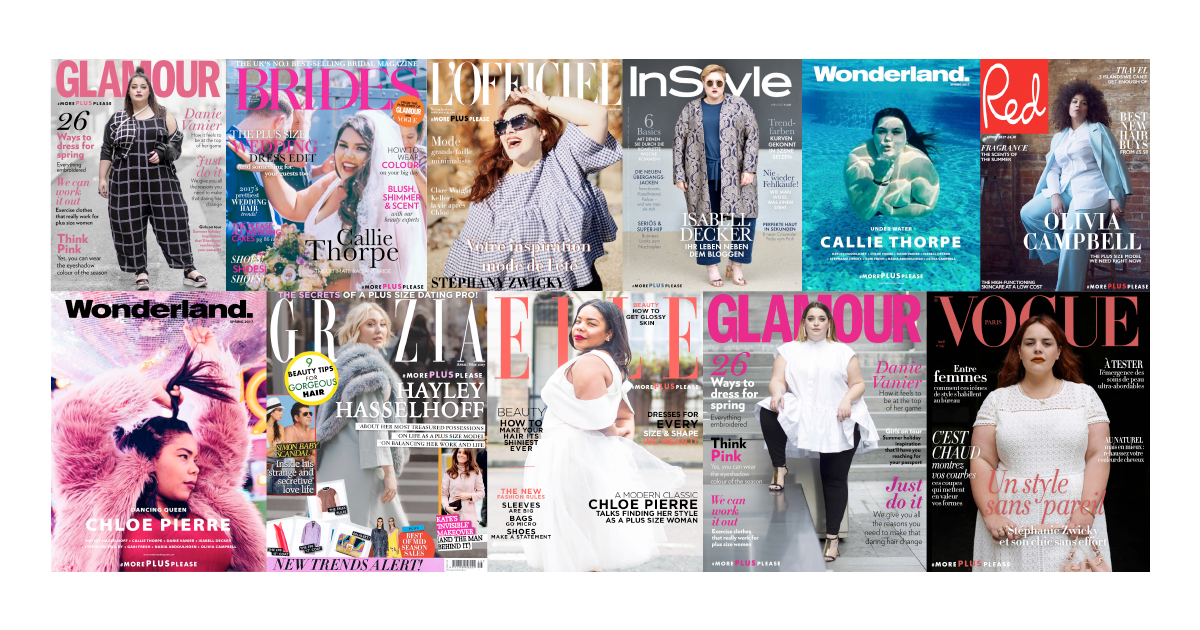 Did you know that more than half of us are plus size? Looking at television, magazines, films and on the catwalk, you wouldn't think so, because plus size bodies are very rarely represented in a positive way in the media. No matter how often we say "more plus please" we don't seem to be seeing a lot more – in film, in television or in fashion.
In films and on TV shows, fat people are villains, the comedic relief, the best friend. Rarely are they the hero or the love interest, and if they are quite often their storyline is centred around weightloss (or dieting). Plus size retailer Navabi recently analysed the most iconic film and TV awards over the last five years to reveal plus size women are still woefully under-represented receiving just 10% of all female actor nominations. A large reason for this is that plus size women just aren't getting enough representation in film and television!
"With the average woman in the UK wearing a size 16, what we're seeing is that these prestigious awards ceremonies, which celebrate achievement and art, are overlooking the contributions and talents of plus size women. If more plus size women are represented, not only in terms of nominations but acting roles available, it will help promote positive body image and aspirations among young women of all shapes and sizes which is vitally important." – Bethany Rutter, Social Media Manager at Navabi
The team at Navabi also reported that only 2 per cent of women featured in leading fashion magazines are plus size – another place we need better representation. They wanted to see more so they created #MorePlusPlease to start that discussion around the need for more plus size representation. They also chose some of their favourite bloggers and created their own magazine covers – and I love them! Here's a couple of my faves, you can see the rest here.
When I look at plus size clothes online, models are often wearing the smallest possible size and sometimes the clothes have been altered to fit their bodies because they're not actually within the range that the brand offers (like size 14 women modelling a brand that starts at an 18). This is actually one of the reasons that, despite having absolutely zero desire to be a model, I agreed to model for NZ plus size label Firefly by Rachel Harrison – because they wanted to show their clothes on women who represented the sizes they sell. This kind of representation is crucial, because at a time when brick and mortar plus size stores are few and far between, especially in New Zealand where a large amount of plus size people buy their clothes online, we need to know how clothes will fit on our bodies to be able to buy with confidence that things will fit us and look good. Don't get me wrong, there are some great brands out there showing a range of sizes, but it's not enough. This shouldn't be something that makes headlines, it should be the norm.
This is one of the reasons I started my blog – because I rarely saw bodies like mine unless it was the headless fatty in a news story. The reality is that bodies come in all shapes and sizes, all ages and skin tones, all abilities and genders, but what we mostly see represented is thin, white, young, and able-bodied. We simply need to see a more diverse range of humans shown in our media. I'm not just talking about the smaller end of plus size either, the so-called "acceptably plus size" bodies, we need to see more than that. I want to see rad fat babes who are over a size 22. I want to see rad fat babes who don't have hourglass figures, thin faces, or small legs. I want to see plus size people of colour, non-binary babes, people who don't fit the conventional definition of pretty. I want to see more plus please.
Where/how do you want to see more plus sizes represented?
Let's chat in the comments below