I was super excited when beauty blogger Lena agreed to be part of this project, because I really like her style. We first met through various blogging groups that we're both involved in, and I started reading her blog Lena Talks Beauty. One of the main reasons I like Lena Talks Beauty is that she doesn't just show you swatches of a product, she shows you what it looks like on, which gives you a better idea of what the texture is like, how it goes on and how it wears. All things I want to know before I buy a product!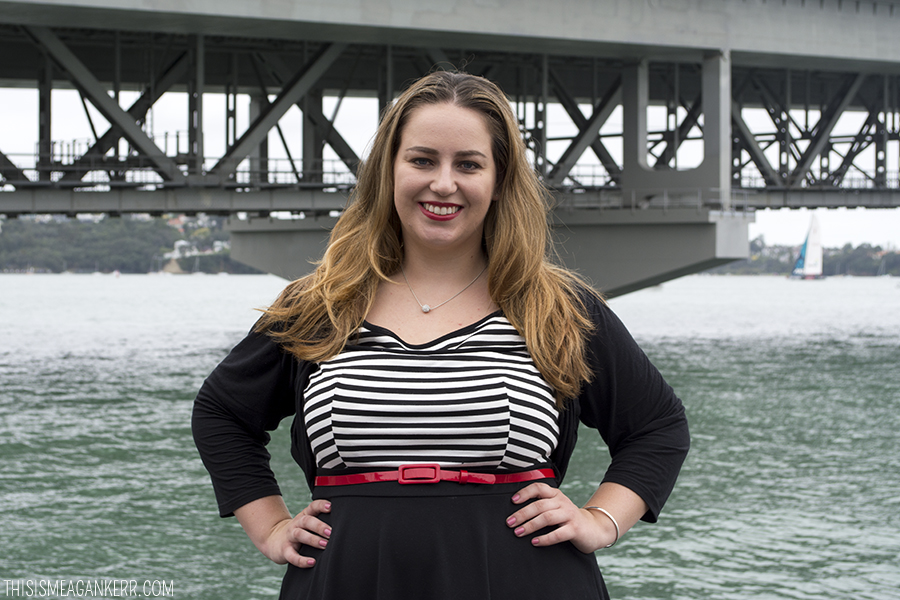 What brand are your dress and shoes/where from?
My dress is from City Chic and my shoes are Naturalizer brand, I bought them in the US (ed. note for NZ and Aussie babes, you can find some Naturaliser styles at EziBuy and The Iconic).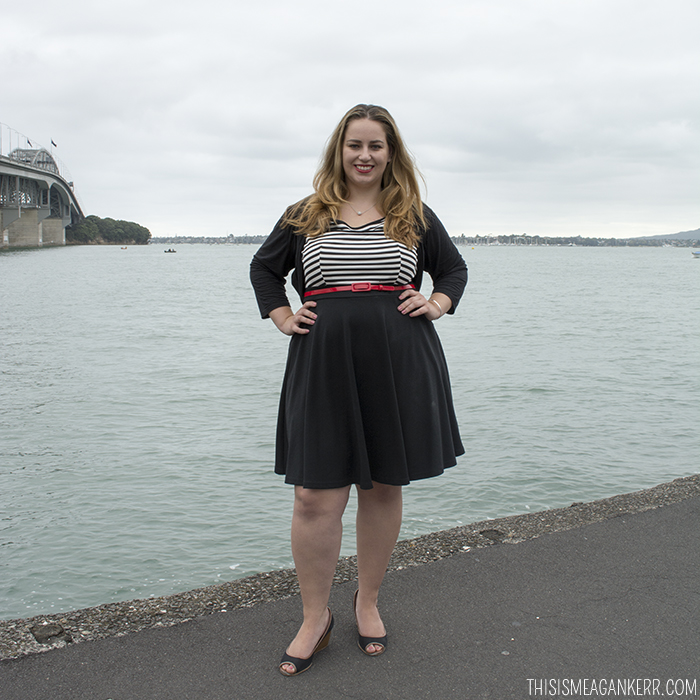 What is your favourite place to shop?
I've been buying a lot from City Chic lately.
What/who inspires your fashion choices?
I don't follow fashion that closely, I just follow my sense of style and choose based on what's in stores.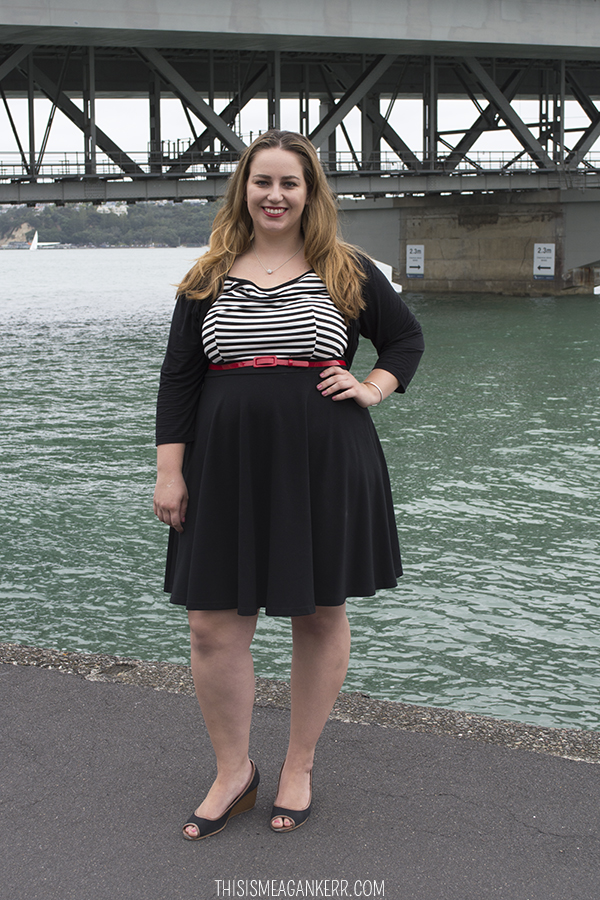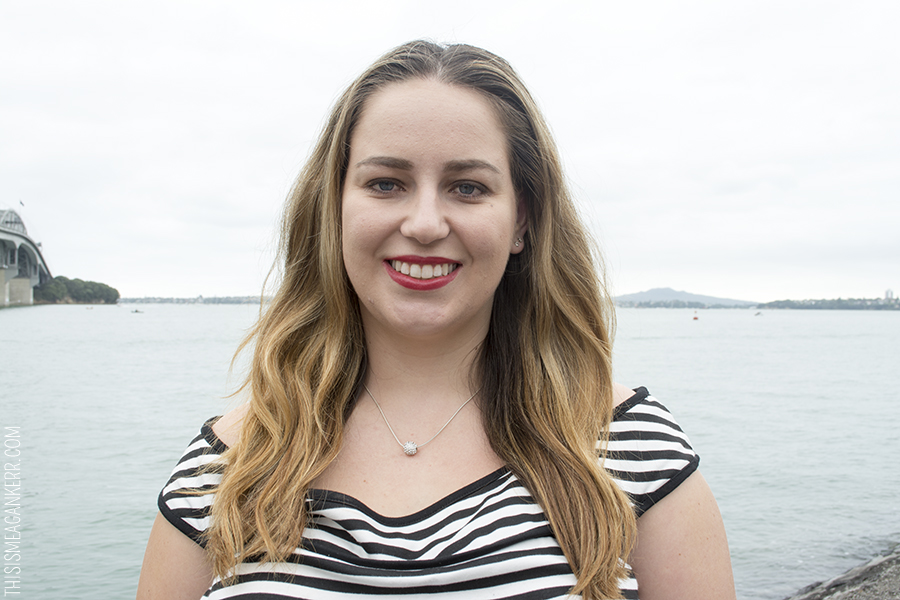 Why did you want to be involved in this project?
I've always read advice about how to dress in a way that was flattering for your figure, and attempted to follow it, but it was just so BORING. I much prefer to dress in a way I like regardless of whether it's technically "flattering".
Do you have any previous experience with body shaming? Tell us about it.
I do, and a lot of it has been the less overt stuff – the feeling from society in general that my body is gross and unattractive. It even can come from people close, which is even more upsetting.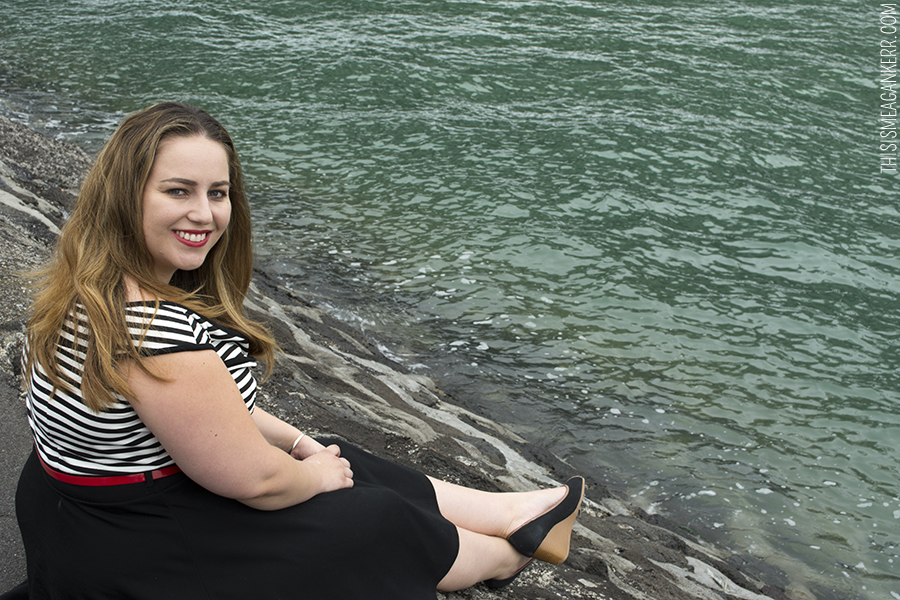 If you have a day when you're not feeling great about yourself, how do you deal with that?
I like to choose one of my favourite outfits, and do my hair and makeup nicely. I also try and be positive towards myself and say that I have lots of other good values aside from my looks, like my intelligence etc. (ed. note: Lena recently wrote a great piece about her experience with makeup and body image, make sure you check it out!)
How do you show your body love?
Aside from grooming the outside, which I really enjoy, I've been going to the gym for about a year and have grown to like it. I also do a jazz dance class that I love.
Check out Lena's post to find out the details of her makeup look, and what she chose to represent her fearless style.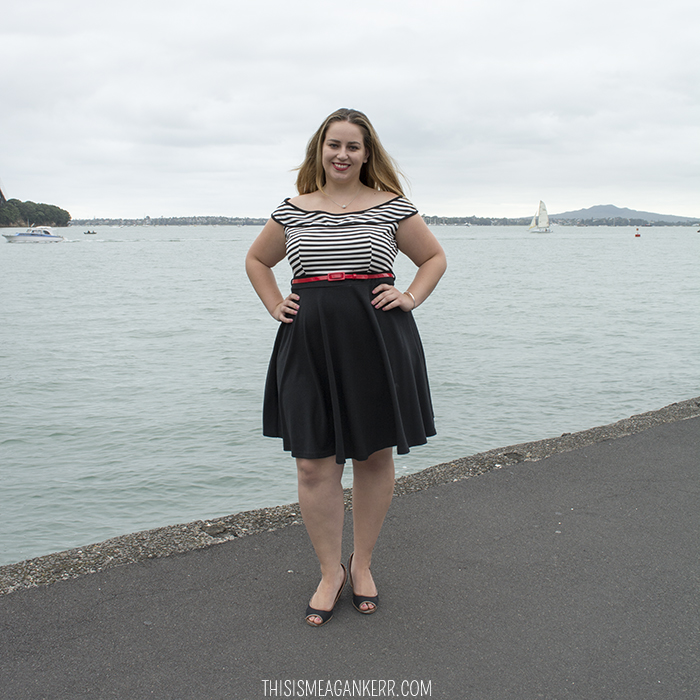 Can I take a moment to point out that Lena has glandular fever in these photos and still looks amazing?! What a trooper – when I had glandular fever I was an absolute wreck.

Lena wears:
Off Shoulder Stripe Dress from City Chic
Naturalizer Shoes
You can follow Lena's blogging adventures on Facebook, Twitter and Instagram.
WANT TO SHARE YOUR FEARLESS STYLE WITH US?
USE #THISISMKSTYLE ON INSTAGRAM!