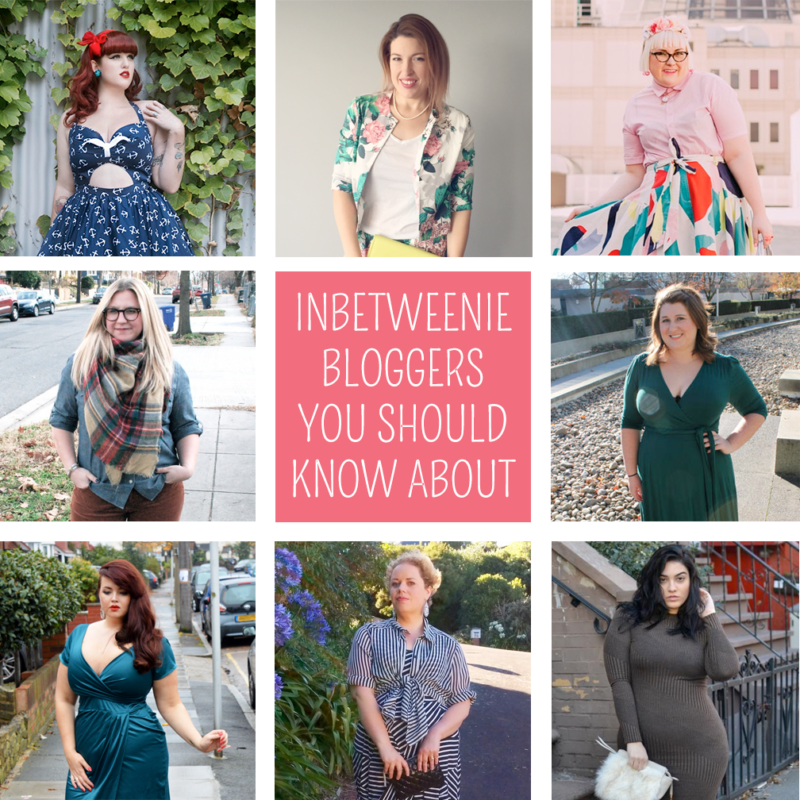 Inbetweenie sizes are those on the smaller end of plus size (14-18)* – an inbetweenie babe could shop at some plus size stores (these sometimes start from a size 12), and can usually find clothes in straight sized stores too (at least, they can in New Zealand, where most straight size stores carry up to a size 18 – this may be a very different case outside NZ). While inbetweenie women might have a wider selection of places to shop, they are sometimes looked down on by other members of the plus size community, something I've never been able to understand. Body acceptance isn't just about people who are over a size 18, it's about understanding that all bodies are good bodies, and loving yourself at all sizes and shapes. With that, I wanted to share some of my favourite inbetweenie fashion bloggers – check them out and be inspired!
Teer Wayde (size 14-16), Curves to Kill…
This curvy red haired Australian model has some serious pinup style, and her blog has some great fashion inspiration, reviews and styling advice. A a photographer, I was initially attracted to her stunning photographs, but now she has me wanting to rock the pinup look! Follow Curves To Kill on Facebook.
Edith Dohmen (size 16-18), Style Has No Size
Edith is a fashion stylist from the Netherlands who embraces all body sizes and really celebrates inbetweenie sizes with a section of her blog dedicated to putting women like her wearing 'in between sizes' (size 40-48 EU/10-18 US/12-20 UK) in the spotlight. She aims to show the world that style has nothing to do with a size, and that not everyone in fashion is a size zero. Follow Style Has No Size on Facebook.
Jo Curvy (size 16), iCurvy
This Aussie blogger is a self-confessed online shopping addict and clothes lover. I love her "Shop What You Got" challenge that encourages you to choose 30 items from your wardrobe and mix and remix them to wear throughout the month. As a fellow shopping addict (who has a wardrobe that is jam-packed), I think this is a challenge I will be joining in 2013. Follow iCurvy on Facebook.
Georgina Horne (size 16), Fuller Figure Fuller Bust
George describes herself as a UK based dress loving, plus sized, big boobied, lingerie obsessed, bra fitting enthusiast who hates body snark, and I think that sums her up to a tee. If we lived closer I have a feeling we'd be firm friends! She has a gorgeous vintage style, is THE go to girl for lingerie questions, and is one of my favourite people to follow on Twitter. Follow Fuller Figure Fuller Bust on Facebook.
Rachel Gee Bee (size 16-18), Rachel Gee Bee
An expat Kiwi living in Canada, Rachel is both hilariously funny and impressively stylish. You might remember her from the shoots she has done with me (here and here) for my Fat Girls Shouldn't Wear Stripes project! I love the effortless way she approaches fashion and her low tolerance for bullshit. Make sure you check out her instagram account for loads of fashion inspo. Follow Rachel Gee Bee on Facebook.
Siân Fisher (size 16), Girl, Inbetweenied
US blogger Siân really takes ownership of the fact that she's an "inbetweenie" and has even worked it into her blog name. Girl, Inbetweenied covers fashion and beauty, and Siân reminds me of the friendly, stylish girl that I wish lived next door. Her style is real, unfussy and not contrived, perfect for everyday inspiration. Follow Girl, Inbetweenied on Facebook.
Jocelyn (size 16-20), Mama's Style
Jocelyn (aka Mama) is one fabulous lady whose love of all things shiny indicates that she might be part magpie. Her blog and facebook page are a great snapshot of her life as a curvy, stylish mama in Wellington, New Zealand. She's honest, upfront and isn't afraid to break so-called fashion rules. Jocelyn also posed for my Fat Girls Shouldn't Wear Stripes project last year – check out her shoot here. Follow Mama's Style on Facebook.
Nadia Aboulhosn (size 14-16), Nadia Aboulhosn
NYC based Nadia is one of my favourite bloggers of all time. Her blog is a constant source of styling inspiration for me, and her kick-ass attitude always makes me smile. Not only is she a fashion blogger, but she's also a model, having worked with boohooPLUS and Addition Elle amongst others. Make sure you're following her on twitter for her quick wit and instagram for a behind the scenes look at her life. Follow Nadia Aboulhosn on Facebook.
Hayley Hughes (size 16), Fashion Hayley
Hayley is an Australian stylist who you might recognise from her work with City Chic, both as a stylist and an insider. Her quirky style is bold, playful and is a testament to the inspiration she has picked up on her travels. Follow Fashion Hayley on Facebook.
Katie (size 14-16), SpijkerKat's Closet
Another expat Kiwi, Katie lives in Perth, Australia. Katie's style translates the pinup aesthetic into everyday wear, bringing 1950's glamour into an easy wearable style. Her instagram feed is a constant source of body positive fashion inspiration, so make sure you're following her!
Are you an "inbetweenie"? Who are your favourite inbetweenie bloggers?

* NB – all sizes referred to on this post are in NZ/AU/UK measurements