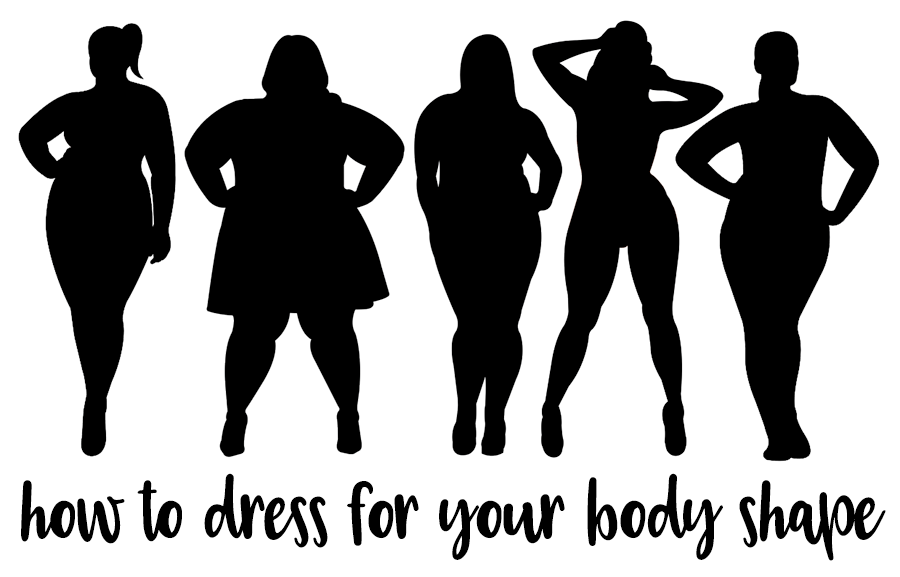 I remember reading Cosmo as a teenager, and trying to figure out what shape my body was. Was I a pear? A column? An hourglass? I'm definitely not an apple, my legs are too big and my boobs are enormous. I never quite fit in the definition of any of those shapes, so the "how to dress for your body shape" guides were never all that helpful. As a plus size woman, I found them even less helpful – I'm big in this bit, even bigger in that bit and small in that bit. I decided that I was peanut shaped – sort of hour glass but with more lumps and bumps. How do you figure out what shape you are? I get asked to write guides about dressing for your body shape all the time, so here it is – a really easy guide to figure out what you should wear depending on your shape.
This might come as a surprise, but you actually don't have to dress a certain way depending on what size or shape you are. Remember my Fat Girls Shouldn't Wear Stripes project? Not only do I think fat girl style rules are bullshit, I think body shape rules can get in the bin as well. No matter what shape you are, you can wear whatever the hell you want. Apple shaped and love bodycon? Wear it! Pear shaped and want to wear patterned pants? Hell yeah! Peanut shaped and want to rock a bikini? Bring it on!
My friend Rachel showed me this guide from EziBuy, and to be honest my eye rolling was at an all time high. It's full of things like "High waist briefs can help minimise your spreading midriff"and "Thigh shapers & body suits will compress your tummy, hips and rear" for apple shapes or "Darker tops will de-emphasise the breadth of your shoulders" and "Stay away from bright tops with prints" for inverted pyramid shapes. My body doesn't need to be compressed, minimised or de-emphasised, thanks.
All my life, regardless of what size or shape I've been, there have been people, clothing brands, magazines, blogs telling me that I should dress a certain way, look a certain way. Well guess what? I'm done. I wear horizontal stripes, bodycon, patterned pants and spaghetti straps because I like those things.
You're under no obligation to wear clothes that are "flattering", things that create the illusion of you being smaller, or that hide supposed flaws. It's all crap. Measurement-wise, I'm closest to being a pear shape (albeit a very busty one) and I break almost every one of EziBuy's style suggestions on a regular basis. You know what? The world doesn't end and small children don't run screaming.
20 Things That Women Should Stop Wearing After The Age of 30

1-20: The weight of other people's expectations & judgments

— maura quint (@behindyourback) June 3, 2015
I don't want a clothing company telling me that I should wear a certain kind of neckline or a certain colour of pants to look more pleasing; I want them to sell clothing that fits my body and my style. That is all. Let's just stop with ridiculous rules around what women should and shouldn't wear based on their age, weight or body shape, and just wear things that we like, okay?
What's your favourite "style rule" to break?

Title image silhouettes designed by Vecteezy