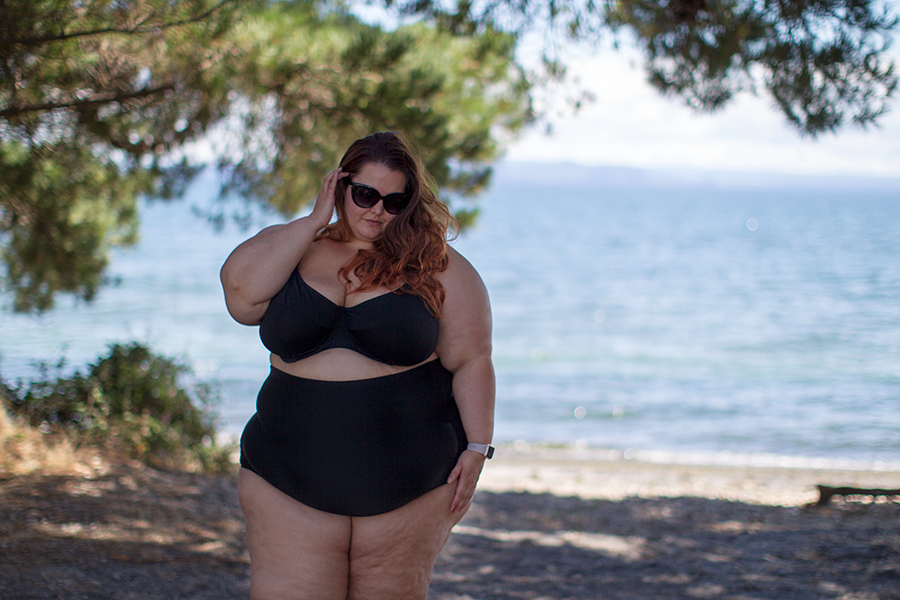 My first ever experience with body shaming was when I was wearing a swimsuit, so it probably comes as no surprise that I spent a lot of time agonising over wearing one as a teenager and in my 20's. I remember going to the beach in board shorts and a baggy t-shirt, with my one piece underneath, feeling very self-concious – a far cry from the cocky, confident person I was on the swim team a couple of years beforehand. Things have changed a lot over the last few years, and now I feel completely at home in a bikini. I get a lot of people saying that they wish they felt so confident in a swimsuit, so I thought I'd share a few of my tips on how to be body confident at the beach (or where ever it is that you're swimming!).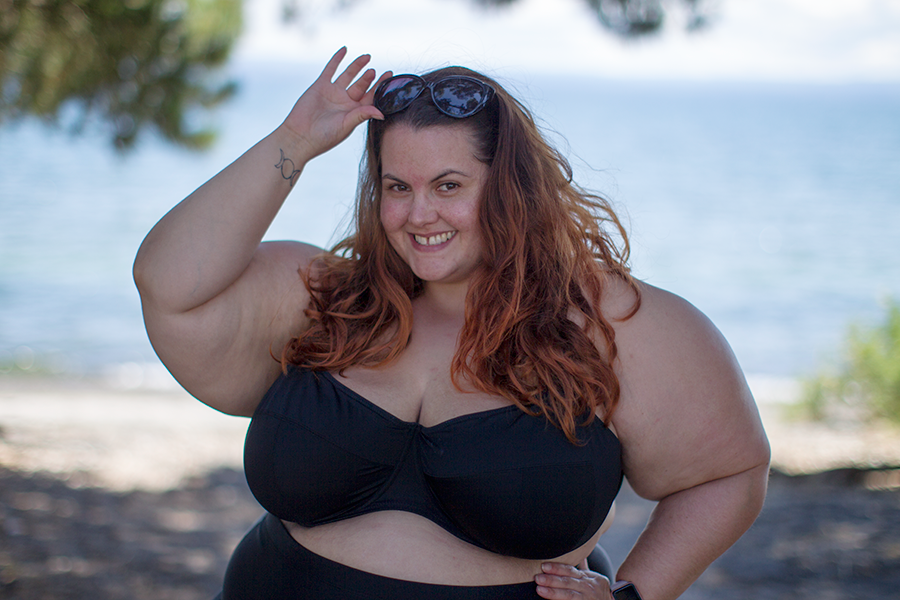 Wear a swimsuit that fits
I've talked about swimwear pretty much every summer since I started my blog, but this summer I've finally found one that fits me really well and it makes a HUGE difference to how confident I feel in my swimsuit. As you well know, I'm blessed with a big bust. One key thing I need in a bathing suit is good support, something that keeps the girls in place and looking great. I picked up an elomi swim bra from Avokado, and holy moly, it fits like a dream. It's got underwire and fits like a bra (I'm wearing a 22H), and gives the same great support that I get from my other elomi bras.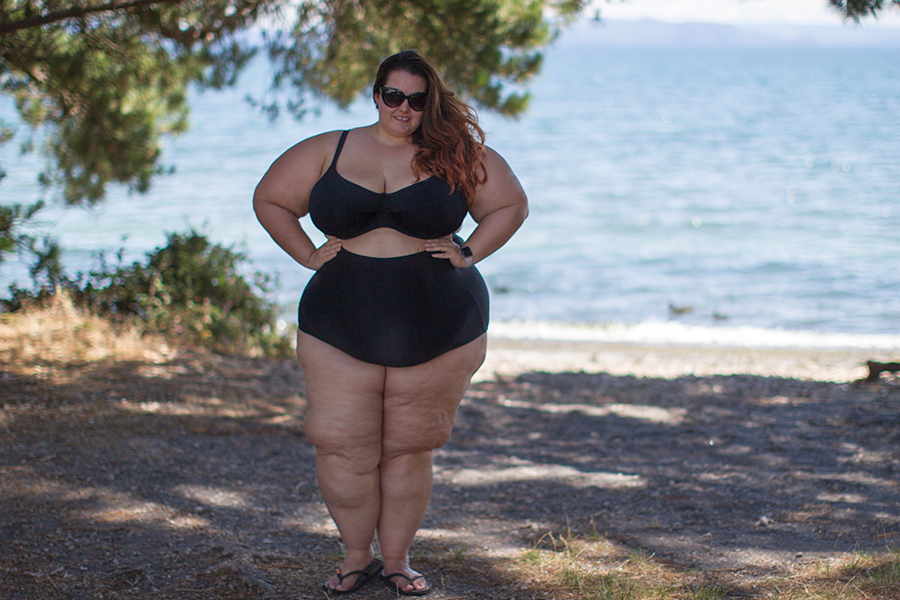 Wear a style that you feel great in
Not everyone feels awesome in a bikini and that's perfectly okay – you might find that you prefer a one piece or a tankini, or you might like to wear board shorts over the top – just go with what works for you. I love my swim bra for the support it gives me and my high waisted bikini bottoms (which I picked up from Autograph last summer) because they cover up my stomach and help to keep me a bit warmer in the water (I get cold very quickly).
Be prepared
The same as if I'm going out to an event, when I have time to prepare I'm going to feel (and look) my best. Skin exfoliated, fake tan on, any hair removed that needs removing, sunscreen liberally applied (I use this one, which contains vitamin E that moisturises my skin while the other ingredients are protecting it)… I don't do a lot in terms of my beauty routine to get ready for the beach, but I always feel nicer when I'm a bit prepared. I also make sure I drink lots of water to help hydrate my skin and keep it glowing and clear.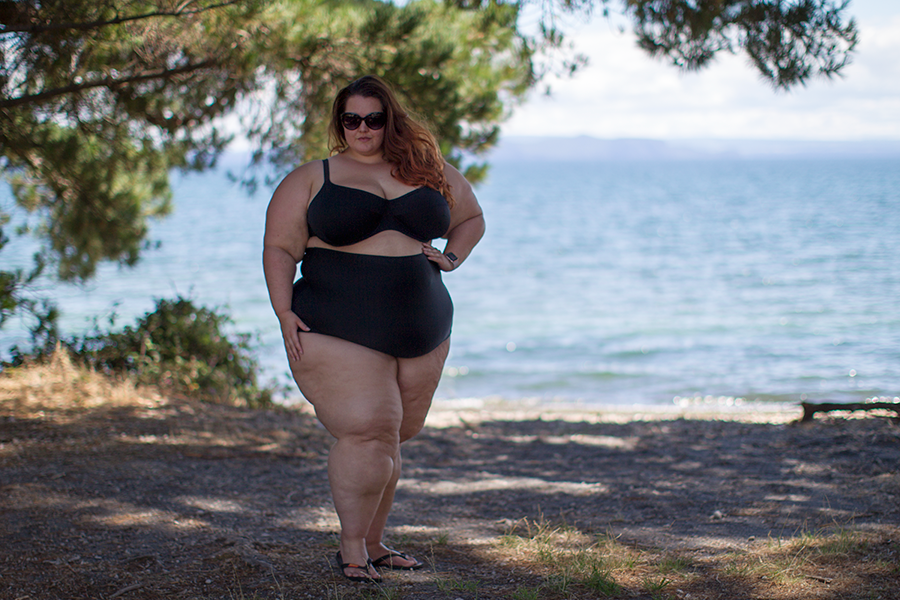 Have a cover up handy
When I'm at the beach, I'm not going to be in the water the whole time – I might be sitting on the sand chatting with friends, having a picnic lunch with my family or reading a book. I like to have some kind of cover up on hand – both so that I don't feel so exposed and to help protect me from the sun! This summer I've worn a shirt dress, but I also like a sarong or a kimono like this one. Don't forget your hat and sunglasses too!
Remember that you are not alone
I read recently that something like only 20% of women feel confident in their swimsuit, so trust me, you're not alone! Some of the other people at the beach (even if they're thin, toned and tanned) will be feeling a bit tentative about stepping out in their swimmers as well and chances are that they aren't looking at you and judging your body! Anyone that is judging your body? Well quite frankly they can fuck right off.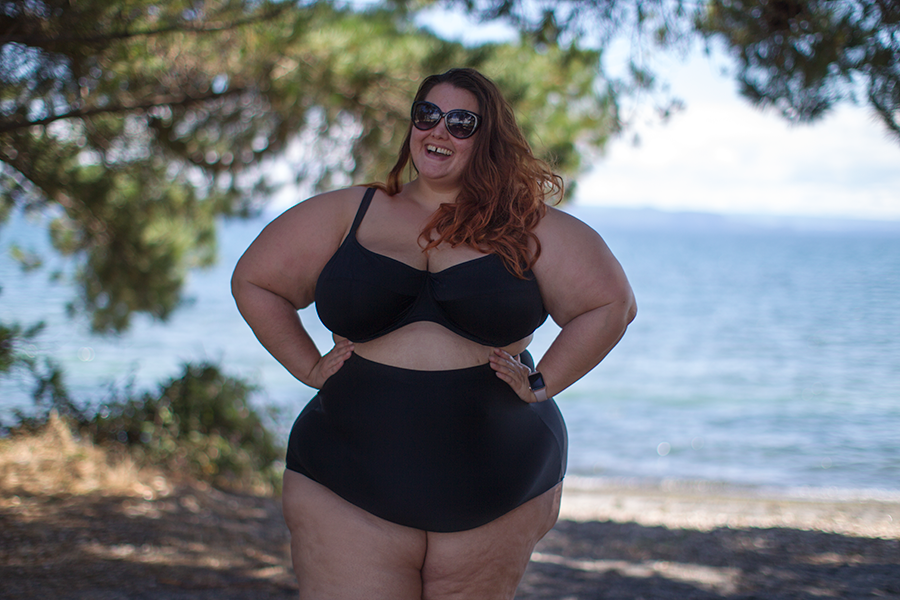 What's the worst that could happen?
Before you go to the beach (somewhere between panicked bathing suit shopping and jumping into the water), take a moment to think about why you're so worried about wearing your swimsuit in public. If you're worried that someone might say something, think about how you're going to deal with that and come up with some good comebacks ahead of time (a swift "fuck off" works for me, because I don't have time for nasty people and refuse to let them ruin my day). Worried that someone might figure out that you're *gasp* fat? Chances are, people will have a rough idea what size you are, so if they are somehow shocked by your appearance in a swimsuit then clearly they should have been paying more attention. Concerned about cellulite or belly rolls? Those things are pretty normal, and to be honest there are better things you could be doing with your time than worrying about them. You know – like hanging out at the beach!
Stop obsessing over your body
I know this is easier said than done, but honestly, stop thinking about how your butt looks in your bikini and start living your life. When your mind is on other things like the fun you're having with your kids, how bloody cold the water actually is or whether you can swim to the pontoon faster than your friend, you stop thinking about what you're wearing or what your body looks like and actually have fun!
Life is too short to stand by and be a spectator. This summer I have danced, laughed, loved, swum and done many things that I enjoy, sometimes even while wearing a bikini. Our time on this earth is short, and I'm not going to waste that time waiting until I'm thinner, more toned, more tanned, or different in any way. My life is for living and I am enough just as I am, and so are you.
Do you have any tips for being confident at the beach?