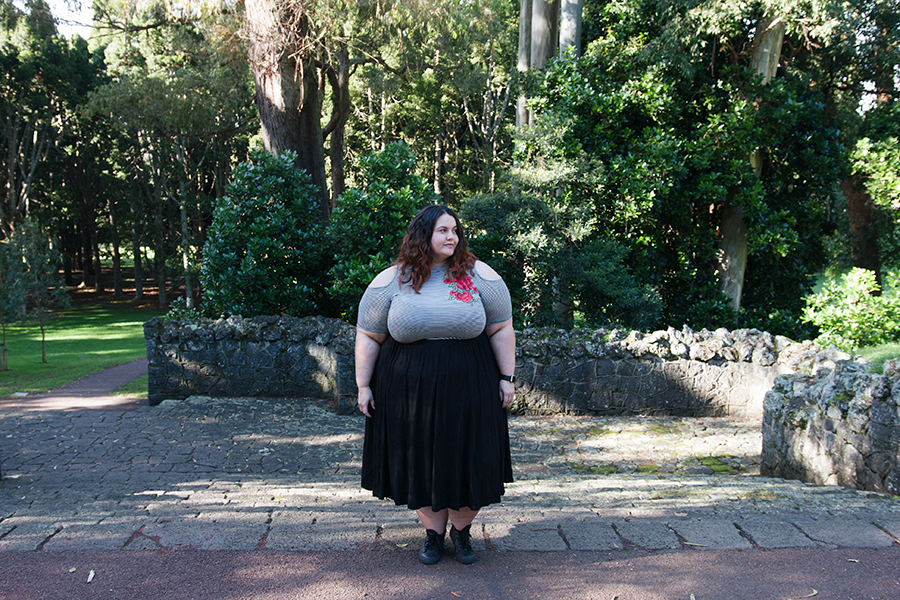 After seeing my friend Margot Meanie rocking lots of cute clothes from Forever 21, I decided that I had to find a way to be able to get my hands on some of the Forever 21 plus size range. I ordered via the US website and had it shipped via YouShop, which is a freight forwarder that ships packages to New Zealand; but it turns out that Forever 21 also has a Hong Kong based site that does ship globally. You might think this was a rookie move, and I admit that it kind of was, but it did give me a chance to figure out which one was cheaper when it comes to shipping, so it's still kind of a win.
Striped Henley Top in size 3X
Open Shoulder Top in size 3X
Hooded Sweater in size 3X
Bodycon Dress in size 3X
High Waist Leggings in size 3X
Ribbed Swing Dress in size 3X
Because a lot of the pieces I picked out were on sale, they're no longer available – sorry! It should give you a pretty good idea how different shaped things at Forever 21 fit on my body though. Everything I picked out was a size 3X, which is roughly a 24 in NZ sizing.
While the bodycon dress and the leggings didn't fit me, I found this a really good gauge in terms of sizing. Especially because the swing dress was a really comfortable fit! I won't be buying pants from Forever 21 anytime soon, but it's good to know that if there are things I like that have a looser fit around the hips, they might work for me.
Have you shopped with Forever 21 before?
Let me know which of the pieces I picked is your favourite.