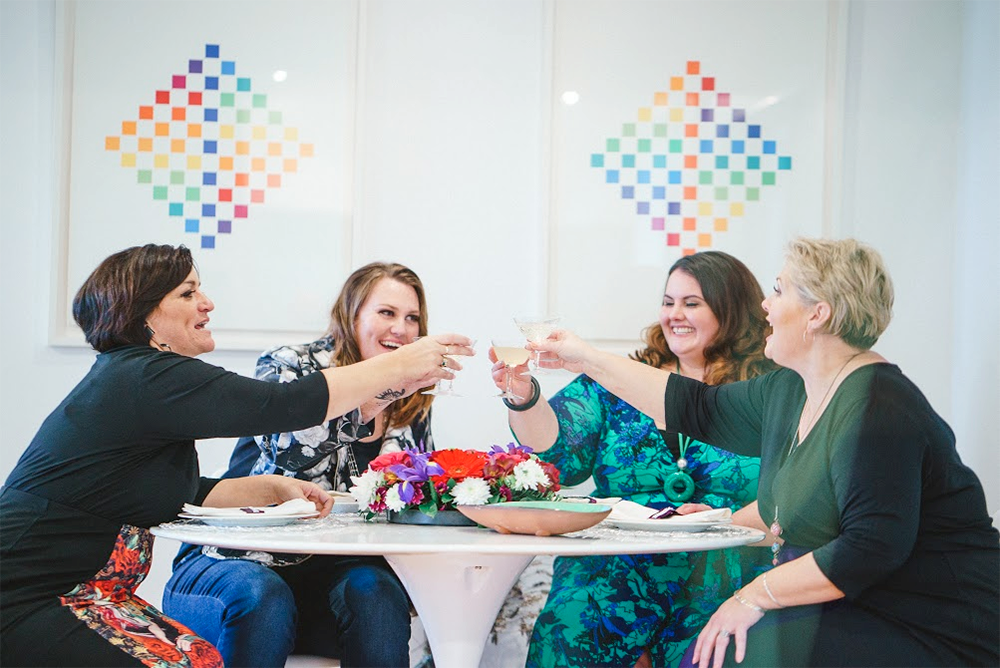 One day I got a message on my Facebook page from a woman named Rachel saying that her and her partner were starting up a New Zealand made plus size fashion label, and wondering if I'd be able to try on a size 26 sample to see how it fit. I'm always keen to support local designers as I'd love to see a wider range of options available in plus sizes, so of course I said yes. We met up for coffee and I tried on the shirt in question … and I didn't want to take it off! It was so soft and comfortable, the fit was amazing, the sleeves were the perfect length… It was basically my ideal shirt. Unfortunately I did have to give it back, but I knew that I'd be watching the development of Rachel's label with very keen interest.
We'd spoken a bit about the importance of showing clothes on different body shapes and sizes (body diversity is incredibly important in fashion because let's be real, I can't look at someone who is a 14/16 and know how those clothes will fit my size 26 body!), and fast forward to a few months later, I was agreeing to head down to Thames to be part of their photoshoot. It's never been a goal of mine to become a model, that's definitely not why I started this blog, however one of my goals is to provide that size diversity so … money where your mouth is Meagan! And that's how I ended up modelling for Firefly by Rachel Harrison.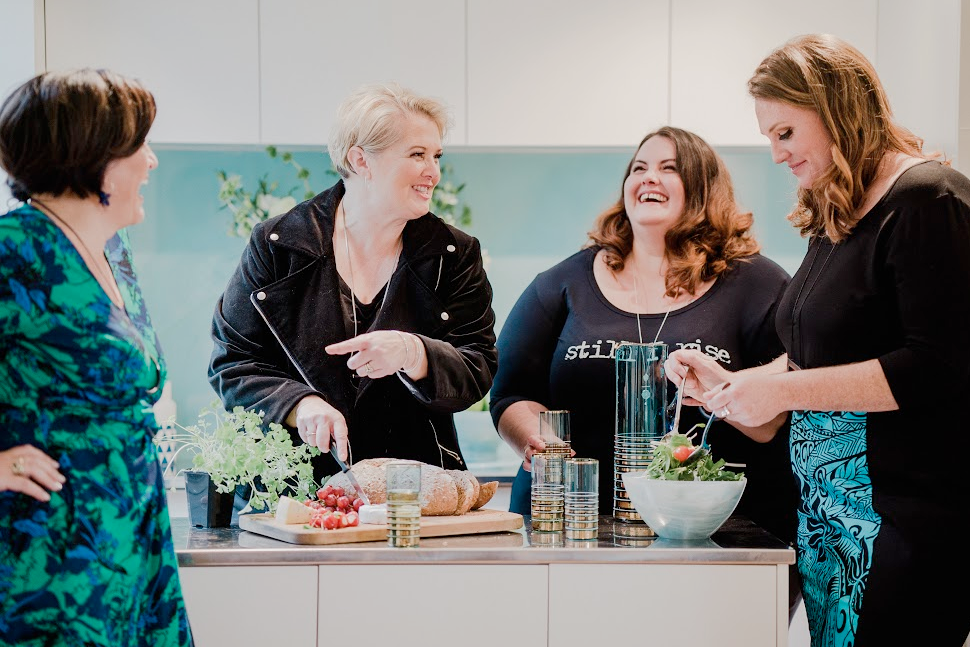 The clothes are absolutely fricken amazing, New Zealand designed and made. As we all know, that doesn't come cheap, but you know what? I'm okay with that. I'm not opposed to saving up for really great quality pieces (there are two pieces I love so much I plan on buying them – I'll show you them in a moment).
It was amazing to spend the day in the company of some other amazing humans, having such a fun time. One of the highlights for me was seeing how things fit on the other women who were modelling. We all have different body shapes and sizes (if you have a look at the size chart, you can see all of our measurements and what size we wear), so when you're looking at the website, you can see what things look like on different bodies. I've always wished that more clothing brands had this, because seeing what clothes actually look like on bodies like mine hardly ever happens – especially with New Zealand brands.
I'm not going to show you all of the pictures from the shoot, you'll have to pop over and have a look at the website. There are a few more I wanted to show you though – the first one is this dress. It's not something I ever would have picked for myself, the colours aren't ones I'd usually find myself gravitating towards, but I bloody love it. In fact I love it so much that I'm pretty sure I'm going to buy it (although I'll have to save up first). Not only is it an amazing dress (which has pockets – very important!), but it looked bloody fantastic on all four of us! There's a couple of photos of me in it below, and you can see how the others looked in it here.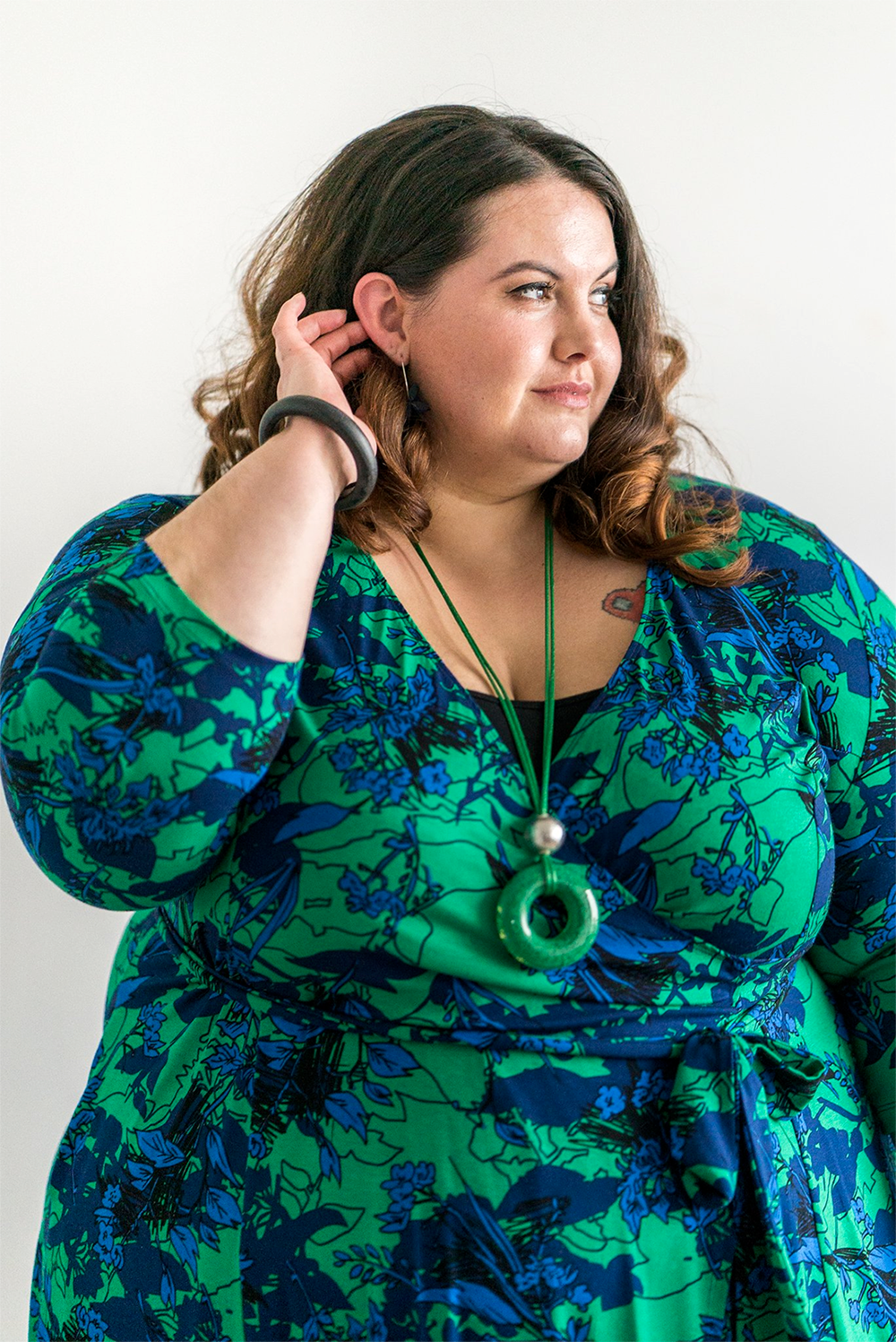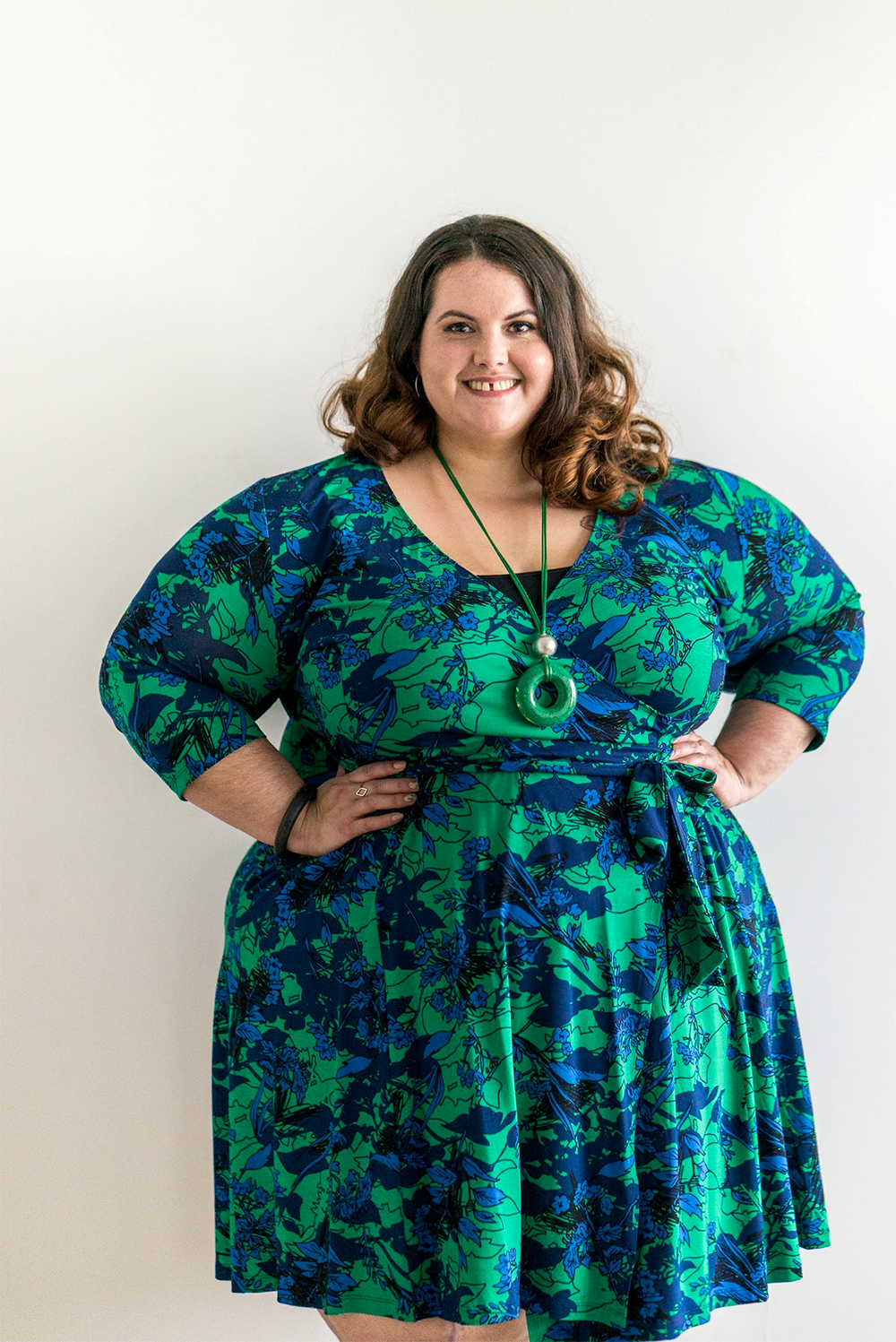 As you know, I'm really busty, so I'm wearing a slip underneath my dress to give me some extra coverage on my chest. You can wear it with or without depending on your personal style (and how full the cups on your bra are!). It's knee length on me – if you look at the bottom of the picture above you can see a little hint of the scar from my knee surgery peeking out – which is perfect for summer! I think that in autumn and winter I'd wear it with stockings or 3/4 leggings.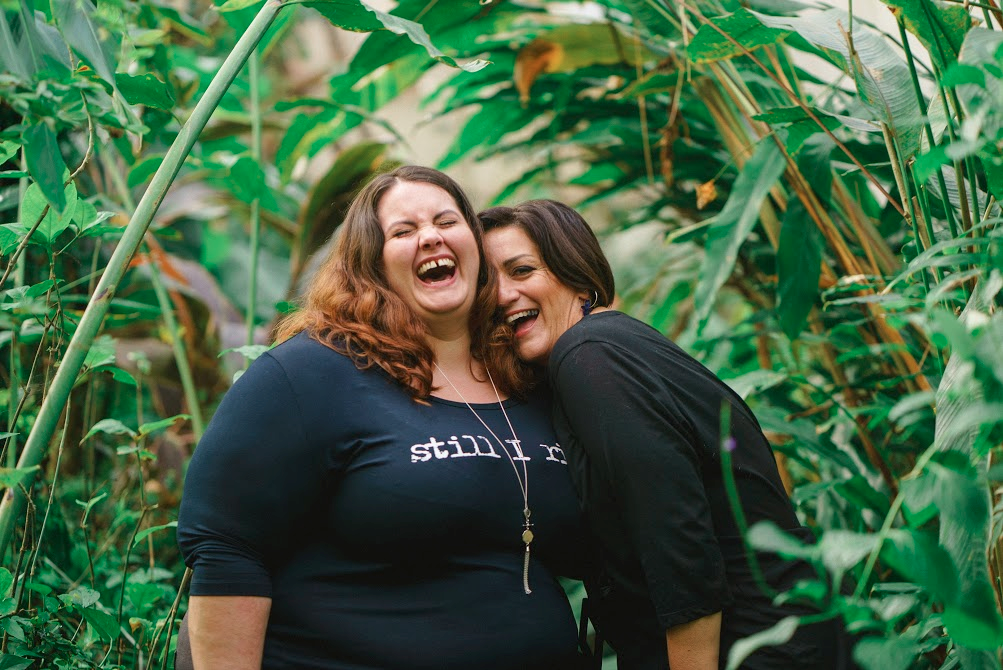 Does my sexiness upset you?
Does it come as a surprise
That I dance like I've got diamonds
At the meeting of my thighs?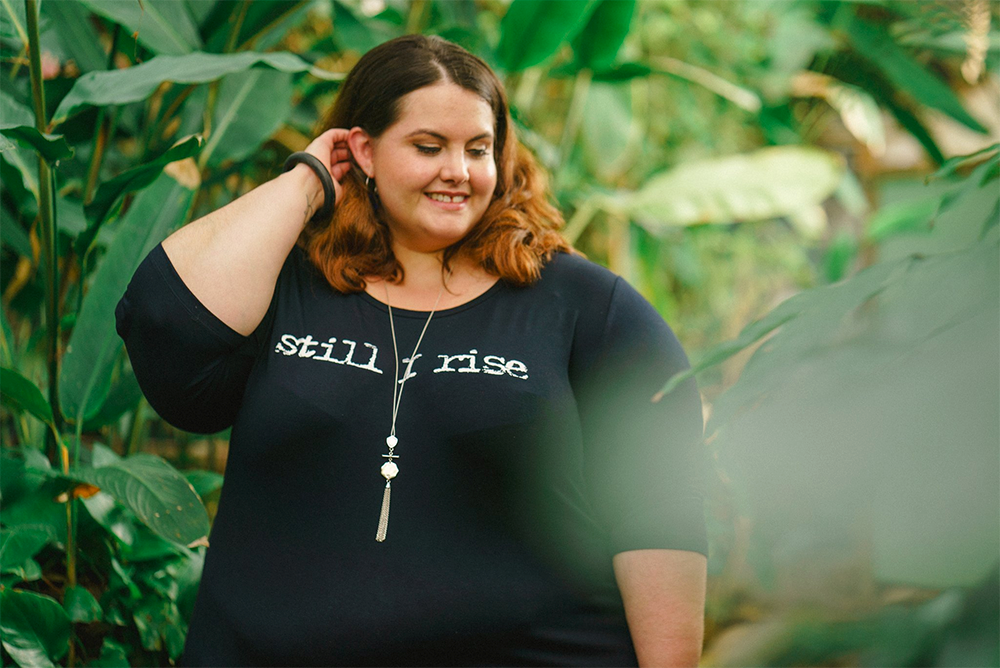 My other favourite piece is the Still I Rise top. It references Maya Angelou's poem 'Still I Rise' and celebrates the strength, endurance, and resilience of women.  I'd actually never read the whole poem, only excerpts of it, so when Rachel played it for me it was such a powerful moment for me.
Remember the top I first tried on when Rachel and I met up for coffee? It was this style. This was what made me so excited about her range. I'm wearing the one made from organic cotton and spandex, so it's got a bit of stretch (basically essential for getting a good fit around the bust for me!).
So those are my two favourite pieces, the Emerald Wrap Dress and the Still I Rise top. I love both of them on me and want to buy both of them but of course I have to be sensible with my budget so I'll have to do one now and one later – which one do you think I should get first?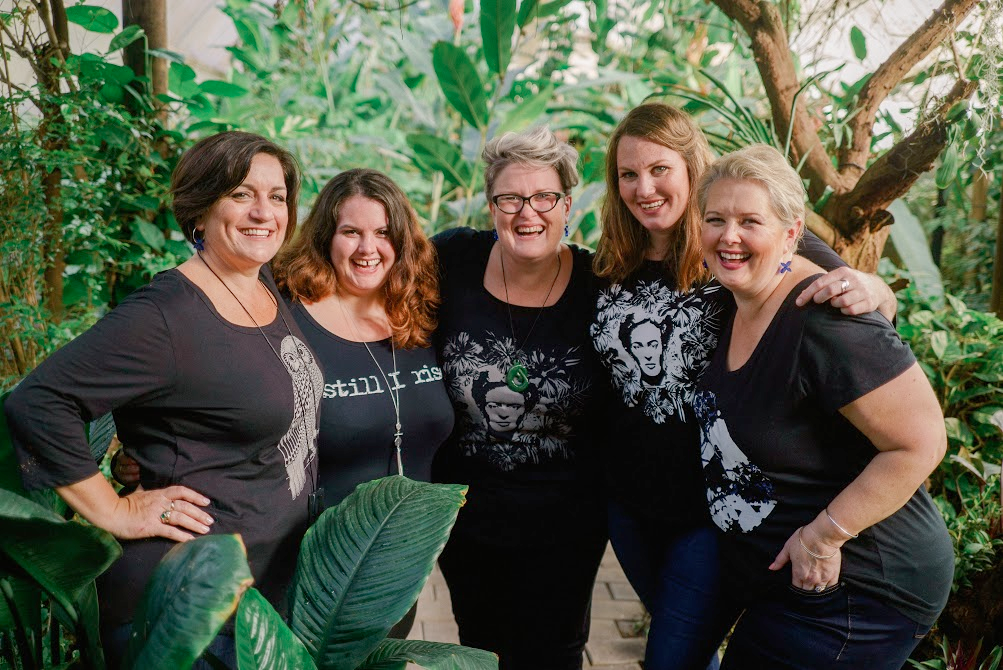 I couldn't finish up this post without mentioning the other amazing people involved in our shoot. We finished up the day at the Butterfly House in Thames which was amazing (and very very hot and humid!), and I'm so glad we got this picture of all of us models with Rachel, the designer. From left to right there's Krissy, me, Rachel, Kate and Liesje. Not pictured, but doing amazing things behind the camera were Mike Hill (he was literally behind the camera), someone whose photography I've admired for a very long time and it was awesome to shoot with him; Shannon, who was in charge of hair and makeup, and making us all look and feel so glam; Ross and Scott for letting us shoot at their lovely home; Amanda and Lucy for being amazing, and giving great styling advice; and Doug for being supportive and wonderful (and taking some great behind the scenes shots).
So there you go, that's my introduction to Firefly by Rachel Harrison, and the story of how I came to be a model (for a day, at least). I hope you'll go over to the website and check out some of the other photos and the other cool pieces that she has designed! I can't wait to hear what you think.
What should I get – the dress or the top?
I'd love to know which pieces you like from the range!