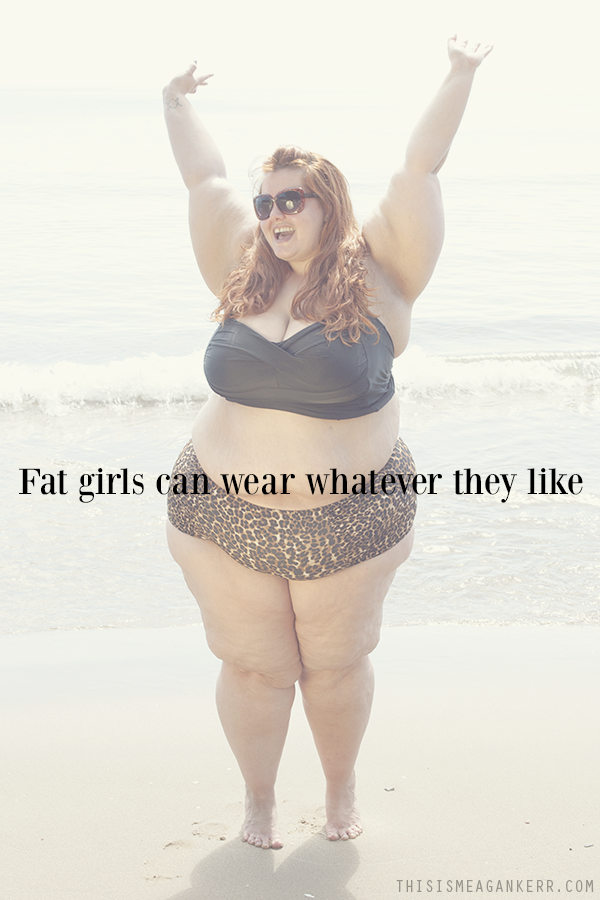 I am a fat person. On an almost daily basis I am told (either in person, via social media or through mainstream media) that because of my size I am not acceptable to society. I've heard it all – well-meaning family members expressing their concern about my cholesterol, people telling me I'd be so pretty if I lost weight, having a stranger whisper "Weight Watchers" under her breath as she walked past me in a department store, and comments about whales when I'm at the beach.
After years of hating my body, following ridiculous diets and pushing myself to exercise until I was physically ill, I read Dr. Linda Bacon's book  "Health at Every Size" and discovered that fat doesn't necessarily mean unhealthy – something I should have known for years, being that I've never once had my fat adversely affect my health – blood pressure low enough to be comparable to an Olympic athlete and perfect results on all possible blood tests. Reading "Health at Every Size", I learned a lot about my body (including the fact that constant dieting was actually the cause of me gaining weight) and began to love myself for who I am. This was a huge turning point, both for me personally and for me as a blogger and a photographer.
For the final project of my degree, I wanted to create images that portrayed fat women in a positive light, because it is very rare that you see anyone over a size 16 in any form of media not being criticised for how she looks (despite the average body size in Australia and New Zealand being a size 16) or in a story along the lines of "I was fat and hideous and then I embarked on x crazy diet and now I'm slim and beautiful". Everyone needs to have positive role models, and through my blog I hope to be one of those positive influences that tell women that no matter what their body size it's okay to love yourself and that it's possible to find nice clothes for bigger bodies.
In her TEDxTALK titled "Why It's Okay To Be Fat", Golda Poretsky from Body, Love, Wellness spoke about the need to love and accept oneself – I think that this is an extremely important message and one that I am a big advocate of. This is the perfect lead in to my project, because I want to empower women to love themselves and celebrate their bodies through their clothing choices.
With this in mind, I decided that I wanted to create a body of work that encouraged and inspired other women to love their bodies. I wanted to challenge the "fashion rules" that society seems to dictate.
Don't wear sleeveless tops. Don't wear pencil skirts. Satin, bikinis, stripes, fitted clothing that highlights your body shape, loose clothing that doesn't highlight your body shape. Don't wear white. Only ever wear black.
In Fat Girls Shouldn't Wear Stripes, I chose to challenge these so-called rules through a series of images where my subjects wore the things that they were told that they shouldn't wear – figure hugging, skin exposing clothes that celebrate their full figures.
I've shared some of the photos with you here. I hope you find them as beautiful and inspirational as I have! If you'd like to be part of this project, please let me know.

Meagan wears:
Spirit Tankini (worn as bikini top) from Postie
ASOS Curve High Waisted Leopard Print Bikini Pants from ASOS
SXUC Pippa sunglasses c/- Sunglasses Shop