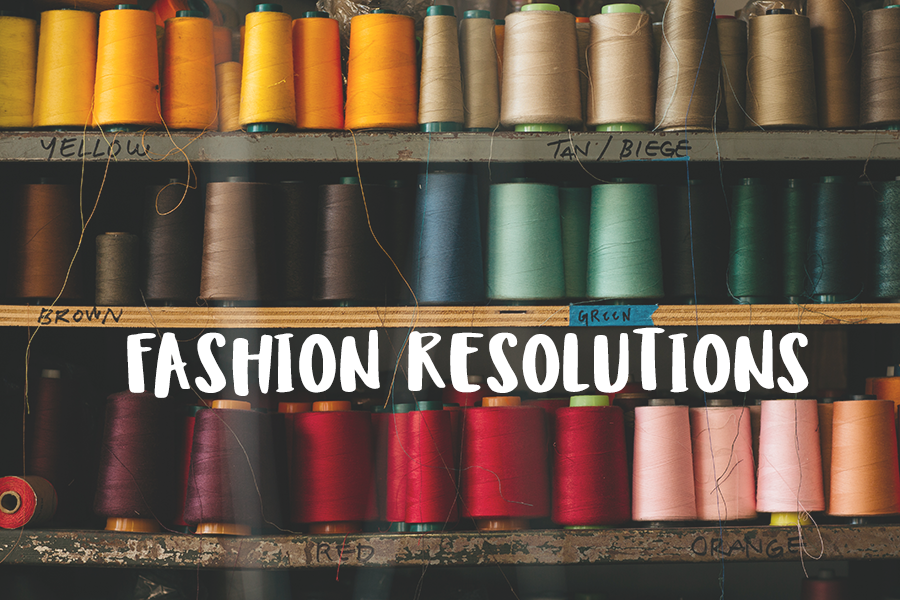 It's the start of a new year and everyone is talking New Year's resolutions. Screw the ones that involve crash diets though, my resolutions are more of the fashion focused kind. If your wardrobe needs a shake up, you want to feel more confident in your clothes or you're searching for your style, here are a few fashion resolutions to help you get started.
GET RID OF THINGS THAT DON'T FIT
I swear if I hear one more person tell me that they bought a "goal outfit" or are hanging on to their "skinny pants" with the intention of losing weight to fit them, I will scream. Not only are those clothes a waste of wardrobe space, they're also a waste of mental space. You don't need them!
GET RID OF OLD TATTY CLOTHES
I was guilty of this for a long time – I wore things that were threadbare or had holes in them, I hung on to clothes with buttons missing or hems that needed fixing. You know what? I never bloody mended them did I? If you're holding on to anything ripped, torn, broken or stained, it's time to get rid of it. You deserve nice things.
WEAR CLOTHES THAT MAKE YOU FEEL GOOD
Do you criticise your body every time you wear those shorts that are too tight? Feel like crap when you wear a top with capped sleeves? Feel frumpy when you put on that floral maxi dress? Then stop bloody wearing those things! Life is too short to wear things that make you feel horrible about your body, for goodness sake! Think about what you feel great in – at the moment it's stretchy bodycon dresses, skirts that finish just below the knee and leggings with slouchy tees and sweaters for me – and get more of those things in your wardrobe!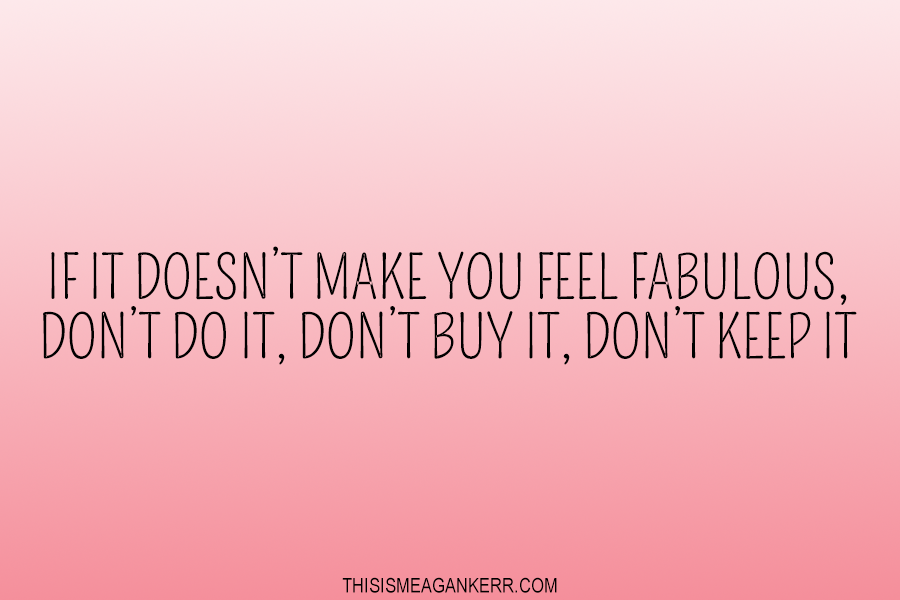 CLEAN OUT YOUR CLOSET
All these things have been leading up to a closet clear out! I try to sort through my closet on a regular basis as my style evolves and changes (and as I get new things), because I've found that I will end up wearing the same things on solid rotation and ignoring others. Those things I'm ignoring? Yep, time for them to go! Some I will donate to charity and some I will sell in my closet sale. If you want some tips for clearing out your closet, I wrote a whole blog post about that, which you can read here.
SPEND MONEY WISELY
You know when you go to Kmart, browse through thing and end up buying a shirt that's pretty much the same as five other shirts you already have? Yeah, you should probably stop that. If you have a lot of clothes that have never been worn/still have tags on, then you need to think about whether you really need that item. Don't just shop for the sake of shopping, buy what you need and save your money for other things.
BUY GOOD QUALITY BASICS
Rather than spending small amounts of money often on things that will wear out quickly or will only last a season, invest in things that will last a long time. If you want to get some designer pieces in your wardrobe, this is the best way to do it! Sometimes these things will cost a little bit more, and you will need to save up for them – but trust me, the decision to invest in your wardrobe is one worth making (here are some of the reasons why it's a great idea).
INVEST IN GOOD SHOES
I'm guilty of buying cheap shoes that wear out quickly, and this is one thing I'm working on changing. At one point I had about 50 pairs of shoes, but they were all pretty poor quality and wore out fast. I've started being more selective about the shoes I buy and spending a bit more on things like gym shoes and boots. I'm still trying to find some great quality sandals and brogues that I love, I want to get some from Ziera because their shoes are great quality and super comfortable, so that's what I'm saving up for.
BUY THE BEST YOU CAN AFFORD
I'm going to be honest – being a self-employed writer doesn't pay that well, so most of my shopping is done on a serious budget. While I would love to be able to only shop ethically, buy from indie designers and get everything tailored for my body, the reality is that I can't afford to do that all the time. I buy the best quality pieces that I can and sometimes that means I can only afford to spend $20 at a department store, and that's okay! You need to find what works for you.
TRY NEW THINGS
I find it really easy to get stuck in a rut with fashion sometimes, so while I have my favourite styles that I feel comfortable in, I think it's important to try new things as well! If you don't want to wear a bikini, a crop top or a bodycon dress you don't have to, just keep an open mind. Trying clothes and styles that might be a little bit out of your comfort zone is the best way to help you find new looks. I find the best way to do this is to head in to the changing room, try things on and snap pictures that you can Snapchat to your friends (or post in the NZ Style Curvettes group if you're a member!) for feedback! It's always good to have a second opinion, and to have friends boosting your mood when the horrible changing room lights are making you feel less than glam.
TELL PEOPLE WHEN THEY LOOK GREAT
When I see someone who looks amazing, I like to tell them. It puts a real smile on my face when someone comes up to tell me that they love my outfit, so I'm going to make the effort to tell people when they look fab. I did this in the supermarket recently, and it made me feel good to give someone that positive feedback!
Are you making any fashion resolutions this year?
Let me know what they are below (and if I can help!)