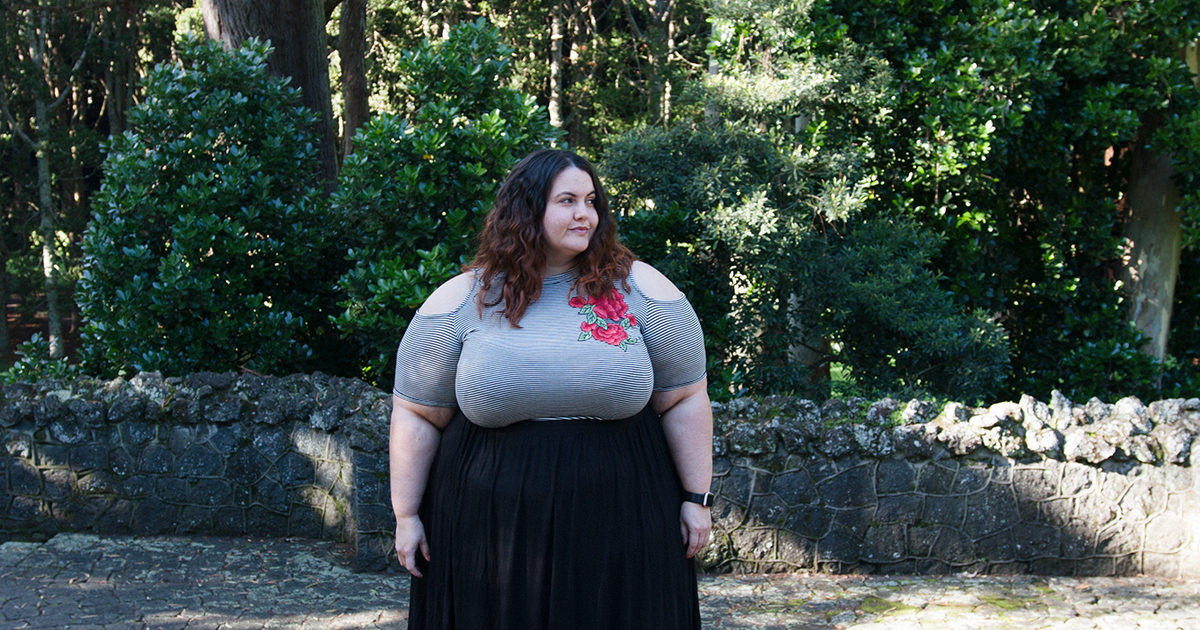 I've noticed a recurring trend in plus size fashion over the last five years and I think it's time we had a talk about it. Cold shoulder is a trend that seems to be really polarising – you either love it (in which case congrats – there's shitloads of it out there right now!) or you hate it. Despite the fact that I'm wearing a cold shoulder top in this post, which I purchased with my own money and am wearing willingly, I absolutely am not a fan of this trend. As you all know I don't usually write about things I don't like, but I wanted to share my feelings, and I'd love to know what you think about this cold shoulder malarkey.
There's a couple of different kinds of cold shoulder styles – there is the cut out that I'm wearing here, or there's the split sleeve (a split along the hemline from the shoulder) that is either sewn or tied at the bottom of the sleeve.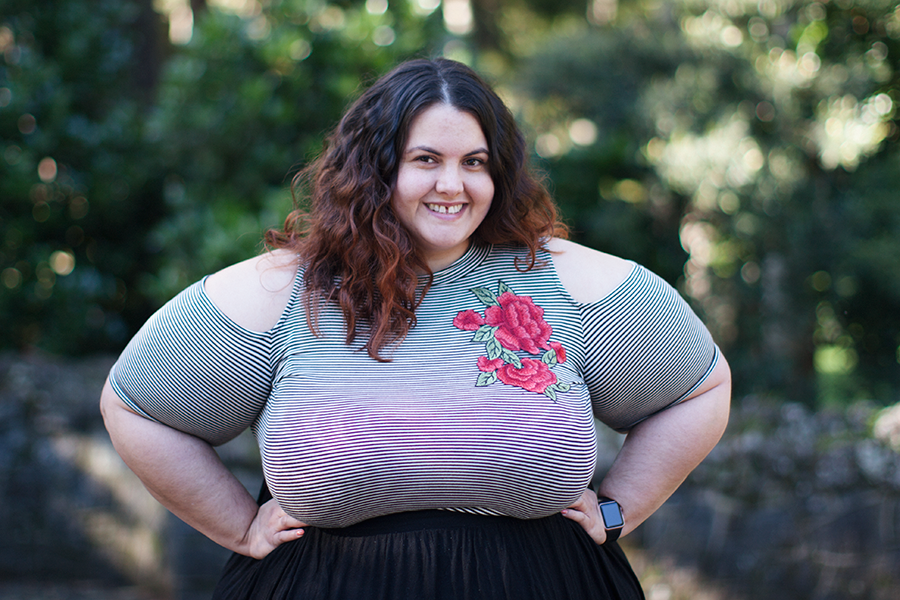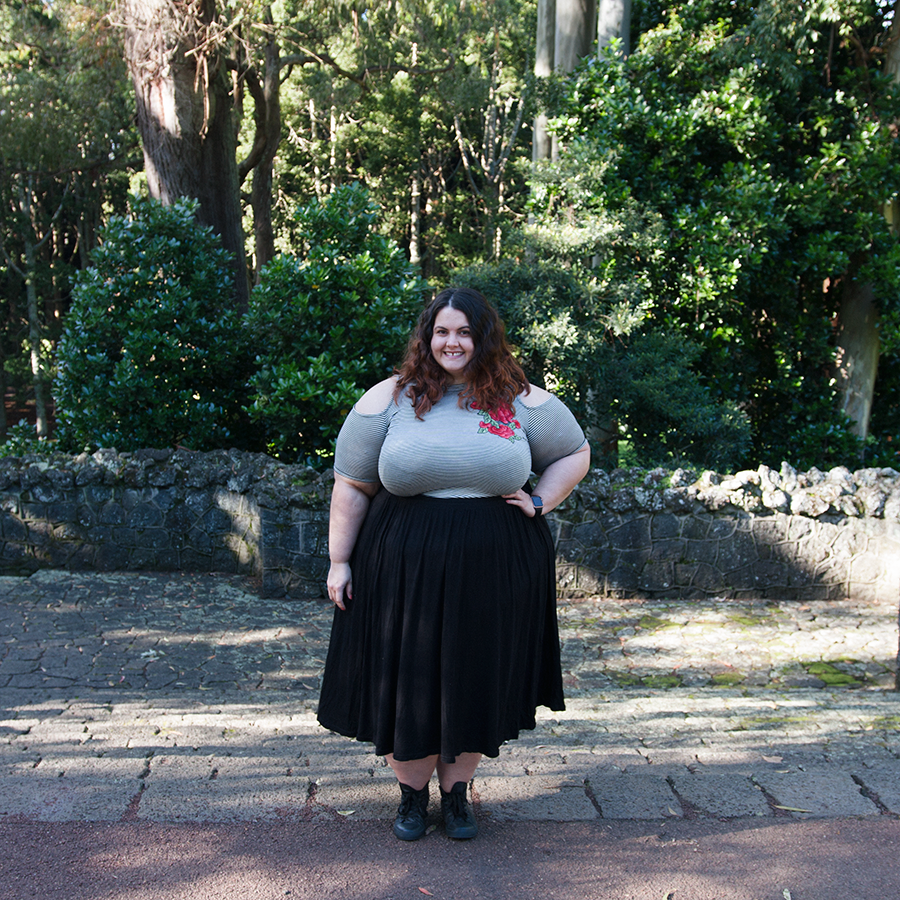 There's two reasons I don't like cold shoulder tops. Firstly, it's because I think that every top I've ever seen with an open shoulder or a split sleeve would look a hundred times better if it was just a full sleeve. This top (which I bought from Forever 21) is a really good example – I love the stripes, I love the fit of the top, the neckline is great, it's got a cute embroidered appliqué detail … and then holy shit, someone chopped out the shoulders. If it was a full sleeve I would be wearing it all the time. I might even buy two. But cold shoulder? No thanks.
The second reason I'm not a fan is that I once heard a well known stylist imply that our shoulders are the only part of us that it's okay to have uncovered, and the rest should be hidden or minimised. It's not the only time I've heard someone make that kind of comment, it's one of the many ridiculous fat girl fashion rules that gets bought up regularly, but now every time I see cold shoulder tops being one of the few options available in plus sizes, it makes me mad. It seems like this is the overlying message being sent to women, that parts of our bodies are unacceptable if we're fat, and they should be hidden. But this one bit of skin that doesn't look too fat? You can feel free to show that off. And while you're at it, buy a cardigan because it will actually leave your shoulders exposed to the cold.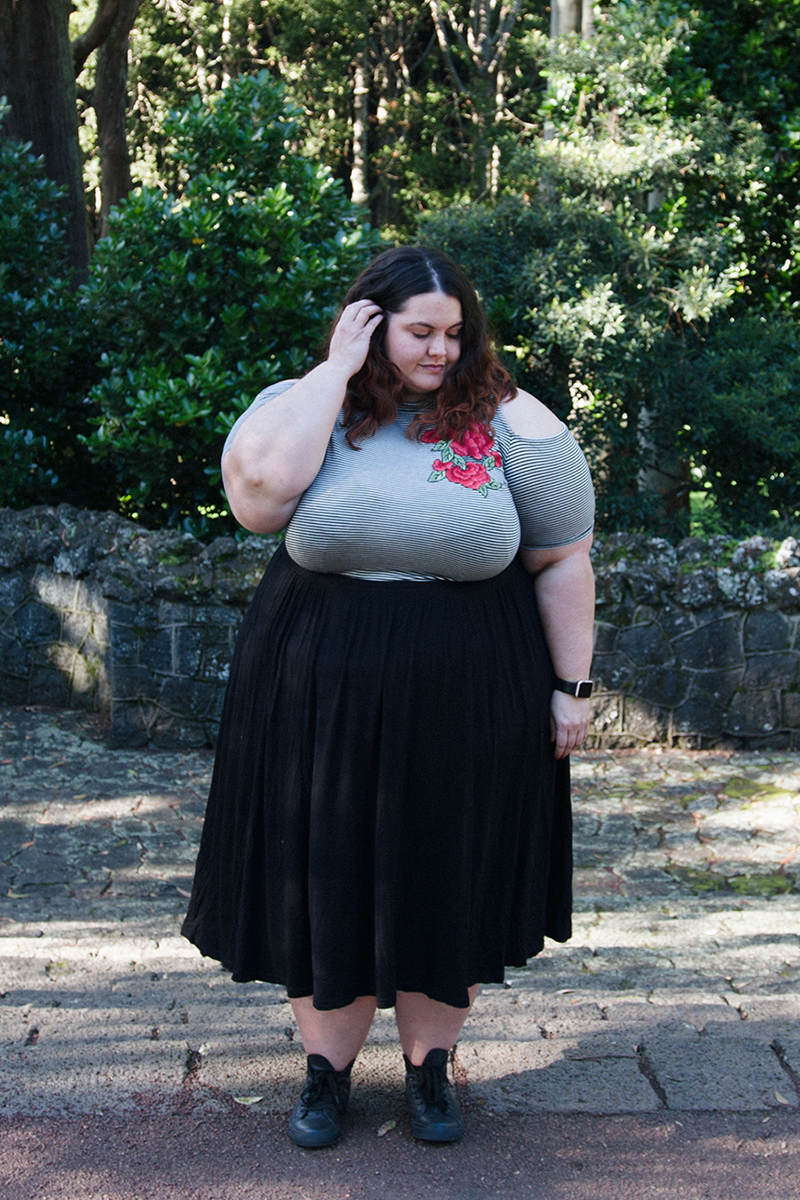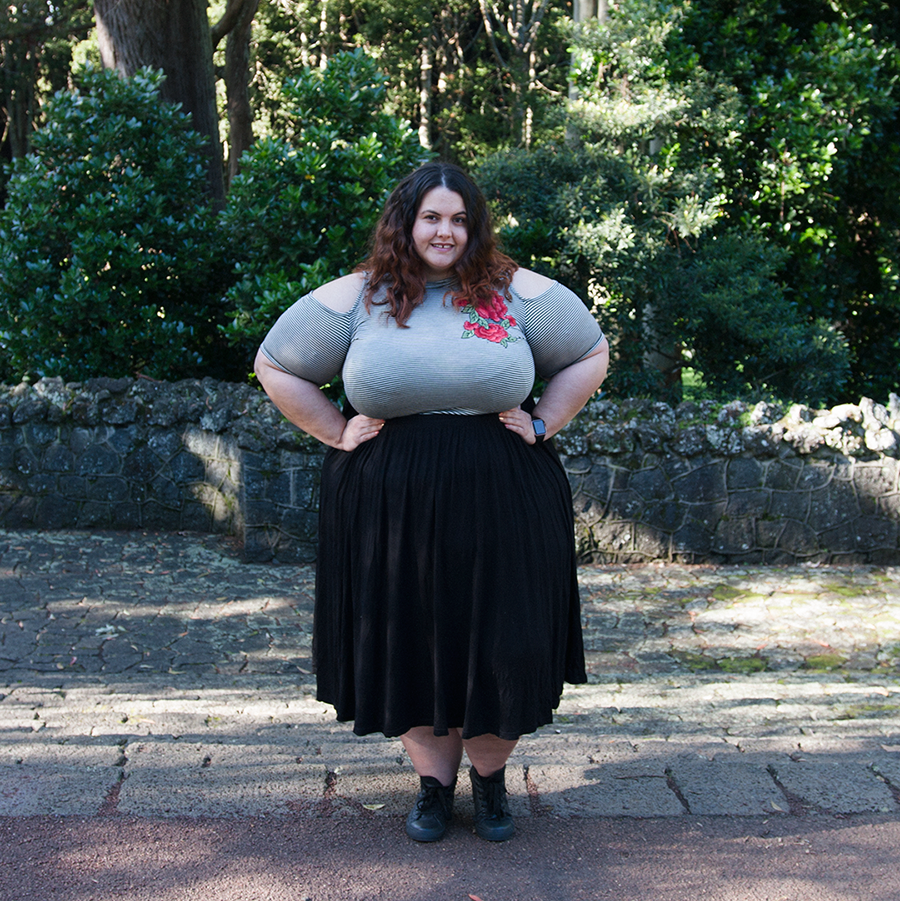 I'm not saying that cold shoulder shouldn't be an option, because I presume some people do actually like them. Well, I guess they do because obviously someone is buying them. I just want more cute options in plus sizes that don't have that cut out detail. Is that too much to ask?
Now my dilemma is trying to decide whether I should remove the appliqué roses and add them to another top. They really are cute so I'm pretty tempted. Especially if I could find something striped with a full shoulder. Maybe there's hope for this yet…
What do you think about the cold shoulder trend?
Love it or hate it – let me know below!

Meagan wears:
Forever 21+ Open Shoulder Top from Forever 21 (3X)
ASOS CURVE Circle Skirt from ASOS (26)
Life & Sole Snakeskin Hi-top Sneakers from Number One Shoes (8)
Photos: Ambient Light Photography
Posts may contain affiliate links. If you purchase a product through an affiliate link, your cost will be the same but This is Meagan Kerr will automatically receive a small commission. Your support is greatly appreciated and helps us spread our message!