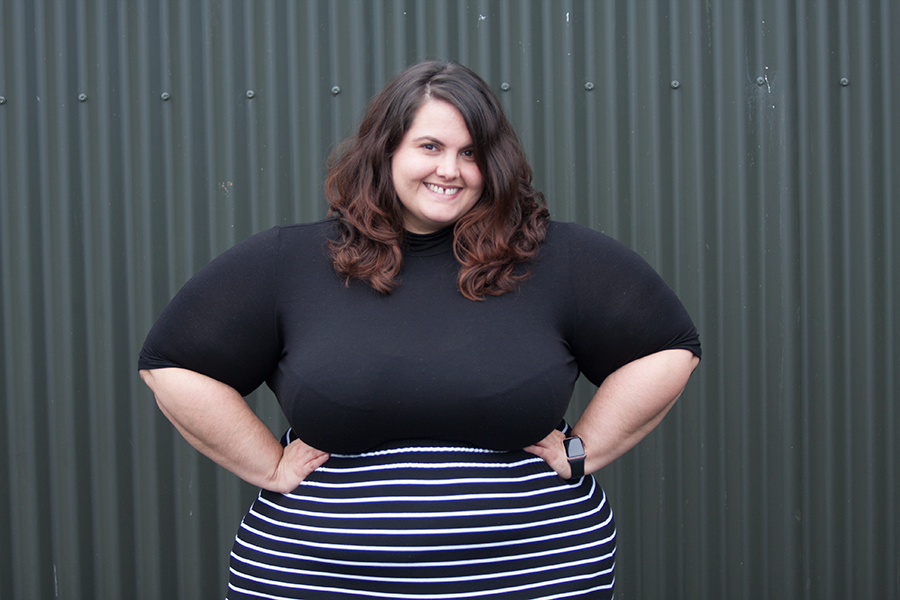 I have always been told I don't suit high necked tops because they made my face look rounder, which is apparently a "bad" thing, but I've since realised that I don't give a shit because this is just my bloody face, okay? That's how it is and there's nothing wrong with that.I've had people find my page by searching things like "can I wear high necked tops if I'm fat" and "can I wear a turtleneck if I have a double chin" so I wanted to share some photos of me rocking a high necked top to show that you can wear whatever the heck you want to, double chin or no double chin!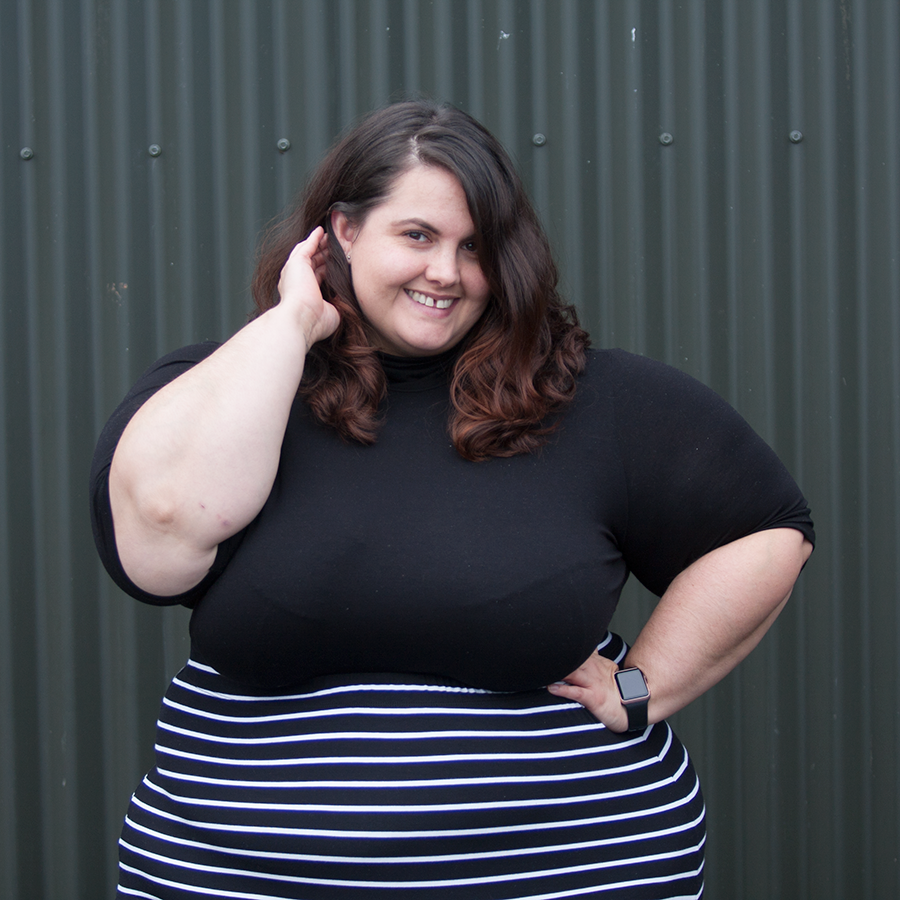 I bought this top months and months ago (in last year's Black Friday sales) and I've been waiting for it to get cold enough for me to wear it. This week the temperature finally dropped and now I'm in full on autumn mode – even though it will be winter in a couple of weeks (this season has been a bit of a late starter, okay?).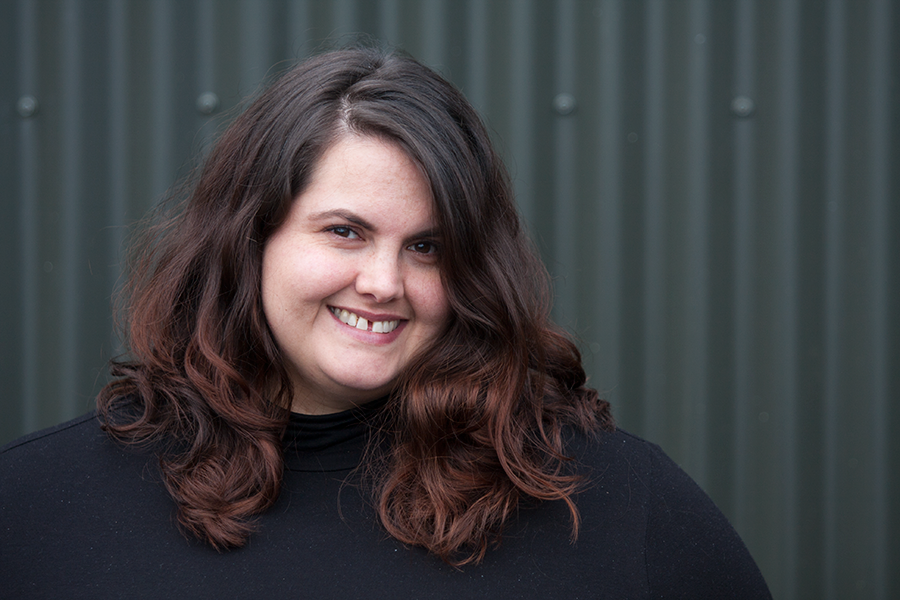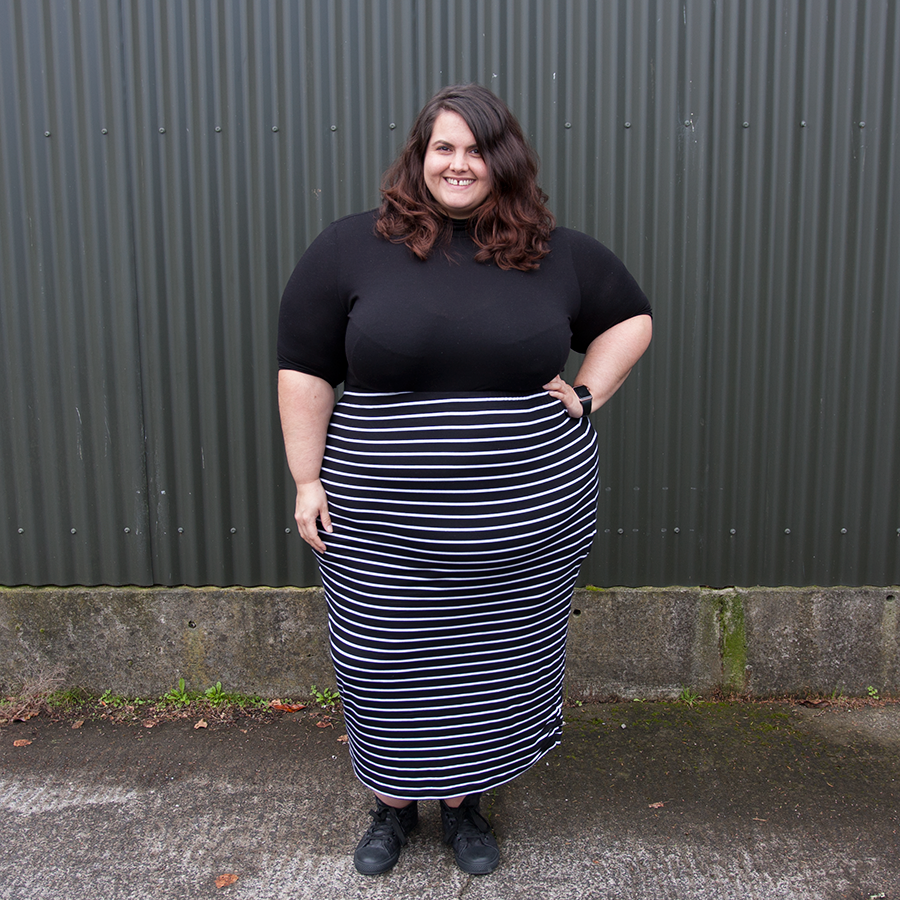 I've actually wanted a top like this (high neck with elbow length sleeves) for a long time but I've never found one that was quite right. I would love to see more high necked options like this in plus sizes, because I know that they're readily available in straight sizes.
You can't tell, because it's tucked into my skirt, but this top is ever so slightly cropped on me. In all truth I wish it was either a little bit longer so I could wear it with trousers, or a little bit shorter so I could wear it with a skirt and show my midriff, but I still love it and will rock it tucked into skirts regardless. It's probably a normal length, but basically nothing is designed for my bust size (if I buy the size that fits my body it ends up too short, if I buy the size that fits my boobs it's too big everywhere else) – I'm now used to making tops work when they're an awkward length!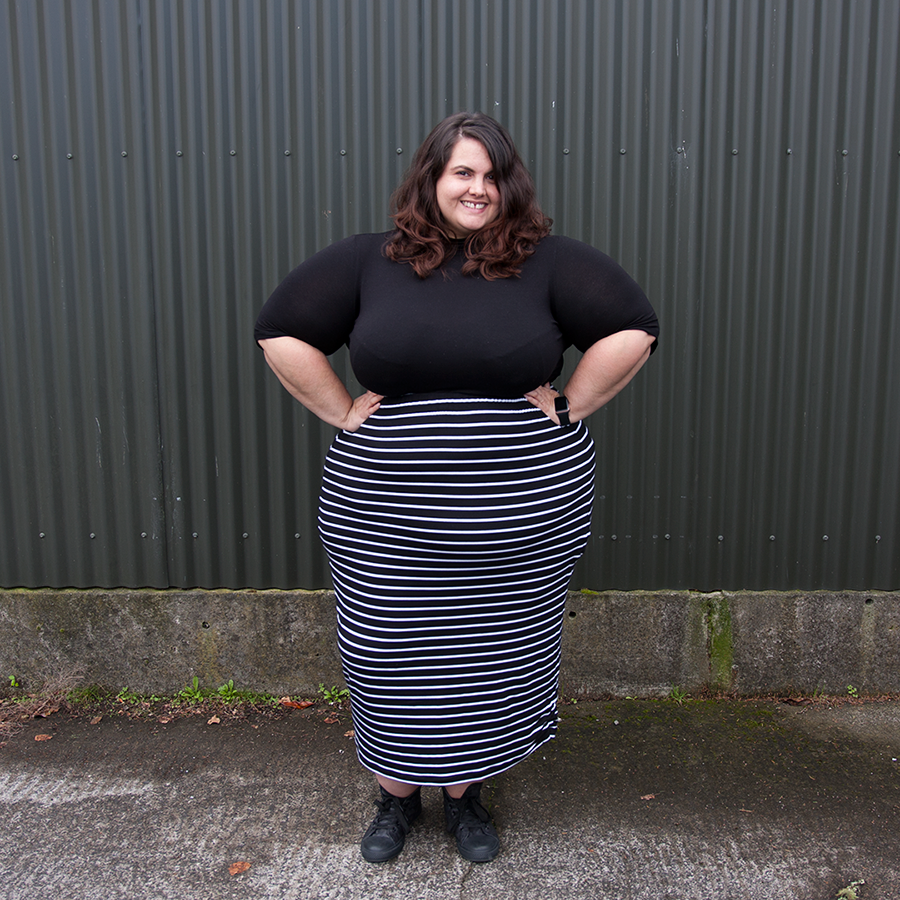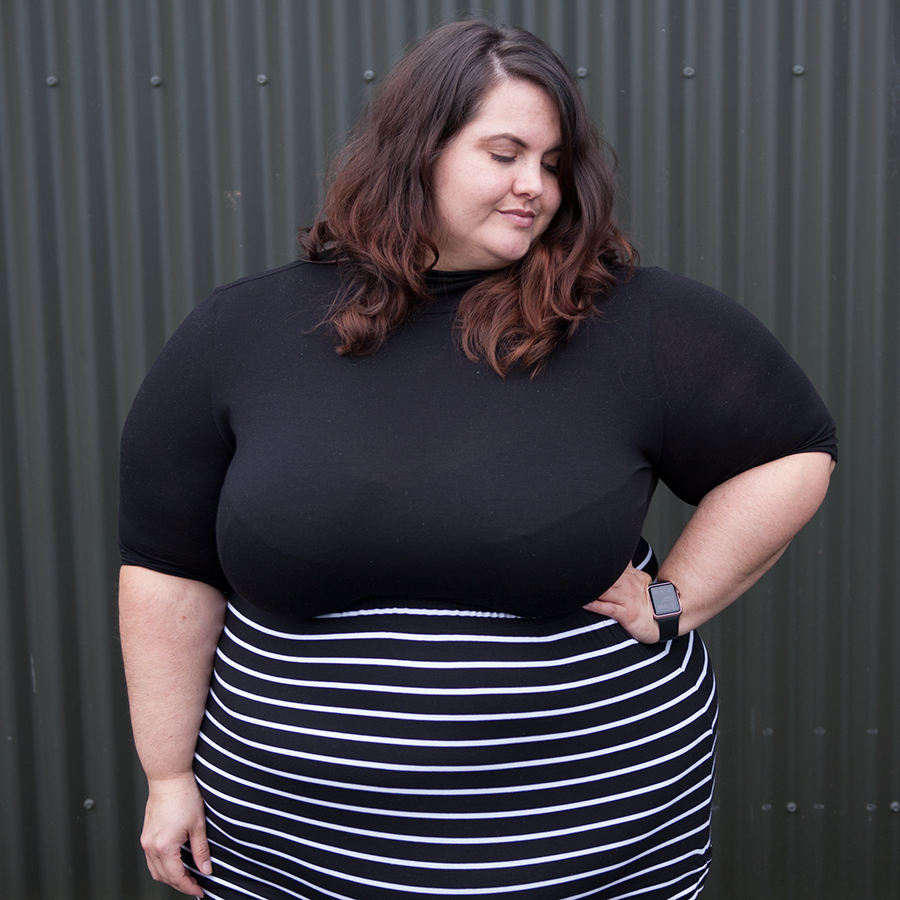 So, the verdict? Yes I can wear a high necked top when I am fat (and have a double chin). I can also wear a figure hugging skirt or dress without worrying about whether it will show off my belly. I mean, if it's figure hugging then of course it's going to show my VBO (visible belly outline), but I know some people like to wear shapewear or loose clothing in order to "hide" their body shape. I'm not one of those people (in case you hadn't already guessed!), I don't have a flat stomach and never have. I've learned to embrace my VBO, because it's part of me no matter what I wear and to be honest I can't be bothered worrying about whether the soft curve of my belly is showing.
I wore this outfit the other day when I caught up with the lovely Hannah the other day to interview her about bikinis, body shaming and her time on Survivor New Zealand, and I felt great. It makes a big change from the pyjamas and activewear that I've been rocking for the last month since I had my knee surgery!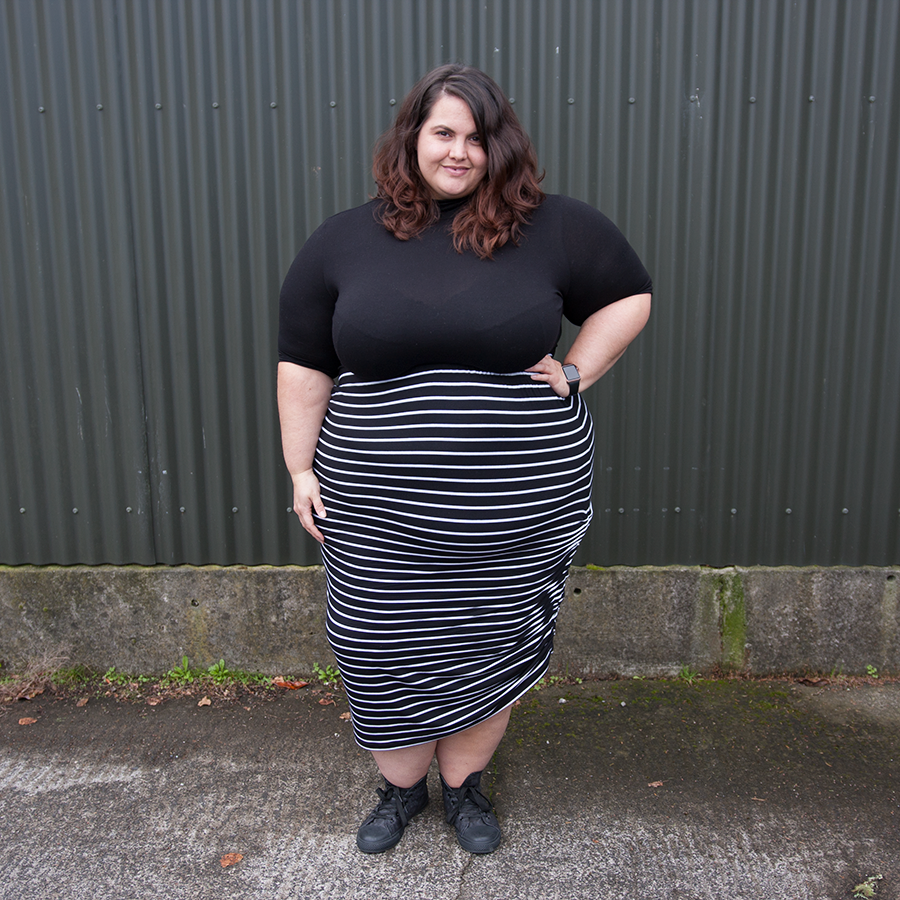 Side note, I think my hair is looking particularly cute in these photos. I think it's finally gotten to a length where it will go into proper waves and curls rather than just poking out all over the place. Hurray!
What do you think of high necked tops?
Love them, or not for you? Let me know below

Meagan wears:
ASOS CURVE High Neck Top from ASOS (26)
Sweetest Taboo Skirt from Harlow (XL, gifted)
Life & Sole Snakeskin Hi-top Sneakers from Number One Shoes (8)
Photos: Ambient Light Photography
Posts may contain affiliate links. If you purchase a product through an affiliate link, your cost will be the same but This is Meagan Kerr will automatically receive a small commission. Your support is greatly appreciated and helps us spread our message!