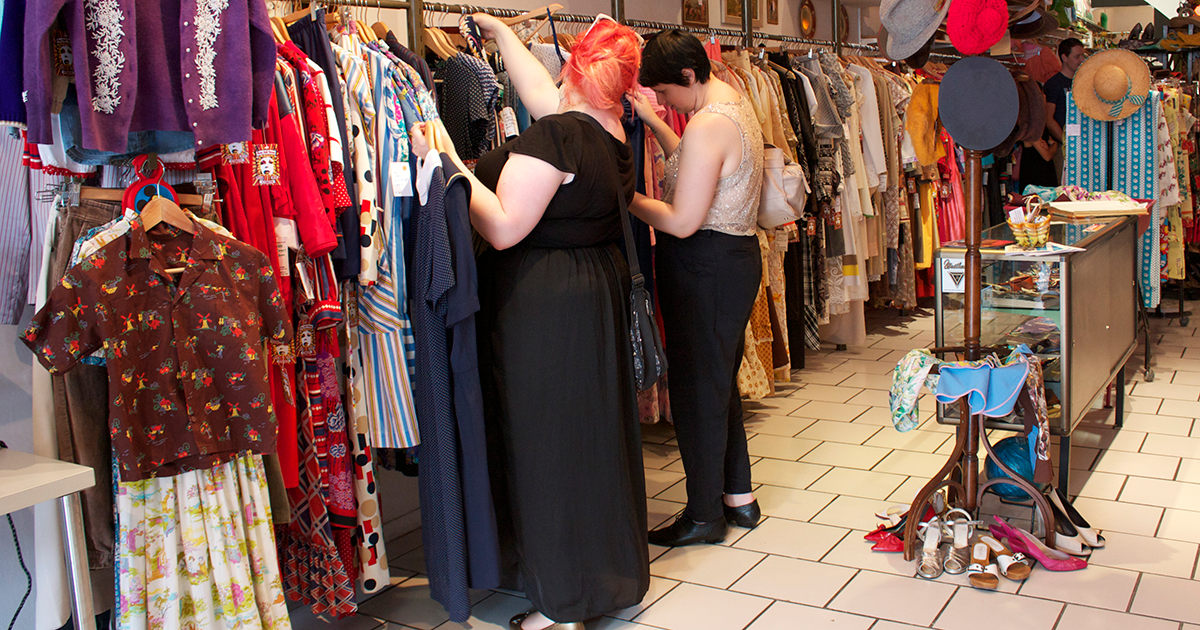 If you're a babe on a budget (or just like to get a good bargain), then this post is for you. I started my blog when I was a uni student, so I definitely understand not having a big budget to play with – rest assured that you can still be stylish! Here's where I find cheap plus size clothing that is cute but doesn't blow my budget.
Affordable Plus Size Clothing Stores
Affordable has a different meaning for everyone, but these stores have clothes for under $50 so hopefully you'll be able to find something that you like within your budget. I've only listed stores based here in New Zealand, because that's where I am, but if you know of a great store somewhere else let me know about it in the comments!
Kmart
This is a department store, with plenty of locations around New Zealand and an online store. They stock clothing up to a size 26 and a lot of their options are under $20. Find your closest store here.
Millers
Millers has hundreds of stores across New Zealand and Australia, as well as an online store. They stock sizes 8-26 and prices are generally under $50. Find your nearest store here.
Postie+
Postie+ is a clothing store with a number of locations around New Zealand and an online store. They've recently launched their Isobelle range, which goes up to size 26 and prices are generally under $30. Find your closest store here.
The Warehouse
This a clothing store with a number of locations around New Zealand and an online store. You all know I'm a big fan of The Warehouse, I reckon that half of my wardrobe is from there and I've worked with them a number of times. Over the last few years they have made great improvements in their women's clothing ranges, especially Kate Madison which goes up to size 28. Prices are generally under $50 and you can find your closest store here.
Outlet Stores
These are great places to grab clothes at a discounted price. They're usually end of line or end of season items, but I've picked up some amazing bargains from outlet stores. You can find the plus size outlet stores in Auckland listed in this post.
Thrift Stores
Second hand stores, charity shops, thrift stores, op shops … whatever you know them as, they are a great place to find pre-loved clothing. There are loads of different ones around, and plus size clothing can be few and far between (especially if you're over a size 18), but it's always worth having a look to see what's there – here's a few thrifting tips from me to get you started. I donate a lot of my clothes to my local SPCA store, and I hope that if you decide to clear out your closet then you'll donate some of yours to one of your local thrift stores as well. I recommend SPCA Op Shops, Hospice West Auckland, and Red Cross Shops if you're in New Zealand.
Trade Me
Trade Me is an online auction site where you can buy and sell almost anything (similar to Gumtree, eBay etc). I've found lots of great plus size clothing on there, some new and some pre-loved. Make sure do everything you can to make sure you're buying from a trustworthy seller like checking out trader feedback etc.
Facebook
Facebook has a great online marketplace and there are lots of Buy/Sell groups on there as well, including ones specifically for plus size clothing (if you're an NZ Style Curvettes member we have a private buy/sell/swap group). If buying from Facebook, I'd make sure I asked for everything to be sent tracked, and make payments via PayPal, especially if you're unfamiliar with the seller.
Shop The Sales
There are lots of bargains to be had in the sales! I tend to check out sales overseas and buy end of season items from the Northern Hemisphere just as we're heading into a new season. I share lots of them on my Facebook page so keep an eye out there, but watch out for my blog post about the Black Friday Sales in late November each year – it's the best time to get great bargains from so many places! Make sure you're subscribed to my free fortnightly newsie to get the low down. If you need some advice on how to shop the sales like a pro, take a peek at these tips.
Are you a budget fashionista?
Let us know your favourite place to grab a bargain!

Title image shot by Lauren Gurrieri for Stocky Bodies.
Posts may contain affiliate links. If you purchase a product through an affiliate link, your cost will be the same but This is Meagan Kerr will automatically receive a small commission. Your support is greatly appreciated and helps us spread our message!