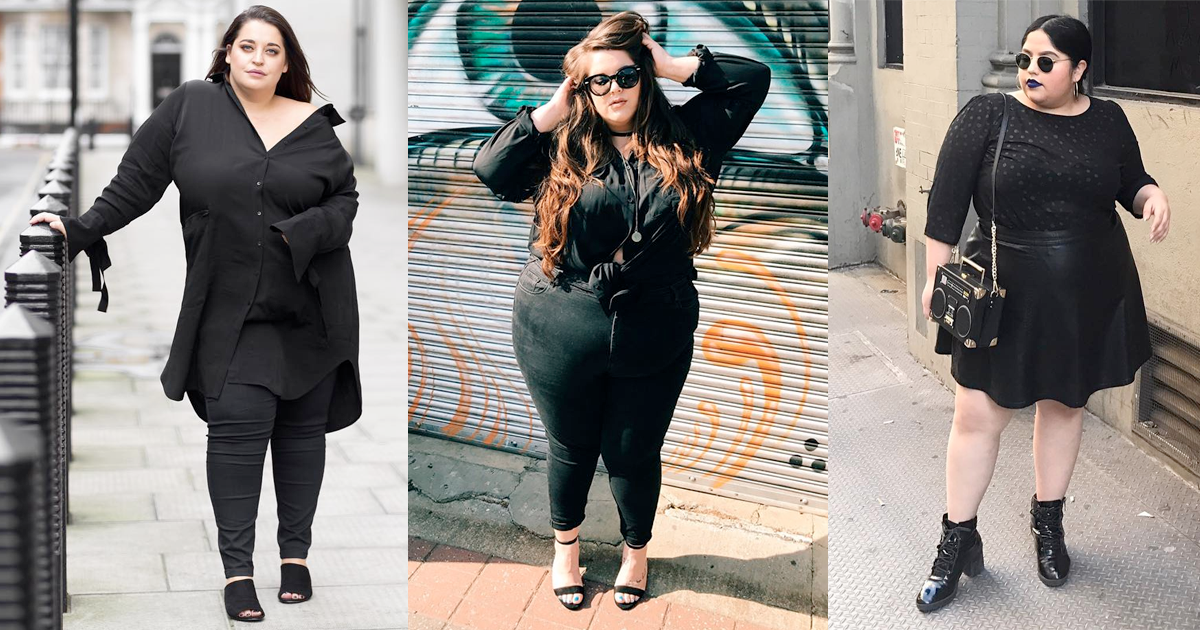 As you well know, I am a big fan of all black everything. Give me layers upon layers of black on black, add a smidge more black and you've just about nailed it. Different fabrics, textures and details are part of what takes an all black outfit to the next level, and I've found some babes rocking black on black to help inspire you.
1. Suger
I will freely admit that the plus size community on Instagram is a big part of the reason why I finally took the plunge and bought a jumpsuit. I love the simple, chic way Suger has styled this with slides and shades – the perfect "throw on and go" kind of look.
2. Lottie
Lottie takes her jumpsuit to the next level with the addition of layers and accessories. A leather jacket and bag pulls this look together and makes it more luxe.
3. Margot
Margot is one of my fave babes to get fashion inspo from, and I'm going to go so far as to proclaim her the Queen of all black everything (seriously though, check out her IG if you love her witchy aesthetic). She makes black on black fun, funky and fabulous.
4. Danielle
*sigh* This outfit just looks so effortlessly cool and makes me wish I could roll out of bed and look this fabulous (don't we all?). I love that it's slouchy but put together, which is basically #goals.
5. Rachel
Sometimes all you need is the perfect little black dress and a pair of heels. While I love to layer and add in different textures to my outfits, sometimes simple and stylish is where it's at.
6. Tameka
The more I've started wearing black, the more I have come to appreciate sheer fabric. It can add a beautiful texture and it shows a hint of skin while still leaving me feeling covered. Remember that there are lots of different kinds of sheer, from the blatantly see through to much more opaque options.
7. Gabriella
Lace up detailing is very popular at the moment, and is another great way to show a bit of skin (or your could layer something else underneath if you don't want to show skin). I love everything about this look, it's relaxed while still being super stylish.
8. Jessica
Fabric choice is everything when it comes to an all black outfit – shiny, matte, sheer, stretch, patterned, flowy … think about how you can mix and match fabrics and patterns when you're putting your black on black on black outfit together.
9. Allison
I love the way Allison has put together this glam outfit, perfect for a night out. The sparkles on her dress and purse elevate it to an evening look, and even though there are a few embellishments I think this outfit is still simple and chic.
10. Natalie
Jeans, a sheer button up, heels and sunglasses. This outfit combines four wardrobe basics that look great together and I am totally here for the simplicity of it. Nailed it.
11. Olivia
I love that Liv has chosen a relatively simple dress and shoes, then gone for a statement bag. All black outfits can be timeless, and the easy addition of a bag or jewellery can set the mood no matter what the occasion.
12. Leah
I love the little glints of metallic detailing in Leah's outfit, from the studs in her boots to the zip in her jacket. Those details are small and subtle, but just enough to stand out.
13. Callie
When you're going for glam, you can't beat a black dress for looking chic. I absolutely adore this outfit on Callie and think it would be great for a fancy party or a date night.
14. Jess and Sarah
This is a great example of how little changes in accessories can really help you to personalise an outfit. I love how both of these babes have styled this dress!
15. Suzanne
Oh hot dang. I love everything about this outfit from the flowing sheer fabric of the dress through to the absolutely perfect choice of lingerie.
16. Alex
Some people think you can only wear black when the weather is cold and dreary, but I'm calling nope to that. All black, all the time baby! Summer and swimsuits included.
17. Nicolette
I love pairing something soft and floaty with something more structured, especially with a leather jacket. I love everything about this look!
18. Isabell
There's just something comforting about wrapping yourself in a long black cardigan, I love the length of it. It's a little hard to tell in these photos, but Isabell has paired it with a sheer top and leather shorts which I think is pretty cool (and not at all what I expected).
19. Laura
A lot of these looks are on the dressier side, but don't forget – you can rock a casual black on black look as well.
20. Alysse
I really love the detail around the hemline of this dress. I personally don't like a lot of fussy details around the top of an outfit I'm wearing, but hemlines are a whole other story!
21. Georgina
It's winter here at the moment, but I'm totally in the mood for summer swims after seeing this outfit. Side note, if you're in NZ or Australia, then winter is the best time to buy swimwear online when it's in stock at US and UK stores!
22. Kellie
There are so many beautiful details on Kellie's dress, it's just perfection!
23. Grace
One of my friends described her black on black activewear as "health goth" once and it's stuck in my mind, so that's what I think of every time I see an all black activewear look. I'm not gonna lie, I love it. I know a lot of you have told me that you like to wear plain black workout gear and I am 100% behind that.
24. Caitlin
Leather look pants, sheer top, boots … COME AT ME. I am so here for this outfit and would wear it for work or fun.
25. Suma
I'm loving this casual look, it's the perfect everyday outfit! Simple, comfy and easy to grab and go – sign me up because I am all about that low maintenance life.
Do you like to wear all black everything?
Let me know which one of these outfits is your favourite!