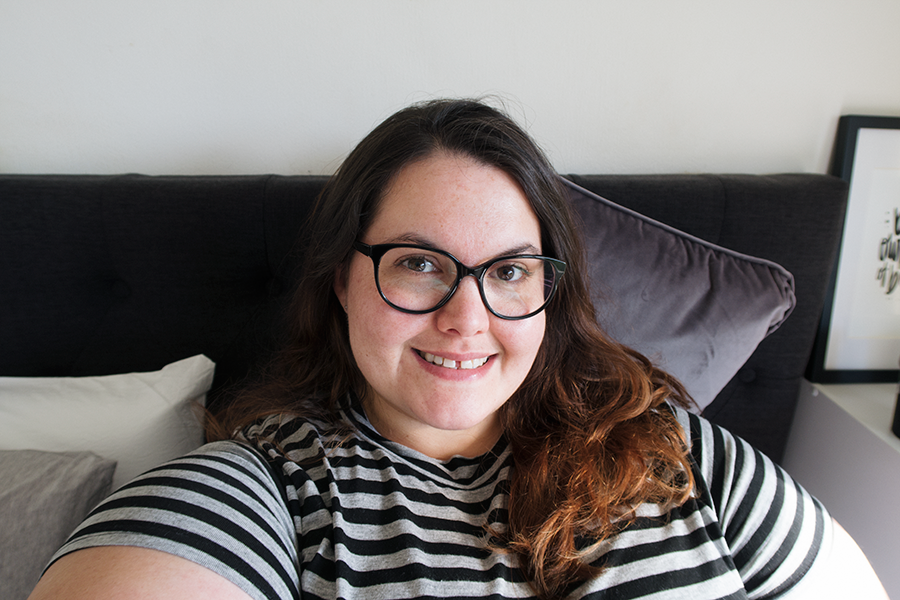 As you know, I had surgery earlier in the year and during my recovery I've spent an awfully large amount of time in bed. It's made me realise how much I need my bedroom to be my sanctuary and after many hours spent in bed staring at my surroundings (and watching home renovation shows on HGTV), I felt like our room wasn't really cutting it. The bed was uncomfortable; our furniture and soft furnishings were badly mismatched, having been collected over the last 18 years since I moved out of home; and it just wasn't the cosy, relaxing haven that I wanted it to be. And so, I started planning some changes. I'm not in a position to make my room bigger or to paint it (yet), and my budget is pretty tight, but making a few little tweaks to make it a nicer place to relax and unwind is definitely something I wanted to do. Time for a bedroom makeover – watch my video to see the before and after, then read on for a little bit more on the pieces I picked out (plus your chance to make over your own room).
THE BED
Our old bed had some broken springs and was absolutely horrible to sleep on. There was no question, it was time for a new bed. My mates at Sleepyhead came on board with a new bed plus some of their bedding essentials – mattress and pillow protectors, pillows and duvet inner. I've been using their mattress protector and pillows for a few years now (trust me when I say their pillows have been an absolute game changer when it comes to how comfy my sleep is!) but the duvet inner is a new addition and holy moly is it cosy! In case you were wondering, I have this pillow (actually, I have two because they're so dang comfy) and Doug has this one, and we use the winter weight duvet. I'm going to write a whole post about the bed we chose and why, and I'll have some goodies from Sleepyhead to give away, so stay tuned for that this weekend check that out here.
I haven't had a headboard since I was a child, but I've been lusting after padded headboards for a long time. Problem was, they were always way out of my budget. I found one for $800 and considering my budget for my whole room revamp was $1,000 I figured it just wasn't going to happen. I decided I was going to make my own, and then quickly realised that I'm both lazy AF and lacking the space/know how/tools to DIY the kind of thing I wanted. Luckily for me, a search on Trade Me turned up the exact thing I was looking at for a fraction of the cost I'd seen other places! This isn't just a one off find either, Elite Products make and sell them on the regular, in a bunch of different sizes and colours. They even delivered it to my door, which was a life saver.
When it comes to bedding I love white on white but it's just not that practical. I can't tell you the amount of times when I've spotted bike grease on Doug's leg after he's sat on the bed, or I've spilled my tea or dropped a piece of chocolate (I know eating and drinking in bed is frowned upon, but let's get real, we totally do it)! So we compromised with white sheets and a grey duvet. I really wanted to go for something darker, like a charcoal or black, but I've had a (very expensive) charcoal duvet get bleached by the sun in this room so I'm not willing to brave that again. Again, I want our room to be super relaxing, so bedding is something I don't mind spending a bit of money on. It needs to feel nice on my skin, so basically my motto is "get the best you can afford". A throw and a couple of cushions have added texture and extra cosiness to the bed – perfect for snuggling up and watching Netflix.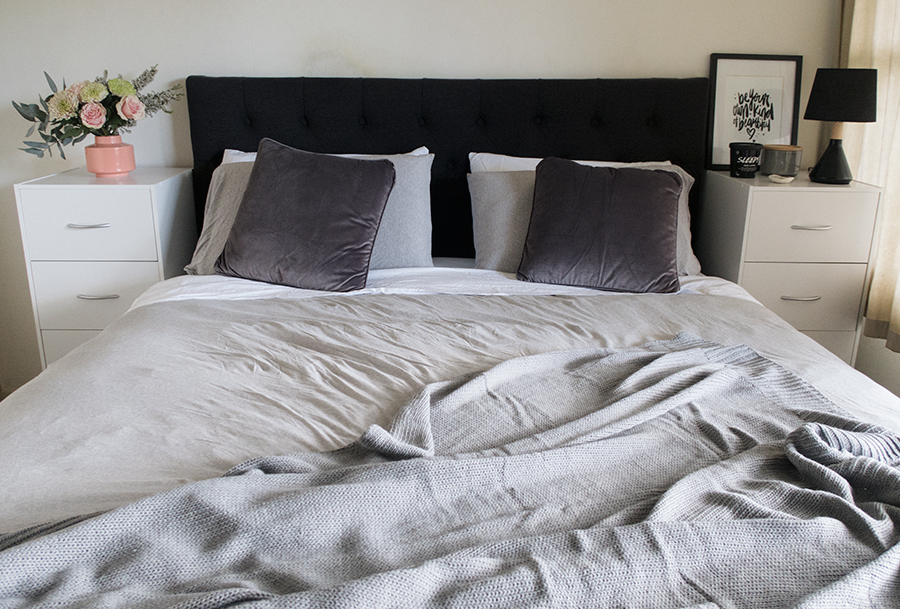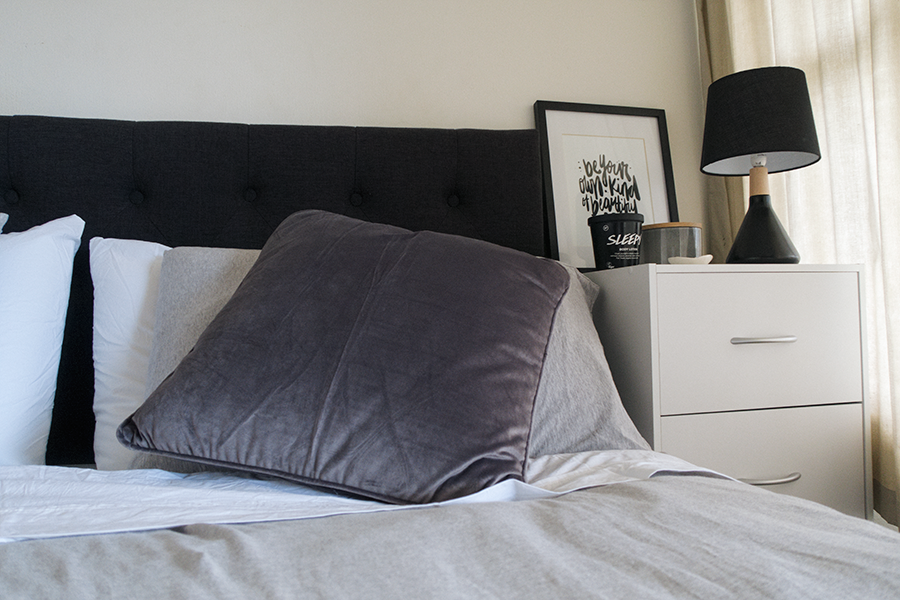 BESIDE THE BED
I remember my mother spending the longest time hunting for bedside tables and never finding ones she liked, and I thought she was just being fussy. I'm so sorry mama, now I understand – finding beside tables that are the right style/colour/size/price is exceptionally difficult! We ended up settling on these four drawer cabinets (that came in a flat pack – thanks to Doug for his assembly expertise with those!) because the drawers are a great way to keep all the clutter that we seem to accumulate hidden away.
I always seem to have a lot of things on top of my bedside tables so I'm making a concerted effort to put things away in the drawers when I've finished using them, and only leaving out the things I need.
Be Your Own Kind Of Beautiful Print – I'd love to put more artwork in our room, but the wall behind our bed is concrete (which makes it hard to hang things) and we are planning on repainting over summer so I can't hang anything. In the meantime I've borrowed this Maiko Nagao print from my office and have it on my bedside table – it's a nice reminder to wake up to!
Bedside Lamp – Thanks to the blackout blinds I installed earlier in the year, our room is very dark at night. Having a lamp beside the bed in case I need it means I don't have to get up and turn on the main light, plus it gives me a bit of extra light if I'm reading in bed. I picked this one up from The Warehouse and think it's great for now, although I will probably upgrade to one that gives off a bit more light when I find one I like.
Sleepy Body Lotion – I've been using Sleepy before bed for almost a year now, and not only is it a great moisturiser but it's also become an important part of my bedtime routine. Having that routine helps me fall asleep, and this cult beauty fave from Lush is full of lavender which helps as well.
Trinket Dish – I need somewhere to store my rings at night and this trinket dish from Makerie Ceramics is the perfect size for my bedside table.
Canister – Currently sitting on my side of the bed, this canister was sent to me by Kmart recently and I thought it would go well with the grey tones in our room. We're not too sure what to put in it yet though – some people have suggested snacks, some have suggested cotton pads for removing makeup … what do you think? I'd love to know what you'd put in there!
On Doug's side of the bed there's not much to see – now that we have drawers he keeps most of his things tucked away. I've added some flowers to brighten up the room a bit – the vase is one from The Warehouse a few seasons ago, and I picked up the flowers from Flower Station, a wee florist near us that always has beautiful flowers to choose from.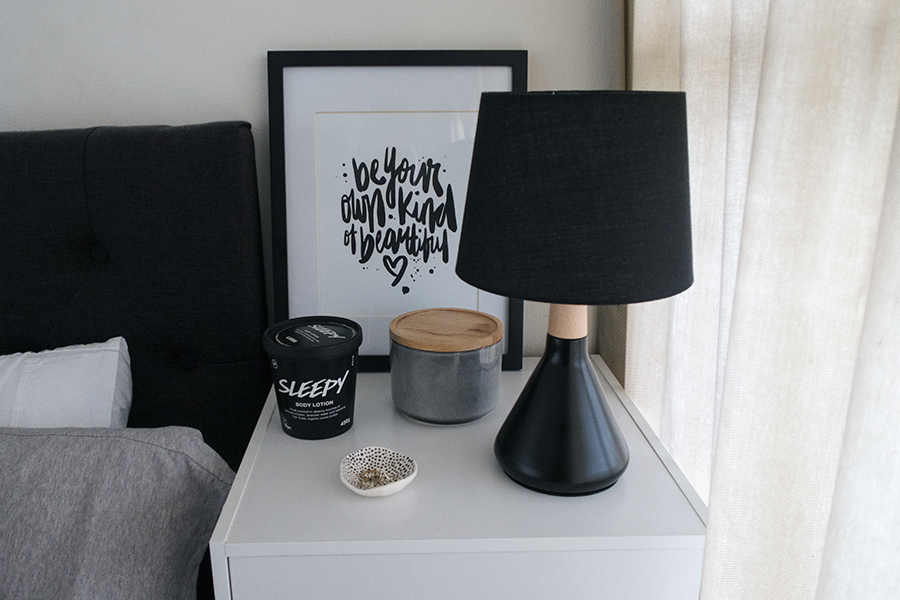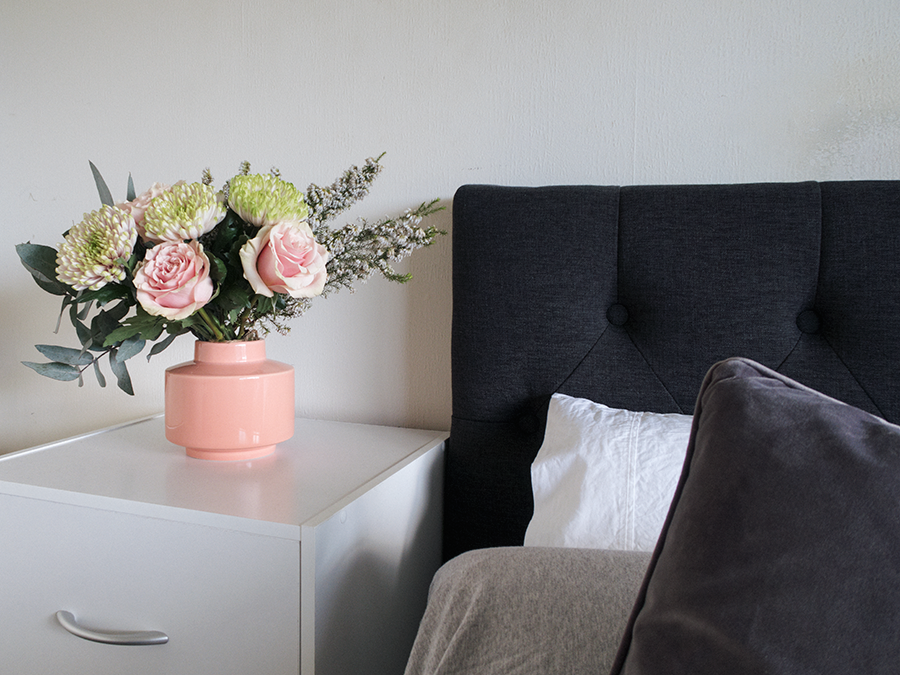 I'm so pleased with how our room looks – everything feels cosy but still super fresh and crisp as we head into spring. I went for grey and white in our room because I find those really soothing neutral shades (plus I didn't want to overwhelm Doug with anything super girly, which was basically every other option that I was looking at haha) and I know they will work all year round. I still need to get some more duvet covers, and I'd like to get patterned ones but it's proven difficult finding ones we both liked so that might be a long range project.
HOW MUCH DID IT COST?
I set myself a budget of $1000 (excluding the bed and bedding, which were kindly gifted to us by Sleepyhead, stay tuned for a full post on what we picked out), because I knew the headboard would cost a fair bit. Two of the biggest expenses (the headboard and the bedside tables) were things I didn't mind paying more for because I know they're going to last a while and not be things that I want to update seasonally. I picked out most of the things for my bedroom makeover from The Warehouse, because they have great on trend pieces and I'm a big fan of their homewares – as I'm sure you will have already guessed! Some of the items (the print, vase and trinket dish) were things that I already had in other parts of my home, so I haven't included them in my costs.
I came in well under budget at $651 thanks to being able to find that bedhead at a lower cost, and I'm really happy with how the room looks. If I wasn't buying the headboard and bedside cabinets then my total would have come in at just over $200 – a good price for a room update and it goes to show that you don't have to make big changes to give your room a clean fresh vibe.
WIN THE CHANCE TO REVAMP YOUR ROOM
I had so much fun styling my room that I reached out to my friends at The Warehouse and asked them to help me give one of you the chance to revamp your room as well. They said yes, and I've got a $200 gift voucher to give away to one lucky person.
To enter, let me know what you'd like to do to give your room a makeover, then click here to subscribe to my free fortnightly updates. You can unsubscribe at any time if you change your mind – it just makes it easy for us to contact you if you win (plus it means that you get style, self love and other awesomeness directly to your inbox!). If you're already a subscriber then great – all you need to do is comment below. The winner will be drawn on 11th September 2017.
THIS GIVEAWAY IS NOW CLOSED.
CONGRATULATIONS TO OUR WINNER SARAH CHIRNSIDE.
Please note that you must have a New Zealand postal address to enter this giveaway. If you're not in New Zealand, never fear – good things will come your way soon enough.
How would you make over your bedroom?
And what would you store in that grey canister?

Sleepyhead kindly supplied my bed and some of their bedding essentials to help make my bedroom super cosy. This post isn't sponsored, I just really love my new room and wanted to share it, as always all opinions are my own.