Hi, I'm Meagan. I'm a 33 year old Māori woman living in Auckland, New Zealand and blogging about style, self love and life as a fat chick. I have a Design and Visual Arts degree, a background in photography and social media, and I'm really passionate about plus size fashion. I like singing at the top of my lungs, swimming in the ocean, exploring the world, and my goal in life is to pat as many dogs as possible.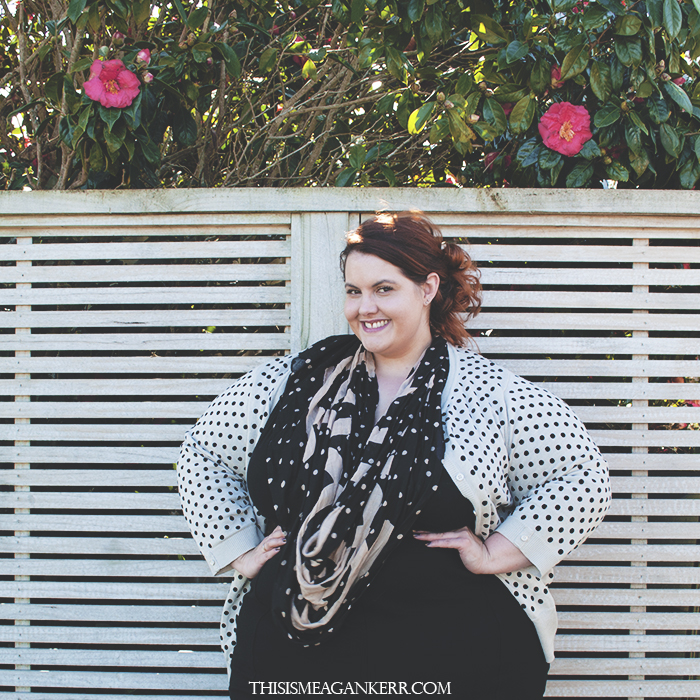 I started blogging specifically about plus size fashion for two main reasons – the first is that I am a plus size woman myself and as someone who has been fat all of my adult life I understand how difficult it is to find nice clothes for plus sizes in New Zealand that are reasonably priced. The second is that the existing dedicated independent plus size fashion media in New Zealand was extremely limited.
I decided to step in to that gap, and do you know what? I love it! I have never connected with something so quickly and easily in all my life. That's because this is Meagan Kerr.
I want to discover amazing plus size designers and share them with you.  I want to translate trends you see on runways overseas and at New Zealand Fashion Week in to curvy girl fabulousness. I want the women of New Zealand (and abroad) to feel like they can be fashionable no matter what their budget, and I don't want them to have to settle for the kind of clothes I wore for so many years because I couldn't afford to spend lots of money (you know, the unflattering, unimaginative, lazily designed clothes from certain department stores that someone decided that fat people should shroud themselves in?). I think that fashion should be accessible to everyone, and I think that it's important to be able to see clothes on women whose body shape that you can relate to. I'm no model by any means, but I do have an eye for styling and photography so hopefully that makes up for some of my awkwardness in front of the camera.
Fortunately for us, the internet is a wonderous place.  It's so much easier now than it was even five years ago to buy great quality reasonably priced clothes online. So, come on a journey with me! If there is something you want to know, please leave me a comment on the relevant post or send me a message via my contact page.  If you're looking for something in particular and can't find it on here, let me know! Chances are, it will be something that I can write about for you in a future post.

Please note that this is a body positive space and any kind of body-shaming will not be tolerated. While your comments are welcomed and discussion is encouraged, I reserve the right to remove comments that I view as offensive, including (but not limited to) remarks that are racist, sexist, homophobic or are in any way derogatory. I reserve the right to edit/remove comments that are off topic or are used for the purposes of self-promotion.