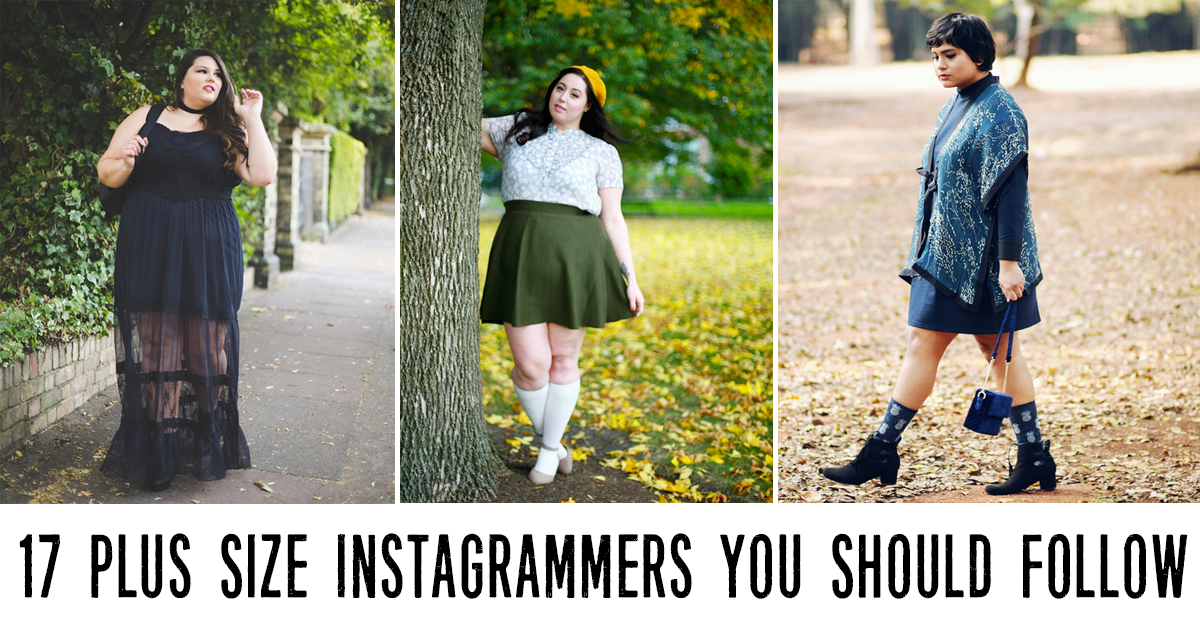 One of the things that I (and many other plus size babes) struggle with is that we don't see our bodies represented in campaigns by brands. We see the same people who are on the smaller end of plus (or who aren't plus at all, and are pinned into clothes), with hourglass figures over and over again. But I want people like me – people who have rolls, chunky thighs, big boobs, cellulite that doesn't get airbrushed out. I want to know what clothes are going to look like on my body, I want to know how someone who has a similar style to me would wear them. And that's why I love Instagram.
It's the first place I go to when I'm looking for style inspiration. I'm a really visual person, so being able to have so many stylish people within the push of a button is great. It helps me to push my style boundaries and gives me ideas on how I can mix up my wardrobe when I think I have nothing to wear. More importantly, it shows me a whole bunch of different body shapes and sizes. Here are some of the plus size Instagrammers that I follow, in case you're looking for a bit of diversity and style in your feed.
1. @calliethorpe
Callie Thorpe is a style blogger from the UK and the plus size columnist for Marie Claire. I've taken outfit style inspiration from her more than once (including for this blog post) because her style is quite similar to my own – mostly neutral, a darker palette with the occasional pop of colour. Follow her at @calliethorpe.
2. @meganonair
Megan Annear is a fellow Kiwi YouTuber who you might recognise from The Edge Radio + TV shows. She's fun and sassy with a bold bright sense of style. Her Instagram features her boyfriend Guy and their cat Plum, and you can follow her at @meganonair.
3. @natatree
I met Australian style blogger Natalie when I travelled over to Melbourne Fashion Week Plus earlier this year. Her style is fun and colourful, just like her hair, and she inspires me to experiment with different prints. Follow her at @natatree.
4. @sugercoatit
Suger is a big style inspiration for me – never before have I found someone who loves stripes quite so much as I do! She's an Australian blogger with lots to say about life, style and confidence, make sure you follow her at @sugercoatit.
5. @simonemariposa
Model Simone Mariposa is an unapologetic fatshionista – never mind those rules about not wearing patterns, bright colours or figure hugging clothes, this badass body positive fat babe is not afraid to embrace her vibrant style. Follow her at @simonemariposa.
6. @tonsablush
I've been watching a lot of YouTube lately, and one of the babes on my subscription list is Sarah Anne. Her cute style gives a nod to vintage and is a little bit preppy, and her Instagram is a great place to keep up with what she's wearing. Follow her at @tonsablush.
7. @megmodels
Model Megan Kimberling's Instagram is a source of both art and style inspiration for me – this babe is no stranger to velvet, lace, and embracing VBO. High fashion and fearless fatness, come at me! Follow Megan at @megmodels.
8. @daniellevanier
Named InStyles Best Curve Influencer 2016, UK style blogger Danielle Vanier is definitely one to watch. Graphic prints, bright colours and statement pieces – even when she's dressed in black and white, Danielle stands out from the crowd. Follow her at @daniellevanier.
9. @yourstruelymelly
US babe Melissa is a master of the mirror selfie (something I've never been able to get the hang of), and her Instagram is full of both style and self love inspiration. She's not one to shy away from figure hugging outfits or VBO, and her feed is full of body positive goodness. Follow her at @yourstruelymelly.
10. @itsmekellieb
US blogger Kellie Brown is style inspiration in a nutshell. Her clothes are bright, bold and beautiful, and this babe definitely knows how to put an outfit together. I love the way she layers textures and prints – follow her at @itsmekellieb.
11. @nataliemeansnice
Whenever someone asks me who my style idol is, my first answer is always Natalie. She breaks all the so-called fat girl style rules in short dresses, crop tops, pencil skirts, stripes – you name it. Natalie was my introduction to body positivity and I always find her posts inspiring, follow her at @nataliemeansnice.
12. @tiraemon
Aditira Hanim is someone I've recently started following on Instagram, and with a feed full of great wearable every day style I am so glad I found her! Follow her style adventures at @tiraemon.
13. @lottielamour
Lottie is a UK plus size fashion blogger who shares everything from her lingerie to her daily outfits. She embraces 90's style like it's nobody's business and isn't afraid of sequins – follow her at @lottielamour.
14. @j1987t
Jess is another babe I met at MFWPlus – she's six foot tall, stylish, sassy AF and she rocked the runway like a badass. Her outfits are fun, colourful and beautifully put together – follow her at @j1987t.
15. @margotmeanie
Canadian blogger babe Margot is my style inspiration for all things witchy and mysterious and the brains behind popular body positive challenge #rebelliousselflove. Margot's feed is full of gorgeous outfits and self love inspiration – follow her at @margotmeanie.
16. @rachelgeebee
Fellow Kiwi plus size blogger Rachel is the babe you want to follow if you want well tailored everyday style with a vintage twist. She shares her swimwear and lingerie finds as well, and if you're lucky you'll catch a glimpse of her super cute dog Maddie. Follow her at @rachelgeebee.
17. @kittehinfurs
Ragini is another plus size fashion blogger with a love of vintage. Based in India, she's unapologetically fat and femme, and her photos are absolutely beautiful. Follow her at @kittehinfurs.
18. @thisismeagankerr
While you're on your Instagram following spree, make sure you're following me! There's style, self love and selfies aplenty, as well as some of the other goings on in my life.
What plus size style Instagrammers are inspiring you right now?