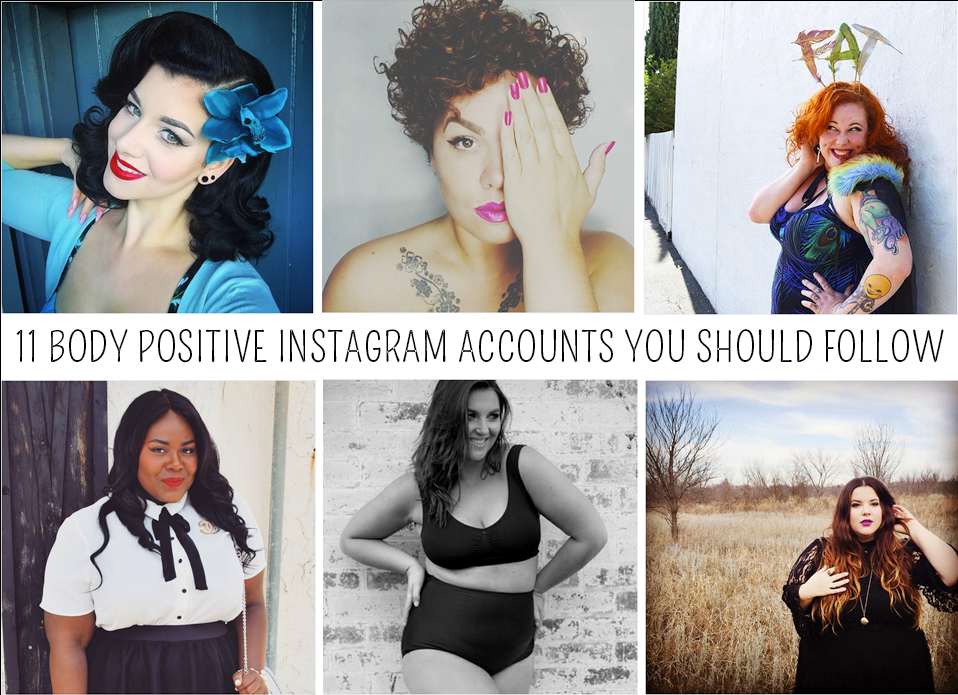 With Instagram making the hashtag #curvy unsearchable last week, and Oprah Magazine's recent advice that you should only wear a crop top if you have a flat stomach (spoiler alert: that's a complete load of bullshit), I think we need a bit of a body positive shake up! So here are some of my favourite body positive Instagram accounts – check them out and let me know if there are any others you'd recommend. Let's get this body positive party started!
1. @honorcurves
Honorine, aka Honor Curves, describes herself as a 6'1″ Self Love Advocate, and she's the babe behind the #honormycurves hashtag. Her Instagram feed is full of sassy selfies, witty memes and the life adventures of a body positive babe who celebrates all kinds of bodies.
2. @nataliemeansnice
My gal Natalie is a pug loving fat babe from Texas whose Instagram is full of style and self love. Her fashion posts will leave you feeling inspired and her sassy wit will leave tears of laughter in your eyes.
3. @ladyfigure
Thamarr Guerrier is a plus size fashion blogger from Florida who really embraces the feminine. She says she was tired of waiting around for the fashion industry to finally see the light that fashion is for everyone, so she decided to become her own light. Her outfits are fun and fresh, and definitely shine bright!
4. @rolypolywardrobe
Asta is a fashion and design assistant and a curly, curvy style blogger from Germany. She ignores so-called fashion rules and spreads the body positive love with a mix of fashion, selfies and delicious slices of life.
5. @nonairbrushedme
In a world where we see so many photoshopped, edited, filtered versions of people, it's refreshing to find people like Amber who are celebrating the real, raw & true beauty of women! I love her celebrations of her own and others bodies.
6. @fullerfigurefullerbust
If you're not familiar with Georgina Horne, you've been missing out! She celebrates her body in gorgeous lingerie and fabulous clothes … but she's also very real about her life. I love her no bullshit attitude (and her super adorable rats).
7. @kobi_jae
Kobi is one of my go to alternative fashion icons, a self-confessed cat lady and a plus size model. She's not afraid to talk about body insecurities, rock poses and pull faces that are outside the beauty "norms". For bonus alternative body positive fashion goodness, make sure you check out @alternativecurves as well.
8. @intersectionalbodypos
In case you're not familiar with the term, intersectionality recognises that certain groups of people have different aspects in life that they have to deal with, such as racism, sexism and ableism. Intersectional body positivity is about so much more than how big or small your body is, and this Instagram account is a great place to start that conversation.
9. @missvictoryviolet
Kiwi pinup, hairdresser and blogger Ella is a body positive babe who you might know better as Miss Victory Violet – Miss Pinup New Zealand 2014 and Miss Viva Las Vegas 18. Her Instagram is full of gorgeous pinup style and body confidence.
10. @effyourbeautystandards
By now you're probably all familiar with the hashtag #effyourbeautystandards, which was created by Tess Holliday. This account regrams some of the posts tagged with that hashtag, so this is a glorious feed that celebrates bodies of all shapes, sizes, colours and genders as well some great body positive memes.
11. @thisismeagankerr
While you're on your Instagram following spree, make sure you're following me! There's style, self love and selfies aplenty, and by popular request I've started sharing some of the other goings on in my life.
What are your favourite body positive accounts on Instagram?